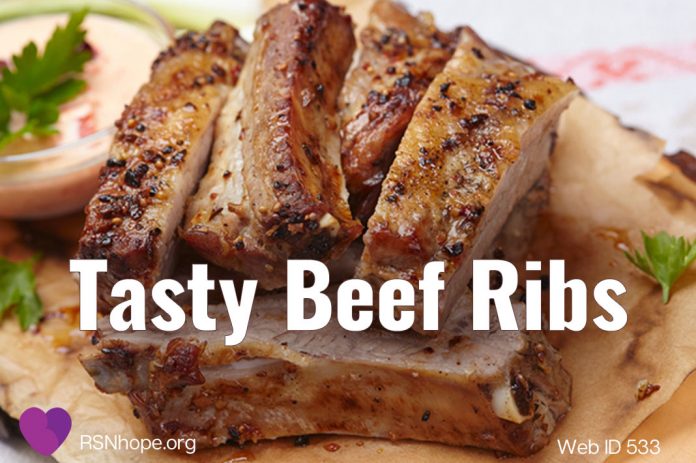 Tasty, roasted beef ribs are perfect for a get together or to enjoy all by your self. Try them with our Pineapple Coleslaw recipe.
Makes about 8 ribs.

Ingredients
4 pounds large beef ribs
1/4 cup pineapple juice
1 tablespoon paprika
2 teaspoons chili powder
1/4 teaspoon mustard powder
1/2 teaspoon garlic powder
1/8 teaspoon red pepper
Directions
1. Place single layer of ribs, meaty side down on racks in two shallow roasting
pans. Roast in a 450 F degree oven for 30 minutes. Drain.
2. Brush ribs with pineapple juice.
3. Mix together remaining ingredients. Sprinkle evenly on all sides of ribs.
4. Reduce oven to 350 F degrees. Roast ribs with meaty side up for another 45-
60 minutes.
Nutrient Information
Approximate analysis per rib:
Recipe Disclaimer
Due to variations in ingredients, the nutritional analyses should be used as a guideline only.
A renal dietitian reviews all recipes, but we cannot assure that all values are accurate. Remember to consult a renal care provider with respect to any specific questions or concerns you may have regarding proper renal nutrition or before making any changes in your renal diet.
Uploaded: 12-31-2008
Web ID 533