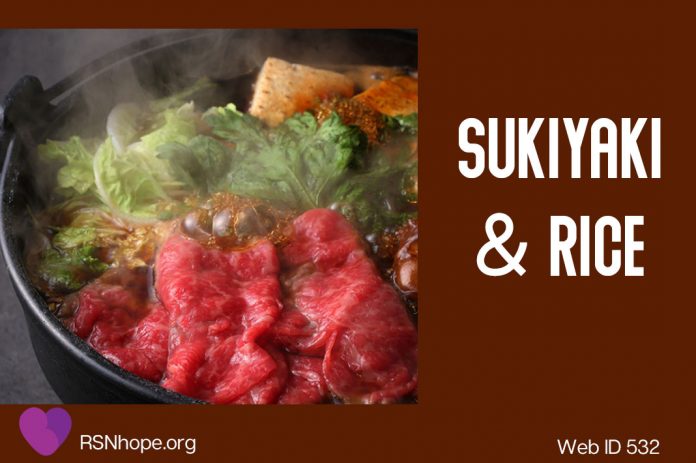 Try this kidney-friendly homemade Sukiyaki and Rice recipe tonight!
Servings: 10
Ingredients
2 1/2 pounds lean beef chuck (cut into paper thin slices)
1 tablespoon vegetable oil
1 cup white turnip (cut into 1/8 inch slices)
1/2 cup celery (cut into 1/2 inch pieces)
1 medium onion (cut into 1/8 inch slices)
3 medium scallions (cut thin)
1 medium green pepper (cut in rings)
3/4 cup sliced mushrooms
1 cup shredded cabbage
1/2 cup chopped broccoli, frozen
1 medium tomato, sliced
2 tablespoons low sodium soy sauce
1 tablespoon sugar
1 tablespoon water
5 cups cooked white rice
Directions
1. Put oil into large heavy skillet (electric is ideal); lightly brown meat on both
Sides.
2.    Turn heat to simmer & put vegetables into skillet in order of recipe ingredient list (in layers).
3.    Combine soy sauce, sugar, and water; pour over vegetables.
4.    Cover and steam over moderate heat 10-15 minutes. Do not stir.
5.    Serve with steaming rice (1/2 cup rice per serving).
Approximate analysis per serving:
Recipe Disclaimer
Due to variations in ingredients, the nutritional analyses should be used as a guideline only.
A renal dietitian reviews all recipes, but we cannot assure that all values are accurate. Remember to consult a renal care provider with respect to any specific questions or concerns you may have regarding proper renal nutrition or before making any changes in your renal diet.
Uploaded: 12-31-2008
Web ID 532