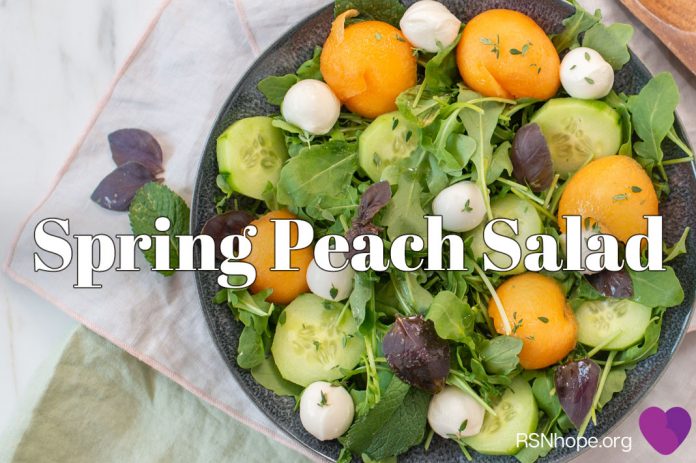 Eat with your eyes! This beautiful salad features marinated peaches and aromatic nutmeg. The sweetness of the peaches complements the creamy mozzarella and savory arugula to perfection! Bon appétit!
6 Servings INGREDIENTS
3 peaches (approximately 400 grams)
¼ cup mint leaves (approx. 3 stems)
1 teaspoon nutmeg, freshly grated
5 tablespoons verjuice or white wine vinegar
5 oz. arugula (approx. 3 cups)
4 oz. non-fat mozzarella (8 sm. balls)
1 cucumber, peeled and sliced
4 tablespoons olive oil
Cracked black pepper
12 fresh mint leaves for garnish (optional)
INSTRUCTIONS
1. Wash the peaches, then cut each one in half. Remove the pit and slice thinly.
2. Wash the mint, pat dry, and pick the leaves from the stems. Chop roughly.
3. Grate the nutmeg.
4. Place the peaches, mint leaves, nutmeg, and verjuice or vinegar in a shallow dish and mix gently until combined. Let stand for 15 minutes.
5. Wash and dry the arugula.
6. Drain the mozzarella balls.
7. Put all the ingredients into a mixing bowl and add olive oil and pepper. Toss gently. Taste and adjust seasonings to your palate.
8. Arrange on a salad platter or in a bowl and serve immediately.
Approximate analysis per serving:
Calories: 140 
Sodium: 147 mg
Protein: 7.3 g 
Potassium: 260 mg
Fat: 9.47  g 
Calcium: 225 mg
Carbohydrates: 9.8 g 
Phosphorus: 153 mg
Fiber: .167 g  
Cholesterol: 3.3 mg
Web ID: 4057-2