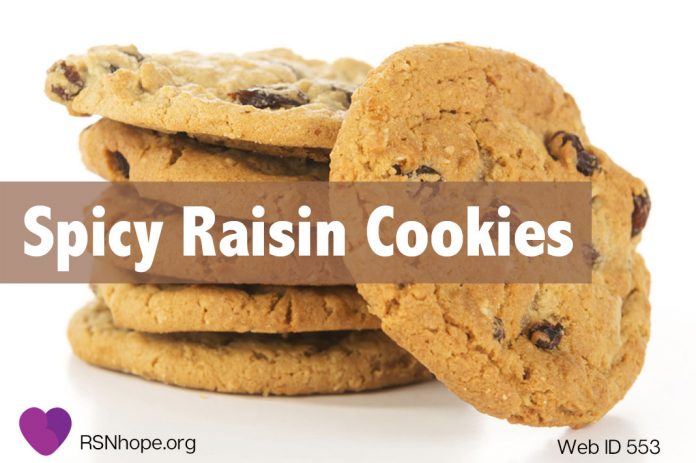 Sweet and spicy cookie recipe for raisin and cookie lovers alike.
Makes 45 Cookies
Ingredients
1/2 cup unsalted margarine or butter (at room temperature)
1/2 cup white sugar
1/2 cup light brown sugar, firmly packed
1 large egg, beaten
1/2 tsp vanilla extract
1/4 tsp almond extract
1-1/2 cups all-purpose flour
1/2 teaspoon baking soda
1/2 teaspoon ground cinnamon
1/2 teaspoon ground nutmeg
1/4 teaspoon ground ginger
1/8 teaspoon ground cloves
1/8 teaspoon salt
1 cup fruit cocktail in syrup (well drained)
1/2 cup raisins

Directions
1. Preheat oven to 375 F. Grease and lightly flour baking sheets.
2. Cream margarine with white sugar in large bowl. Blend in brown sugar. Add egg, vanilla and almond extract; beat until smooth.
3. Combine dry ingredients and then mix into creamed mixture. Stir in fruit cocktail and raisins.
4. Drop by heaping teaspoonfuls onto baking sheets. Bake until lightly golden, about 11-12 minutes. Cool on baking sheets 2-3 minutes. Transfer to wire racks to cool.
5. Store in airtight container.
Approximate analysis per cookie:
Recipe Disclaimer
Due to variations in ingredients, the nutritional analyses should be used as a guideline only. A renal dietitian reviews all recipes, but we cannot assure that all values are accurate. Remember to consult a renal care provider with respect to any specific questions or concerns you may have regarding proper renal nutrition or before making any changes in your renal diet.
Uploaded: 12-31-2008
Web ID 553