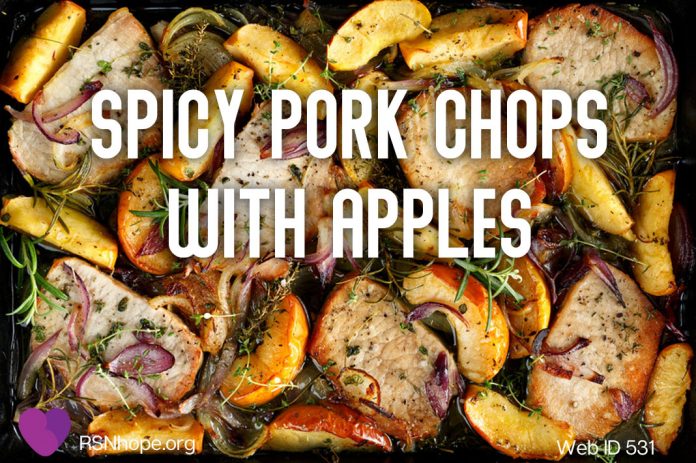 Try these Spicy Pork Chops with apple and onion for a tasty, family meal.
Makes 6 servings.
2 Garlic cloves, pared, minced
3/4 tsp. Salt
1.2 tsp. Ground ginger
1/2 tsp. Sugar
1/4 tsp. Pepper
1/4 tsp. Ground cumin
6 large pork chops
2 Medium Rome Beauty apples, unpared, cored, cut into 1-in slices
1 Large red onion, pared, cut into 3/4-in slices
1.  Combine first six ingredients.
2.  Rub seasoning mixture into both sides of each pork chop.
3.  Place in large glass pan.
4.  Insert slices of apples and onions between chops.
5.  Crumple aluminum foil and place at each end of pan to press ingredients together.
6.  Cover with foil; bake at 400F for 20 minutes.
7.  Reduce heat to 325F; bake for 30 to 35 minutes.
8.  Uncover.
9.  Remove crumpled foil to separate chops; bake for about 15 minutes until light brown.
10. Serve over rice.
Serving size 1 chop.
Calories 215 kcal
Protein 15 gm
Fat 13 gm
Carbohydrate 9.8 gm
Cholesterol 52 mg
Sodium 330 mg
Potassium 288 mg
Phosphorus 126 mg
Recipe Disclaimer
Due to variations in ingredients, the nutritional analyses should be used as a guideline only.
A renal dietitian reviews all recipes, but we cannot assure that all values are accurate. Remember to consult a renal care provider with respect to any specific questions or concerns you may have regarding proper renal nutrition or before making any changes in your renal diet.
Uploaded: 12-31-2008
Web ID 531