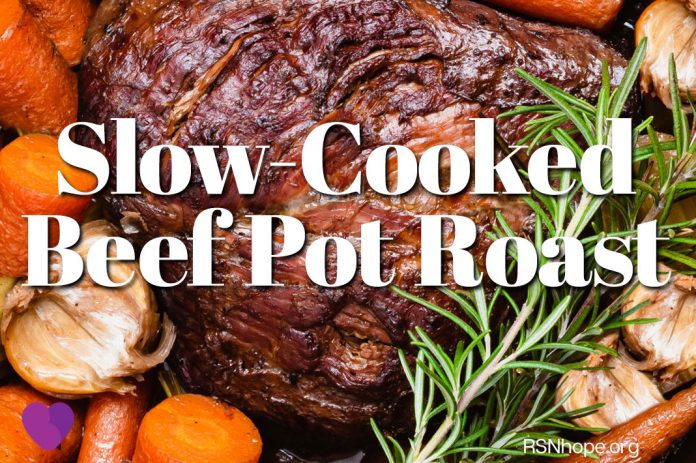 This kidney-friendly, slow cooked pot roast is a classic Sunday family dinner or a great make ahead for yourself for a week of hearty meals. This recipe will work for a classic oven braise, Dutch oven, in a slow cooker or an Instant Pot.
 Ingredients
2-4 lb. chuck roast (arm/blade pot roast, round bone roast, or heel of round)
Directions
Trim excess fat.  Heat one tablespoon of oil in large skillet/Dutch oven to medium high.
Roll pot roast in flour and brown on all sides in the skillet.  After browning, reduce to simmer or low.  Add seasoning, ½ cup water.  Cover tightly and cook on low or simmer for 1 ½ – 2 ½ hours or until tender. 
Option: Add vegetables during the last 45 minutes of cooking: such as: carrots, pearl onions, squash, cabbage.  
Nutritional Analysis
Serving Size: 3 Ounces
Choice: 3 Meat/Protein
Calories:  157
Protein:  24
Total Fat:  12
Saturated Fat:  6
Cholesterol:  69
Carbohydrates:  Without vegetables added 0
Calcium:  4
Phosphorous:  206
Potassium:  328
Sodium:  55
Web ID 8030