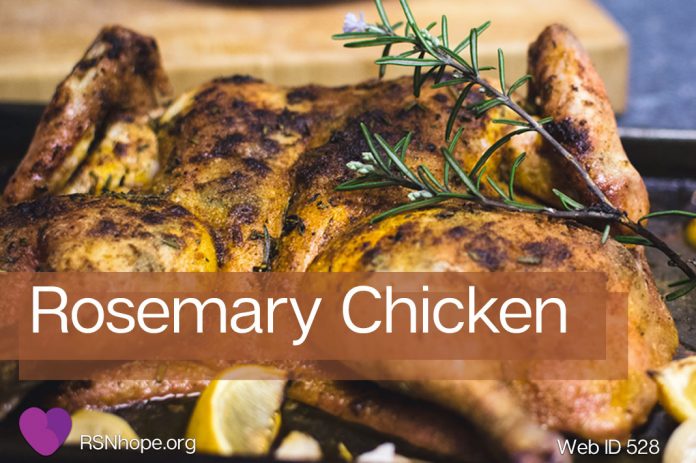 You'll want to bookmark this Rosemary Chicken dish, it's a great family dinner!
Servings: 4
Ingredients
1/2 cup dry, white wine
1/3 cup brown sugar
1/4 cup oil such as canola, safflower or sunflower
1/4 cup lime juice
2 teaspoons crushed, dried rosemary
1 teaspoon Worcestershire sauce
1 broiler-fryer chicken, cut into quarters or split in half
Directions
1.     Mix all ingredients except chicken in shallow dish to make marinade.
2.    Add chicken and turn to coat with marinade. Cover and refrigerate at least 4 hours, turning occasionally.
3.    Drain chicken, reserving marinade for basting.
4.    Place chicken, skin side down, on rack in broiling pan about 7 to 9 inches from heat source. Broil for 20 minutes, occasionally basting chicken with marinade. Turn chicken, brush generously with marinade and broil 15 minutes more or until fork tender.
5.    Discard any remaining marinade.
Approximate analysis per serving:
Recipe Disclaimer
Due to variations in ingredients, the nutritional analyses should be used as a guideline only.
A renal dietitian reviews all recipes, but we cannot assure that all values are accurate. Remember to consult a renal care provider with respect to any specific questions or concerns you may have regarding proper renal nutrition or before making any changes in your renal diet.
Uploaded: 12-31-2008
Web ID 528