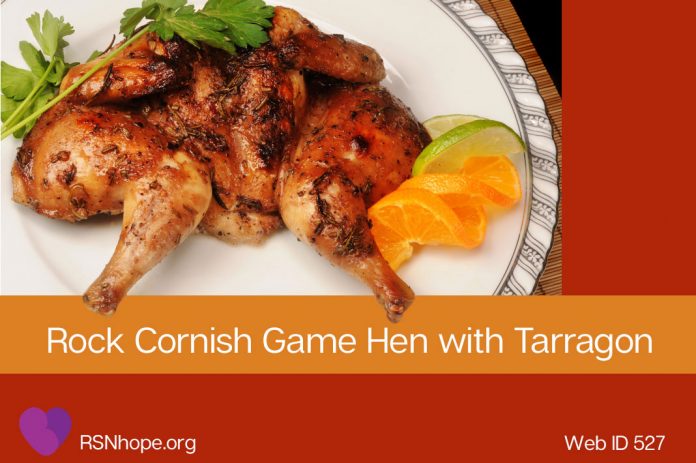 Serve these Rock Cornish Game hens at your next kidney-friendly dinner party.
Makes 4 portions; serving size 1/2 hen
2 Rock Cornish Game hens, 1 1/4 lb each, split
1 garlic clove, pared, sliced
Freshly ground pepper as needed
1/4 lb. Margarine
1 tbsp. Tarragon
1 tbsp. Fresh parsley, chopped
Tim excess skin from neck and fat from tail. Rub skin with garlic; lightly sprinkle with pepper. Place hens, skin side up, in 2-in deep baking pan.
Heat margarine until melted; add tarragon and parsley; combine thoroughly. Bake hens at 350F, basting with tarragon mixture every 15 minutes for 1 hour. Drain off margarine before serving.
Calories 286
Protein 24 g
Fat 12 g
Carbohydrates 1 g
Sodium 71 mg
Calcium 29 mg
Potassium 235 mg
Phosphorus 160 mg
Recipe Disclaimer
Due to variations in ingredients, the nutritional analyses should be used as a guideline only.
A renal dietitian reviews all recipes, but we cannot assure that all values are accurate. Remember to consult a renal care provider with respect to any specific questions or concerns you may have regarding proper renal nutrition or before making any changes in your renal diet.
Web ID 527