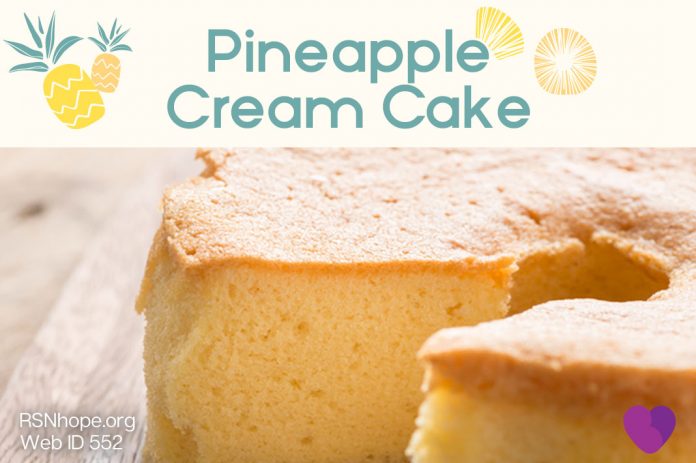 Serve this pineapple cream cake for breakfast or an after dinner dessert.
Servings: 18
Ingredients
1 8-oz pkg. cream cheese, softened
1/4 cup sugar
5 large eggs
1 8-oz can crushed pineapple, drained
1 box yellow cake mix (about 18 ounces)
1/3 cup vegetable oil
1 cup water
1 teaspoon vanilla flavoring
Directions
1. Preheat the oven to the temperature recommended on the box of cake mix.
2. In a small bowl, combine cream cheese, sugar, and two eggs, beating well. Stir in
Drained pineapple and set aside.
3. In a large bowl, combine the yellow cake mix, oil, water, vanilla flavoring, and
remaining three eggs. Beat with an electric mixer at high speed for two minutes.
4. Spray either a Bundt pan or a 9 X 3.5-inch tube pan with cooking spray and cover
with flour.
5. Add the cream cheese mixture to the cake batter, mixing well. Then pour the batter
into the greased and floured pan.
6. Bake for 55 to 65 minutes or until the center is set. Test for doneness by inserting a
butter knife into the center of the cake. Cool in the pan for 10 minutes.
Approximate analysis per serving:
(Submitted by Oliver Hale)
Recipe Disclaimer
Due to variations in ingredients, the nutritional analyses should be used as a guideline only. A renal dietitian reviews all recipes, but we cannot assure that all values are accurate. Remember to consult a renal care provider with respect to any specific questions or concerns you may have regarding proper renal nutrition or before making any changes in your renal diet.
Uploaded: 12-31-2008
Web ID 552