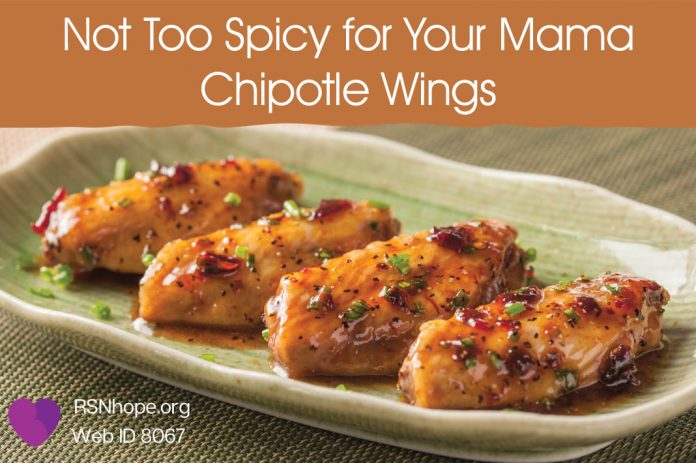 Tasty, yes, but not too spicy. Just what's in this sauce? Chipotle peppers in adobo sauce, honey, butter, black pepper and chives. Oooh, Mama!
5 (1 serving = 4 pieces)
Ingredients
1 pound fresh jumbo chicken wings cut in pieces or 20 individual pieces
Oil for greasing baking sheet tray
1 1/2 tablespoons diced chipotle peppers in adobo sauce*
1/4 cup honey
1/4 cup unsalted butter, slightly melted
1 teaspoon black pepper
1 tablespoon chopped chives
*Chipotle peppers in adobo sauce are available in cans in the Latino/Mexican/ethnic food aisle of most grocery stores.
Directions
Preheat oven to 400° F.
Place the precut wings on a large greased nonstick baking sheet tray.
Bake for 18–20 minutes, turning halfway through the cooking time or until crispy on the outside and reaching an internal temperature of 165° F on an instant-read thermometer.
Add the remaining ingredients to a large bowl and combine with a rubber spatula, until well mixed.
Remove the wings from the oven and toss in the sauce until evenly coated. Transfer to a large platter and serve.
Calories: 384
Total Fat: 26g
Saturated Fat: 12g
Trans Fat: 1g
Cholesterol: 15 mg
Sodium: 99mg
Carbohydrates: 18g
Protein: 20g
Phosphorus: 146mg
Potassium: 266mg
Dietary Fiber: 0g
Calcium: 21mg
Published with permission from Fresenius Kidney Care
Web ID 8067