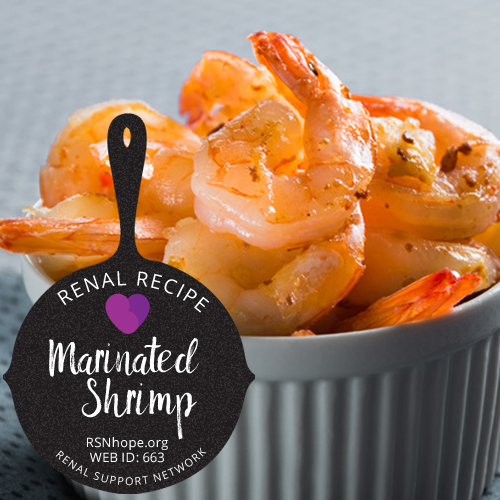 Aromatic garlic, cloves, and savory capers and red pepper sauce pack a huge flavor punch, making this shrimp a real standout.
Easy Link Recipe ID: 5064
(Need to make 24 hours in advance)
12 portions, serving size 6 shrimp
Combine:
2 1/2 lb large shrimp, 31-35 shelled, deveined, cooked in crab boil
1 1/2 cups oil
3/4 vinegar
2 1/2 tsp. Capers, undrained
1 1/2 tsp. Celery seeds
1 tsp salt
1 tsp whole cloves
1 garlic clove, pared, minced
2 dashes red pepper sauce
2 cups onions, pared, thinly sliced
8 bay leaves
Alternate layers of shrimp mixture, onions and bay leaves in glass bowl; refrigerate for 24 hours.
Calories 188 kcal
Protein 17 gm
Fat 12 gm
Carbohydrate 2.4 gm
Cholesterol 98 mg
Sodium 180 mg
Potassium 187 mg
Phosphorus 162 mg
Web ID 663