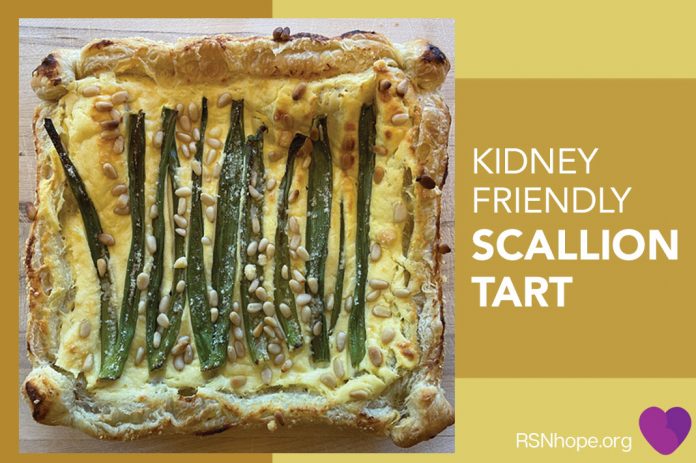 Start your meal off with a show-stopper of an appetizer! This recipe calls for green onions (scallions) but you can substitute with the larger spring onions if you prefer. 
6 Servings INGREDIENTS
1 sheet of puff pastry, thawed
4 oz. goat cheese
1 egg
pinch of salt
6 to 8 green onions, roots trimmed
1/2 cup grated parmesan cheese
1/4 cup toasted pine nuts (optional)
INSTRUCTIONS
1. Preheat oven to 400°F.
2. Roll the puff pastry out to about a 12-inch by 14-inch rectangle and place it on a baking sheet. Pierce the middle of the pastry with a fork.
3. Combine the goat cheese, egg, and a pinch of salt, and blend with a fork or an electric mixer until smooth.
4. Spread the goat cheese mixture onto the pastry, leaving a border of 1 to 2 inches on the edges.
5. Fold each edge over onto itself (not onto the goat cheese mixture) to create a slightly elevated crust.
6. Place the green onions side-by-side on top of the cheese. (You can get creative here with a design such as alternating the bulb ends with one up and one down.)
7. Sprinkle with parmesan cheese and pine nuts.
8. Bake for 25 to 30 minutes, until crust is golden brown and cooked through.

Approximate analysis per serving:
Calories: 117 
Sodium: 135 mg
Protein: 6 g 
Potassium: 64 mg
Fat: 10.53 g 
Calcium: 153 mg
Carbohydrates: 2.7 g 
Phosphorus: 153 mg
Fiber: .3 g  
Cholesterol: 78 mg
Web ID 4057-1