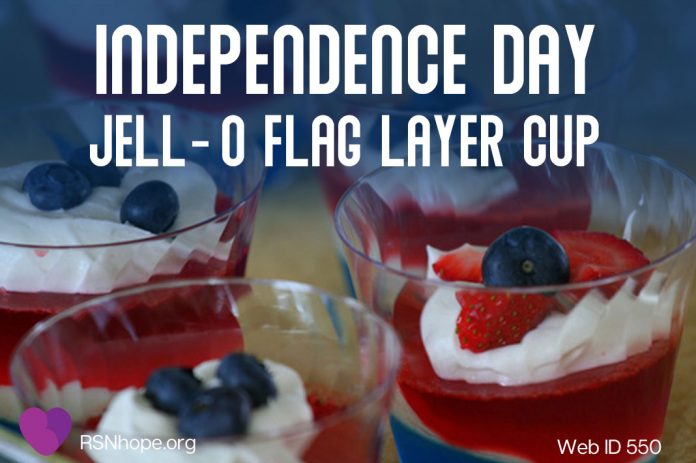 These kidney-friendly 4th of July Layered Jello desserts are a crowd pleaser for all ages and sure to be the hit of the party!
Serves: 16,
Cooking/Prep time: 5 hours (best made a day in advance)

Ingredients
1 small package of blueberries
2 six ounce packages of red jell-o (any flavor)
2 six ounce packages of blue jell-o (any flavor)
1 six ounce package lemon jell-o
1 sixteen ounce tub of non-dairy whipped topping (such as cool-whip,) thawed
3 ¾ cups pineapple juice, refrigerated
7 ½ cups boiling water

Directions
1.  Spray 13" x 9" pan with non-stick spray. If you have one, you may also use a flag mold for an even greater flag-like appearance.
2.    Make the red jell-o. In a large bowl, stir 3 cups of boiling water into red gelatin until dissolved. About 2 minutes
3.    Once dissolved, stir in 1 ½ cups cold pineapple juice. Pour into the 13" x 9" pan or flag mold. (The pineapple juice adds more flavor than just using cold water.
4.    Refrigerate pan for 1 hour. (The red jell-o is made first, because it will be at the top after unmolding.)
5.    Make the lemon jell-o. Wash the large bowl or use a new bowl to make the next batch of gelatin. You don't want the colors to mix. In this bowl, stir 1 ½ cups boiling water into the lemon jell-o.
6.    Once dissolved, stir in ¾ cup cold pineapple juice. Refrigerate the lemon jell-o in the bowl for 30 minutes. This should thicken the jell-o, but not set it completely. The lemon jell-o should be the consistency of egg whites.
7.    Fold in 8 ounces (about half the tub) of cool whip to the bowl with the thickened lemon jell-o. This will make the jell-o white as well as give it a nice flavor and texture. Pour the mixture over the set red jell-o.
8.    Refrigerate for another 30 minutes.
9.    Make the blue jell-o. Stir 3 cups of boiling water into blue jell-o until dissolved.
10.  Once dissolved, stir in 1 ½ cups cold pineapple juice. Pour over hardened jell-o in the pan.
11.  Refrigerate for 3 hours or overnight.
12.  Remove the jell-o from the pan by sliding a butter knife around the edges. Carefully flip the gelatin onto a serving platter.
13.  To get a more defined, flag-like appearance, trim the edges of the jell-o with a sharp long knife.
14.  Decorate the top left corner with blueberries in a square pattern (you may have to trim the bottoms of the blueberries to get them to stay.) Then, create the white stripes. Fill a pastry bag (or a large Ziploc bag with a hole cut in one corner) with non-dairy whipped topping and create flag-like stripes across the jell-o.
NOTE: This recipe may also be halved and put into cocktail glasses or ice cream dishes and topped with fruit for a simpler Independence Day treat. See photo.(How to Un-mold Gelatin)Dip mold in warm water for about 15 seconds. Gently pull gelatin from around edges with moist finger. Place moistened platter on top of mold. Invert mold and platter quickly. Holding mold and platter together, shake slightly to loosen. Gently remove mold; center gelatin on platter.
Nutrient Information
Approximate analysis for 1/16th of recipe:

Diabetic or Weight Reduction Options: Use a sugar-free gelatin product.

Recipe Disclaimer
Due to variations in ingredients, the nutritional analyses should be used as a guideline only. A renal dietitian reviews all recipes, but we cannot assure that all values are accurate. Remember to consult a renal care provider with respect to any specific questions or concerns you may have regarding proper renal nutrition or before making any changes in your renal diet.
Uploaded: 12-31-2008
Web ID 550