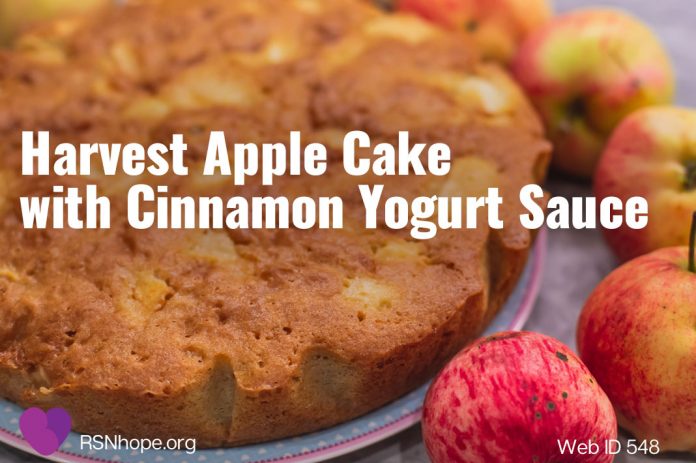 No need to wait 'til fall, y'all!  Make this yummy, kidney-friendly apple pie all year long.
Makes 12, serving size 1 slice
Preparation
Combine 3/4 of apples and sugar; let stand for 45 minutes.
2 cups golden delicious apples, unpeeled, chopped
1 cup light brown sugar, packed
Combine:
3/4 cup flour
3/4 cup whole wheat flour
1 tsp baking soda
1 tsp cinnamon
½ tsp salt
1/4 tsp ginger
1/4 tsp ground cloves

Directions
Stir the following in the apple mixture:
– 2 large eggs, lightly beat
– 1/4 cup vegetable oil
– 1 tsp vanilla
Add flour mixture and remaining apples; combine thoroughly.
Pour into lightly floured, greased pan; bake for 40 to 45 minutes at 350F.
Let cool on wire rack for 10 minutes; unmold.
Sprinkle 1 tbsp. confectioners' sugar over cake.
Combine 1 cup plain low fat yogurt and 1 1/2 tsp cinnamon.
Serve yogurt mixture with cake.

Nutrient Information
Calories 186 kcal
Protein 4 gm
Fat 6 gm
Carbohydrate 29 gm
Cholesterol 47 mg
Sodium 156 mg
Potassium 172 mg
Phosphorus 86 mg

Recipe Disclaimer
Due to variations in ingredients, the nutritional analyses should be used as a guideline only. A renal dietitian reviews all recipes, but we cannot assure that all values are accurate. Remember to consult a renal care provider with respect to any specific questions or concerns you may have regarding proper renal nutrition or before making any changes in your renal diet.
Uploaded: 12-31-2008
Web ID 548