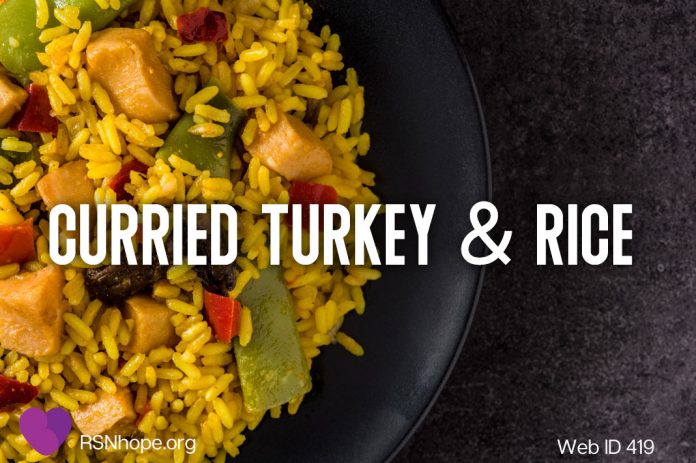 Warm and as spicy as you like it. Serve this dish at your next dinner party for rave reviews.
Serves: 6
Ingredients
1 teaspoon vegetable oil
1 pound turkey breast cut into 8 (2 oz.) cutlets
1 medium onion, chopped
1 tablespoon unsalted margarine
2 teaspoons curry powder (Curry powder can be found in mild or spicy.)
2 tablespoon flour
1 cup low-sodium chicken broth
1/2 cup non-dairy creamer
1 teaspoon sugar
2 cups cooked white rice

Directions
1. In a large skillet, heat oil. Add turkey. Cook, turning once until no longer pink,
For about 10 minutes. Place turkey on plate. Cover with foil to keep warm.
2. In same skillet, melt margarine. Add onion & curry powder. Cook, stirring for
5 minutes. Add flour stirring constantly.
3. Stir in broth, non-dairy creamer and sugar. Stir occasionally until thickened.
4. Return turkey to skillet. Cook, turning to coat until heated through, about 2
minutes.
5. Serve turkey and sauce over rice.
Nutrient Information
Approximate analysis per serving:
Recipe Disclaimer
Due to variations in ingredients, the nutritional analyses should be used as a guideline only.
A renal dietitian reviews all recipes, but we cannot assure that all values are accurate. Remember to consult a renal care provider with respect to any specific questions or concerns you may have regarding proper renal nutrition or before making any changes in your renal diet.
Web ID 419