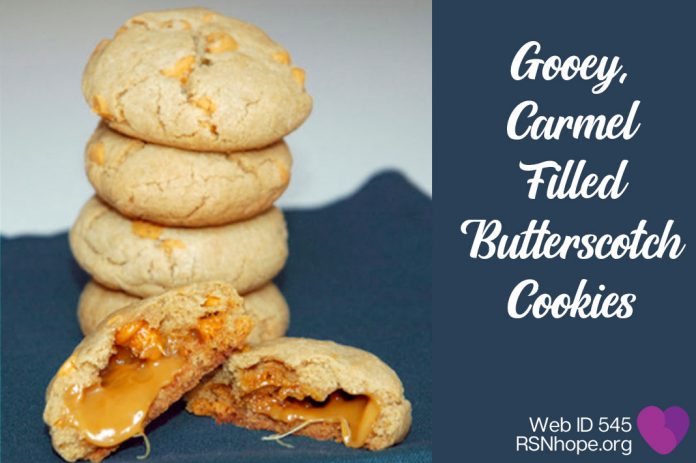 It's about to go down with these creamy butterscotch filled, delicious cookies. Hide the cookie jar from the kids, you're going to want these all to yourself.
Ingredients
½ cup (1 stick) unsalted margarine
1 cup light brown sugar
3 tablespoons granulated sugar
3 Tbsp of Egg alternative (or one large egg)
2 teaspoons vanilla extract
1-3/4 cups all purpose flour
½  teaspoon baking powder
½  teaspoon baking soda
1-1/2 cups butterscotch morsels
½ bag of caramel cubes
Directions
Preheat oven to 350 degrees.
Cream the butter with the sugars using an electric mixer on medium speed until fluffy (approximately 30 seconds).
Beat in the egg and the vanilla extract for another 30 seconds.
In a mixing bowl, sift together the dry ingredients and beat into the butter mixture at low speed for about 15 seconds. Stir in the butterscotch chips.
Using a 1 Tablespoon ice cream scoop, drop cookie dough onto a greased cookie sheet or a cookie sheet lined with parchment paper about 3 inches apart. Place one caramel square in the center and top with another tablespoon of dough.
Roll them in your hand so they are a nice even ball.
Bake for about 12-20 minutes or until nicely browned around the edges. The cookies will remain fairly thick and not spread out like other kinds of cookies.
NOTE: Let the cookies cool completely on the cookie sheet. Some of the caramel may have sunk to the bottom, so to avoid breaking the cookies, this is an important step.
To fully enjoy cookies over the next few days, microwave one or two at a time for 10 seconds
Nutrient Information:

<//em>
Recipe Disclaimer
Due to variations in ingredients, the nutritional analyses should be used as a guideline only. A renal dietitian reviews all recipes, but we cannot assure that all values are accurate. Remember to consult a renal care provider with respect to any specific questions or concerns you may have regarding proper renal nutrition or before making any changes in your renal diet.
Uploaded: 12-31-2008
Web ID 545