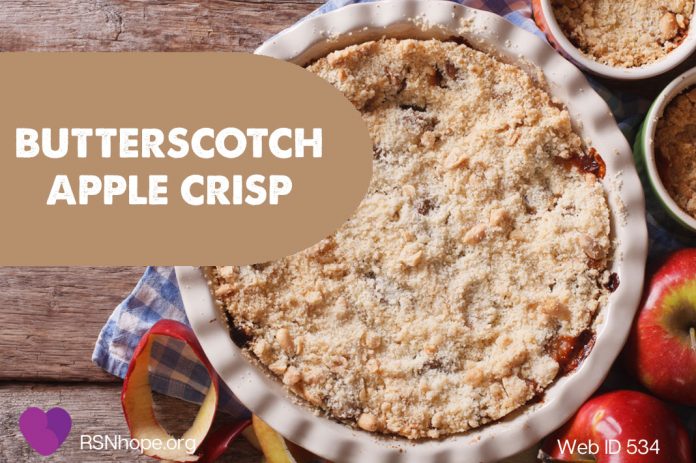 Comfort food for your sweet-tooth! This dessert is a caramel lovers dream. Cozy up next to the fire and dig in!
Servings: 9
Ingredients
6 cups peeled, sliced cooking apples
1 tablespoon lemon juice
1 tablespoon water
2 teaspoons ground cinnamon (divided use)
1/4 cup light brown sugar
1/2 cup all-purpose flour
1/2 cup rolled oats
1 (3-1/4 oz) package butterscotch pudding and pie filling mix (not instant)
1/2 cup unsalted margarine or butter

Directions
1. Heat oven to 375 F. Place apples in 8 or 9-inch square pan. Sprinkle with
lemon juice, water, and 1 tsp cinnamon.
2. Combine brown sugar, flour, rolled oats, remaining cinnamon, and pudding,
then mix in a small bowl.
3. Melt margarine or butter. Mix with pudding mixture until crumbly. Sprinkle
over apples. Bake for 40-45 minutes or until apples are tender. Serve warm
or cooled. If desired, serve with non-dairy creamer or non-dairy dessert
Approximate analysis per 1/9 recipe:
Recipe Disclaimer
Due to variations in ingredients, the nutritional analyses should be used as a guideline only. A renal dietitian reviews all recipes, but we cannot assure that all values are accurate. Remember to consult a renal care provider with respect to any specific questions or concerns you may have regarding proper renal nutrition or before making any changes in your renal diet.
Web ID 534