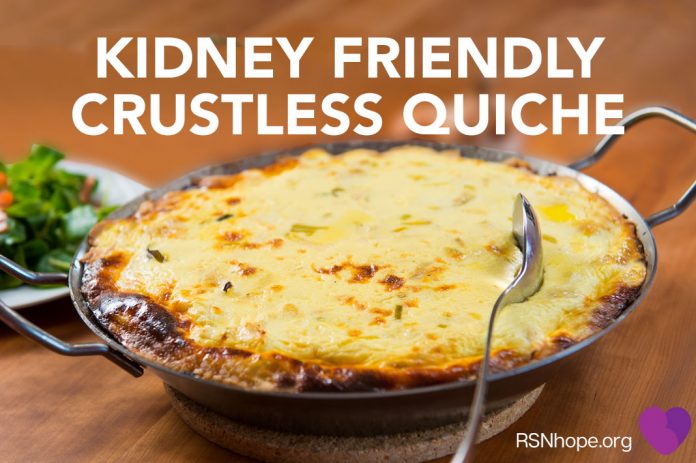 Here's a kidney-friendly crustless quiche with rich flavor but without the fuss of a crust! It's a tasty dish for breakfast or dinner. Make it for one and store in the fridge for a week's worth of meals, or enjoy it with the family.
8 Servings INGREDIENTS
6 eggs
1 cup milk
1/2 cup grated Monterey Jack cheese
1 cup chopped broccoli
1 cup sliced onions or green onions
INSTRUCTIONS
1. Preheat oven to 350°F.
2. Whisk together the eggs, milk, and cheese.
3. Stir in broccoli and onions.
4. Pour mixture into a 9″ baking dish.
5. Bake uncovered for about 45 minutes or until the center is cooked through.
6. Serve warm, or store in an airtight dish in the refrigerator.
Approximate analysis per serving:
Calories: 136 
Sodium: 148 mg
Protein: 10 g 
Potassium: 192 mg
Fat: 9.12 g 
Calcium: 132 mg
Carbohydrates: 2.98 g
Phosphorus: 182 mg
Fiber: .3 g  
Cholesterol: 470 mg
Web ID: 4057-3