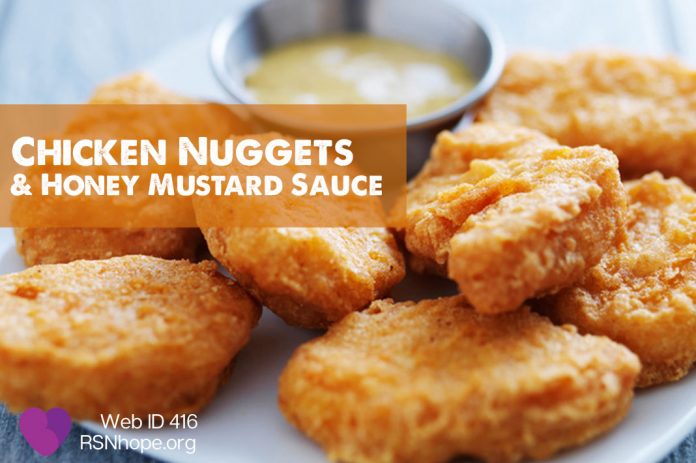 Made from scratch kidney-friendly chicken nuggets kids (and adults) will love!
Servings: 12
Serving Size: 3 nuggets with 1 tablespoon sauce.
Ingredients
1 pound boneless chicken breast cut into 36 bite-sized pieces
1 tablespoon Dijon mustard
1/2 cup mayonnaise
1/3 cup honey
2 teaspoons Worcestershire sauce
1 egg, beaten
2 tablespoons liquid nondairy creamer
3 cups finely crushed low sodium cornflakes
Nonstick cooking spray
Directions
1. Stir mustard, mayonnaise, honey, and Worcestershire sauce together in a
small bowl. Chill sauce until nuggets are cooked, then serve as a dipping
sauce.
2. Preheat oven to 400°F.
3. Combine egg and nondairy creamer in a small bowl. Crush cornflakes and
pour crumbs into a large zip-lock bag.
4. Dip chicken pieces in egg mixture, then shake in zip-lock bag to coat with
cornflake crumbs.
5. Bake nuggets on a baking sheet sprayed with nonstick cooking spray for 15
minutes or until done.
Approximate analysis per serving:
Recipe Disclaimer
Due to variations in ingredients, the nutritional analyses should be used as a guideline only. A renal dietitian reviews all recipes, but we cannot assure that all values are accurate. Remember to consult a renal care provider with respect to any specific questions or concerns you may have regarding proper renal nutrition or before making any changes in your renal diet.
Uploaded: 12-31-08
Web ID 416