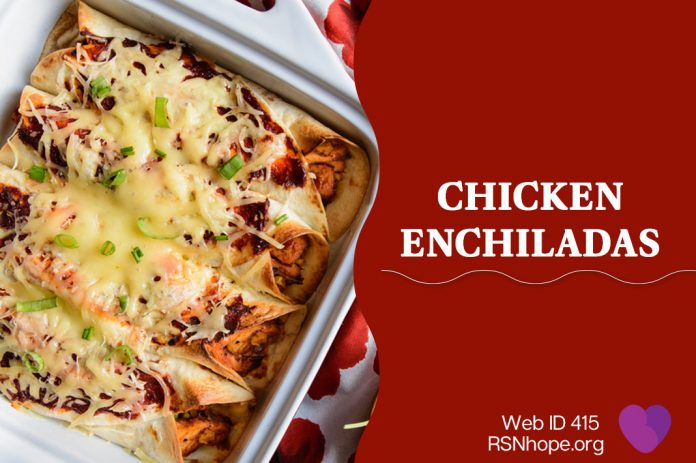 Here is a delicious recipe for homemade chicken enchiladas recipe. It's quick, easy and delicious kidney-friendly meal you can make for dinner tonight!
Servings: 7
Ingredients
Enchilada Sauce:
1 tablespoon olive oil
2 cloves garlic, minced
1 teaspoon minced onion
1/2 teaspoon dried oregano
2 1/2 teaspoons chili powder
1/2 teaspoon dried basil
1/2 teaspoon ground black pepper
1/2 teaspoon ground cumin
2 teaspoons parsley, minced
6-ounce can no-salt tomato sauce
1 cup water
Enchiladas:
8 ounces chicken (about 2 chicken breasts), boiled, shredded
2 tablespoons canola oil
1 medium onion, chopped
7 ounces can diced green chiles
8 ounces low sodium chicken broth
8 ounces sour cream
3 green onions, chopped
7  6"-flour tortillas
Enchilada sauce (recipe)
1 cup shredded Monterey jack cheese
Directions
Enchilada Sauce:
Heat oil in a saucepan over medium heat. Add garlic and onion and sauté for 2 minutes.
Add remaining ingredients and bring to a boil. Reduce heat and simmer for 15 to 20 minutes. Set aside.
Enchiladas:
Pre-heat oven to 350°F.
Heat oil in a large skillet over medium heat. Add onions and cook for 5 minutes.
Add chicken, green chile peppers and chicken broth. Bring to a boil, reduce heat and simmer for 15 minutes.
Mix in sour cream and half of the green onions.
Spoon 1/3-cup chicken mixture into each tortilla. Roll up the tortilla and place seam down in a single layer in a 9×9 baking dish. Top with enchilada sauce, cheese and remaining green onion.
Bake for 30 minutes.
Approximate analysis per serving:
Recipe DisclaimerDue to variations in ingredients, the nutritional analyses should be used as a guideline only. A renal dietitian reviews all recipes, but we cannot assure that all values are accurate. Remember to consult a renal care provider with respect to any specific questions or concerns you may have regarding proper renal nutrition or before making any changes in your renal diet.
Uploaded: 12-31-2008
Web ID 415