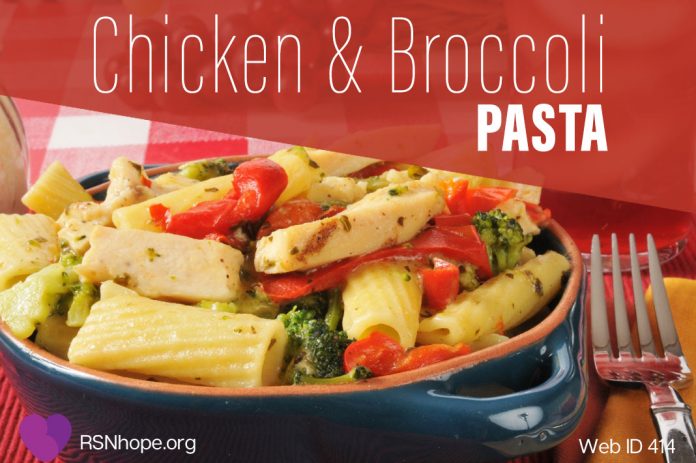 Servings: 6
Ingredients
3 cups cooked pasta (any shape will work, we used Rigatoni)
8 ounces chicken breast
2 cloves garlic
1/4 cup olive oil
1-1/2 cups chopped broccoli (frozen)
1/2 cup chopped green onions
1 cup chopped red pepper
1 teaspoon ground basil
1/4 teaspoon cayenne pepper
3/4 cup white wine
1 cup low sodium chicken broth (or homemade without salt)
Directions
1. Sauté garlic in oil in large skillet.
2. Add chicken breast cut into small strips and brown.
3. Add remaining ingredients and simmer for 15 minutes.
4. Toss with cooked bow-tie pasta and serve immediately.
Nutrient Information
Approximate analysis per serving:
Due to variations in ingredients, the nutritional analyses should be used as a guideline only.
A renal dietitian reviews all recipes, but we cannot assure that all values are accurate. Remember to consult a renal care provider with respect to any specific questions or concerns you may have regarding proper renal nutrition or before making any changes in your renal diet.
Uploaded: 12-31-2008
Web ID 414