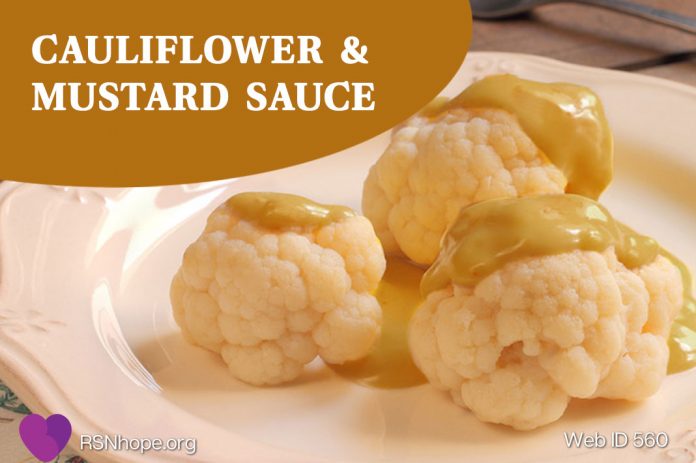 A kidney friendly vegetable recipe that even the kids will eat! The tangy and sweet mustard sauce is a perfect complement to our Rosemary Chicken renal recipe. Try the two together for an amazing combination of flavors and textures.
Servings: 4

Ingredients
2 teaspoons Dijon mustard
1 teaspoon honey
1 tablespoon + 2 teaspoons white-wine vinegar
1 tablespoon olive oil
Dash black pepper
2 cups cauliflower flowerettes
Directions
1. Whisk together the mustard and honey; whisk in the vinegar and then the olive oil.
2.  Season with some black pepper. Set aside.
3.  Add the cauliflower to boiling water and cook until tender.
4.  Drain well.
5.  Toss the drained, cooked cauliflower with the dressing.
6.  Allow to cool for 30-45 minutes and serve.
Approximate analysis per serving:
Recipe Disclaimer
Due to variations in ingredients, the nutritional analyses should be used as a guideline only. A renal dietitian reviews all recipes, but we cannot assure that all values are accurate. Remember to consult a renal care provider with respect to any specific questions or concerns you may have regarding proper renal nutrition or before making any changes in your renal diet.
Uploaded: 12-31-2008
Web ID 560