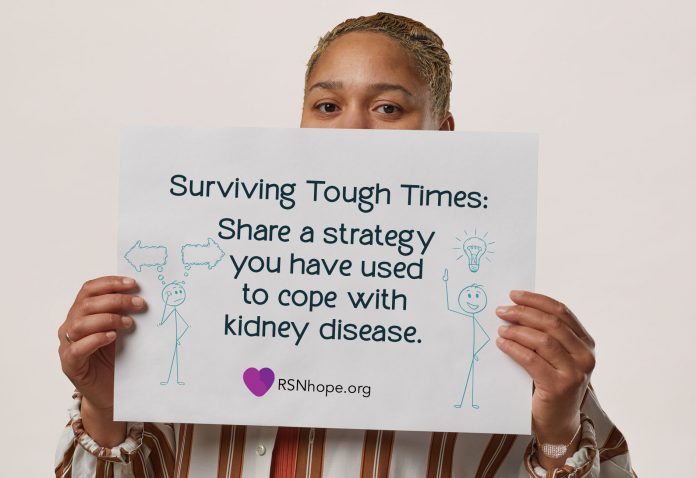 For Immediate Release
May 12th, 2022, GLENDALE, CA — Renal Support Network (RSN) is pleased to announce the theme of its 20th annual essay contest. This year it's all about "Surviving Tough Times, sharing a strategy that helps cope with kidney disease." The annual contest provides an opportunity for those who live with chronic kidney disease (CKD) to tell their story.
The essay contest is open to all people in the United States who have been diagnosed with kidney disease, on dialysis or who has had a kidney transplant. For submissions to be accepted, they must be typed and not exceed 750 words.
Lori Hartwell, founder and president of RSN, says, "Managing all the emotions that accompany kidney disease is daunting. Learning how to cope with its challenges is key to thriving despite this illness. We want to share kidney warrior strategies so that others may benefit from them. We look forward to reading all of the courageous stories."
RSN's Essay Contest was originally established in 2002. Since then, thousands of essays have been submitted by people living with CKD. You can read the essays of previous winners on the website RSNhope.org/essay-contest/.
Contest winners receive cash prizes: First Place, $500; Second Place, $300; and Third Place, $100. The submission deadline is August 10, 2022. Winners will be announced the week of September 25, 2022. Winning essays will be published on RSN's website, RSNHope.org and featured in its publication, KidneyTalk® Magazine.
Visit https://www.rsnhope.org/essay-contest to learn more about the rules and how to submit your essay.
RSN would like to thank their corporate partners who support this important contest: Akebia, Ardelyx, AstraZeneca, Fresenius Kidney Care, and U.S. Renal Care.
—————————————————————————————–
The Renal Support Network (RSN) is a nonprofit organization founded by Lori Hartwell in 1993. RSN's hopeful and life-enriching programs help people and their families dealing with kidney disease, whether in the early stages, on dialysis, or with a transplant. Lori Hartwell's mission is to help people living with kidney disease. Hartwell suffered kidney failure at the age of two, survived 50+ surgeries and 13 years of dialysis, and is now living with her fourth kidney transplant. Hartwell founded RSN to help her peers have hope and navigate this illness; she serves as President to this day. RSN is the leader in engaging people who have kidney disease with the most prolific library of patient experiences and a vast reach. www.RSNhope.org.