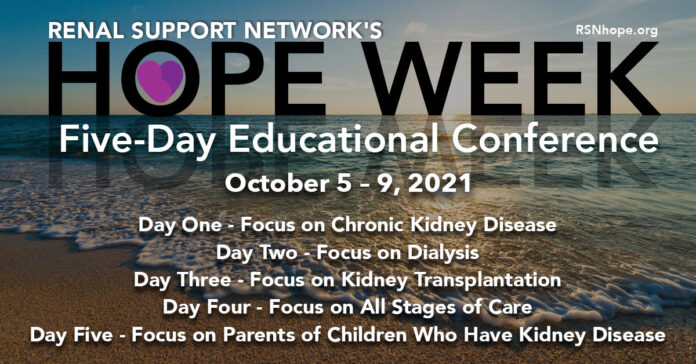 GLENDALE, Calif., September 27, 2021 – Renal Support Network (RSN) will host its 28th Annual Patient Education Meeting from October 5th-9th, 2021. After the notable success of the first virtual meeting last year, which was extended from one day to five, this year's will also be online to expand access to people across the US living with kidney disease.
For almost three decades, RSN has hosted its annual Patient Education Meeting for people living with kidney disease and their families, as well as healthcare professionals and people who want to learn more about kidney disease. Each day will focus on a specific stage or aspect of chronic kidney disease (CKD), including dialysis, insurance, kidney transplant and daily life. Healthcare professionals and others in the kidney community will share their expertise, advice and stories. RSN strongly supports equitable access to information regardless of barriers, so the virtual platform allows those who could never attend in-person due to physical, geographic or other constraints, to be an integral part, and teaches all attendees how to be their own health advocates. The event is meant to be a source of education and inspiration for everyone.
Lori Hartwell, RSN president and founder, says, "Having survived and thrived with this illness since age two, I know the importance of my peers having the knowledge and tools to navigate care in order to succeed. An illness is too demanding if you don't have hope. Every year we receive wonderful feedback including attendees who say the information gained at the meeting changed their lives." 
Throughout the week a carefully curated lineup of healthcare professionals, patients, and a few special guests will speak on topics such as innovations in kidney care, progress in transplantation, helpful diet and exercise tips, understanding Medicare and Medicare Advantage (MA) plans, kidney-related public policy and legislation awareness, and the impact of Covid-19 on the kidney community. Every discussion aims to encourage attendees to live and thrive despite kidney disease and give them the tools to do so.
One of RSN's special guest speakers will be actor, producer and activist, Ann Serrano Lopez, who donated a kidney to her ex-husband, George Lopez. She will discuss the experience of being a living donor. As more states make cannabis legal, Raffi Minasian, MD will discuss cannabis and kidney care. Dinesh Chatoth, MD will discuss some critical issues that impact dialysis patients like thirst and weight gain, and Gregory Block, MD will follow up with a discussion about a popular CKD grievance, itchy skin. There will be a patient experience panel that will focus on treatment options, and a panel of young people with kidney disease to motivate their fellow kidney kids and their families. There will be many more discussions on a variety of topics, as well as scavenger hunts, options for attendee interaction as well as treats like chair yoga and a cooking demonstration with kidney transplant recipient Chef Oliver Hale.
The event is held at no charge to participants who register to attend.  To see the full agenda and register go to www.RSNhope.org.
RSN would like to thank our patient engagement mission sponsors: Akebia Therapeutics, Amgen, Ardelyx, AstraZeneca, Fresenius Kidney Care, Horizon, Mallinckrodt Pharmaceuticals, Natera, U.S. Renal Care and Vertex.
RSN is a nonprofit patient-run organization that provides nonmedical services to those affected by chronic kidney disease (CKD). RSN strives to help those who are newly diagnosed with CKD or on dialysis, as well as kidney transplant recipients, develop their personal coping skills, special talents, and employability by educating and empowering them to take control of the course and management of their disease. www.RSNhope.org.