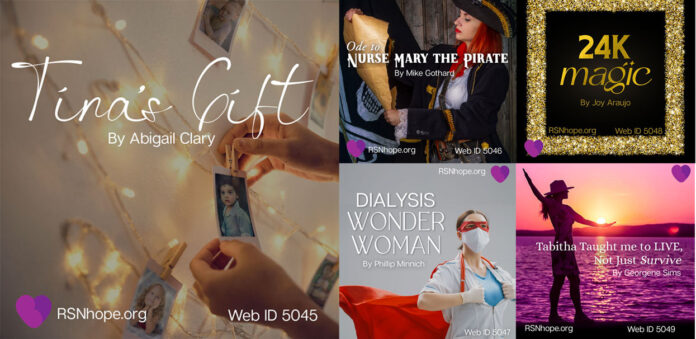 GLENDALE, Calif., September 28, 2021 – Renal Support Network (RSN) celebrates its 19th year of providing a place for people to share their inspirational stories of living with chronic kidney disease. The theme of this year's essay contest — "Who is Your Healthcare Hero?" — encouraged people who have kidney disease to express appreciation for a healthcare professional who improved their experience of care. It's all about the champions on their healthcare team. Entrants needed to meet only one criterion — to have been diagnosed with chronic kidney disease.
"Facing the reality of living with kidney disease is hard," says Lori Hartwell, President and Founder of RSN, "and learning how to manage your care can be challenging. No one can do this alone. We received close to 100 essays from people across the United States writing about how their healthcare providers became their heroes while leading them on the journey of managing their health. We are grateful to everyone who took the time to share their personal story. It was tough to choose our winners, because in this time of the coronavirus, all healthcare providers are heroes."
This year's first place winner, Abigail Clary, is grateful for the phlebotomist who soothed her anxiety as a child. "It's amazing how much healthcare professionals helped me overcome my fear of procedures. Tina was my true hero."
 Mike Gothard described his healthcare hero Mary as "a gun-toting, rum-drinking pirate nurse" and wrote a great pirate-themed poem dedicated to her in his second-place essay, "Ode to Nurse Mary the Pirate."
 Third place tie winner Phil Minnich was starting a new job while trying to learn NxStage. His "Dialysis Wonder Woman" Judy arrived "literally at 5:00 AM to do my NxStage training before I had to go to my new job. Thanks to her, I was able to do my home therapy training and my new job training simultaneously." Joy Araujo, who shared the third-place tie, described how her transplant nephrologist cheered her up with a live video of a concert she had to miss due to procedure scheduling.
 2021 Essay Contest winners and President's Pick are:
1st Place – "Tina's Gift," by Abigail Clary, Healdsburg, CA
2nd Place – "Ode to Nurse Mary the Pirate," by Mike Gothard, Beaufort, NC
3rd Place (Tie) – "24k Magic," by Joy Araujo, Fishers, IN
3rd Place (Tie) – "Dialysis Wonder Woman," by Phil Minnich, Whitehall, PA
President's Pick – "Tabatha Taught Me to LIVE, Not Just Survive," by Georgene Sims, Hammond, IN
RSN has also selected 10 more outstanding essays, awarding them Honorable Mentions:
Honorable Mention – "Head and Shoulders Above the Rest," by Jasmine Lee, West Columbia, SC
Honorable Mention – "Heroes Come in Many Different Forms," by Chelsea Roman, Sacramento, CA
Honorable Mention – "My Doctor, My Protector," by Yessenia Gutierrez, Miami, FL
Honorable Mention – "Hornets and the Rose-colored Stethoscope," by Elizabeth Howard Usher, Barboursville, WV
Honorable Mention – "Human," by Stephen Weed, Oak View, CA
Honorable Mention – "Dr. K," by Angela Humble, Kokomo, IN
Honorable Mention – "Brighter Skies," by Shar Z., Milpitas, CA
Honorable Mention – "Lucky," by Duane Busa, Clearwater, FL
Honorable Mention – "Hope" by Shelia White, Greenville, NC
Honorable Mention – "You Saved My Live, and for that I am Grateful," by David Gutierrez IV, Lake Elsinore, CA
Honorable Mention – "The Day My Life Got Interesting," by Sandra Kisselback, East Berne, NY
Honorable Mention – "Nurse Judy," by Megan Delaney, Smithville, NJ
Hartwell says her President's Pick, "Tabatha Taught Me to LIVE, Not Just Survive," by Georgene Sims, of Hammond, IN, "resonates with me because I know how it feels to be the new kid in a dialysis clinic. Georgene's nurse, Tabitha, and her healthcare team were her lifeline. My healthcare team was my lifeline too; they became my family. In fact, I had more healthcare professionals at my wedding than family members."
The RSN Essay Contest provides a much-needed platform for individuals with kidney disease to share their stories and connect through writing. It takes a team to fight kidney disease, and this year's topic provided a chance to honor the healthcare workers who do so much for us.
Cash awards were given for First Place ($500), Second Place ($300), Third Place ($100), and Fourth Place ($100). Honorable Mentions and the President's Pick also received gift cards ($100 each). All participants in the essay contest will receive a small gift in the mail. RSN top essay winners will be translated into Spanish version and accompanied by  an audio version read by the author.
The large number of high-quality essay submissions RSN received this year illustrates the potential for hope and inspiration. Through their words, these writers are encouraging others to tell their stories of struggling with chronic kidney disease. Winning essays, and additional information about kidney disease and organ donation, can be found here.
RSN would like to thank Fresenius Kidney Care, Akebia, U.S. Renal Care Inc, Dialysis Clinic Inc., Ardelyx, and AstraZeneca, for their support of this valuable patient engagement program.
RSN is a nonprofit patient-run organization that provides nonmedical services to those affected by chronic kidney disease. RSN strives to help kidney transplant recipients, and those who are newly diagnosed or on dialysis, develop their personal coping skills, special talents, and employability by educating and empowering them to take control of the course and management of the disease. www.RSNhope.org.