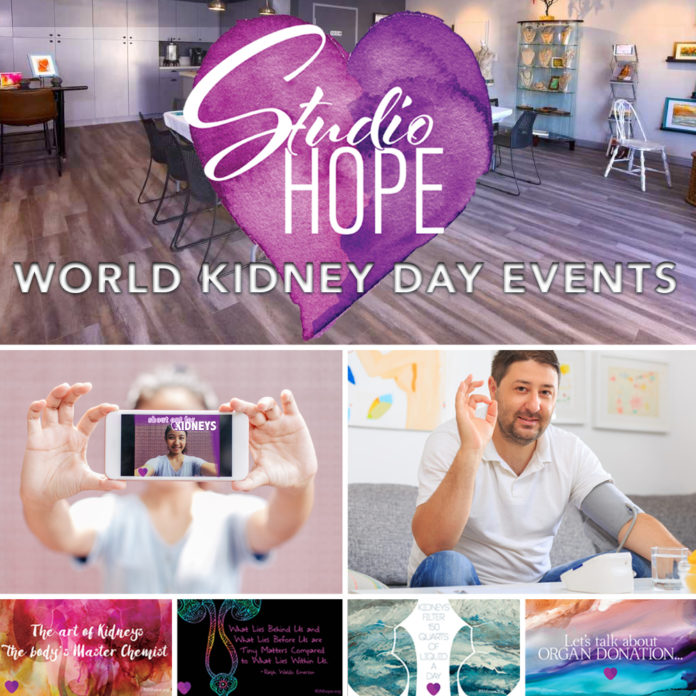 GLENDALE, CALIF. FEBRUARY 26, 2018 – World Kidney Day reminds us all of how important our kidneys are to overall human health. It is celebrated every year on the second Thursday in March. More than one in ten adult Americans are at risk for kidney disease. Renal Support Network (RSN) is holding a three-day event at its Studio Hope to raise awareness of kidney disease. Kidney disease is often stealthy, remaining undiscovered and undiagnosed until later stages. Education is key to reducing the frequency and impact of this disease and its associated health problems worldwide.
RSN invites members of the press, the community, friends and families to join in the conversation and learn important facts about kidney disease. Visit Studio Hope to be proactive in your health and learn about these master chemists. Join us and learn about how to advocate for you and your loved one's kidney health.
"I have lived with kidney disease for 49 years, since the age of 2. I want to help people know the warning signs of this disease and the importance of knowing what questions to ask your doctor," says Lori Hartwell, RSN Founder and President.
Where:
621 E. Glenoaks Blvd., Suite B
When:
Thursday, March 8, (World Kidney Day) 1:00pm – 8:00pm
Saturday, March 10, 1:00pm – 5:00pm
Sunday, March 11, 1:00pm – 5:00pm
What:
Along with opportunities for the local press and community to meet and chat with kidney disease survivors, Lori Hartwell and organizers' activities include:
• Send Kidney Health Awareness Postcards: RSN has designed beautiful Kidney Health Awareness postcards that you can address and send to friends, family, and elected officials to raise awareness about kidney health and organ donation.
• Get a Free Blood Pressure Test: High blood pressure is the second leading cause of kidney disease. Most people cannot tell if their blood pressure is high because there are usually no symptoms.
• Tell Your Story: Tell your own story with a video using fun stage props to share on social media to raise awareness about Kidney Health and Organ Donation. Tell us how you learned you had kidney disease and how you have advocated for the best care!
About:
Studio Hope is a place that helps RSN carry out our mission of raising awareness about kidney disease, organ donation and help educate those that have been diagnosed. Studio Hope offers support groups, educational meetings, art and craft classes and special events. Visit our website to learn more at RSNhope.org/Studio
The Renal Support Network (RSN) is a nonprofit patient organization that provides non-medical services to those affected by chronic kidney disease. RSN strives to help patients (dialysis, kidney transplant, and newly diagnosed patients) develop their personal coping skills, special talents, and employability by educating and empowering them to take control of the course and management of the disease.