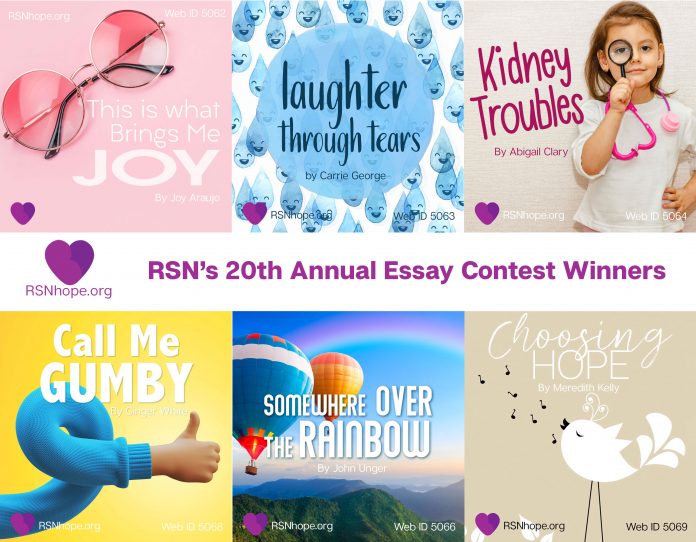 GLENDALE, Calif., September 28, 2022 – For two decades, the Renal Support Network's (RSN) essay contest has provided a unique platform for individuals who have kidney disease to share their stories and connect through writing. The theme of this year's essay contest — "Surviving Tough Times, sharing a strategy that helps cope with kidney disease." — inspired people who have kidney disease to share their experiences and how they learned to cope with the illness. The contest is open to anyone in the United States who has been diagnosed with chronic kidney disease.
"It's hard for me to believe that it's been 20 years since we hosted the first essay contest," says Lori Hartwell, President and Founder of RSN. "Every year I have the privilege of reading my peers' amazing stories. These stories are the fuel that drives hope for people who have kidney disease. Seeing my peers overcome such incredible adversity makes me determined to persevere. Don't miss this opportunity to read their words of wisdom."
Joy Araujo's essay, "This is What Brings Me Joy," wins first place. She inspires us with her compelling way of telling her story. She says, "I had been feeling a little depressed lately and it was difficult to write this essay, but it was important. And to think that I won makes me want to cry tears of happiness."
Carrie George's essay, "Laughter Through Tears," wins second place. Carrie says, "I learned that when you can laugh others connect with you more easily, and we all feel a little bit better afterwards."
Hartwell added, "It's difficult to choose winners each year, and this year proved equally challenging. Given the fact that it's the 20th year, I chose to break my rule and pick two winners for the President's Pick award. Meredith Kelly's "Choosing Hope," was magically written. It reemphasizes how important hope is over everything else. And John Unger's "Somewhere Over the Rainbow," spoke to me because of its frank and honest way of living in the moment and learning how to deal with day-to-day adversity."
RSN is grateful to all those who participated in this year's contest. The 20-judge panel has determined the winners. We congratulate the following:
Essay Contest Winners
1st Place – "This is What Brings Me Joy," by Joy Araujo, Fishers, IN
2nd Place – "Laughter Through Tears," by Carrie George, Boise, ID
3rd Place – "Kidney Troubles," by Abigail Clary, Healdsburg, Ca
4th Place – "Call Me Gumby," by Ginger White, Glendale, OR
President's Picks:
President's Pick – "Choosing Hope," by Meredith Kelly, The Woodlands, TX
President's Pick – "Somewhere Over the Rainbow," by John Unger, Albuquerque, NM
RSN has also selected additional outstanding essays, awarding them Honorable Mention:
Honorable Mention – "Surviving CKD and the Hundred Acre Wood," by Mike Gothard, Beaufort, NC
Honorable Mention – "Love for Literature and Pop Culture," by Abigail Teasdale, Bakersfield, CA
Honorable Mention – "Blessings, Questions, Dreams, and Imagination," by Debra Anderson, West Jordan, UT
Honorable Mention – "Let the Truth Be Told," by Recaldo Weathespoon, Memphis, TN
Honorable Mention – "It's Called 'The Reframe,'" by Sandra Kisselback, East Berne, NY
Honorable Mention – "When the Going Gets Tough, The Tough Get Going," by Bill Naifeh, Oklahoma City, OK
Honorable Mention – "Forging Ahead," by Katherine Cortes, Williamstown, MA
Honorable Mention – "The Practice of Mindfulness," by Vivian Sims, Bedford, OH
Honorable Mention – "Living My Life on My Terms," by Rolanda John, Brooklyn, NY
Honorable Mention – "Still Running My Race," by Melvin Grayer, Omaha, NE
Honorable Mention – "Tenderly Caring for Myself," by Katherine Spahn, Lakewood, CA
Honorable Mention – "Keep Persevering," by Audrey Cantwell, Winchester, VA
Cash awards were given for First Place ($500), Second Place ($300), Third Place, Fourth Place, and President's Picks ($100). Honorable Mentions also received gift cards ($100 each). All participants in the essay contest will also receive a small gift in the mail. RSN top essay winners will be translated into Spanish and be accompanied by an audio version read by the author.
"We congratulate our winners, President's Picks, and Honorable Mentions who shared their stories this year," Hartwell says. "Through their words, these writers remind us of the potential for hope and inspiration when facing a serious disease. They offer encouragement to people struggling with chronic kidney disease."
Read the inspiring essays here: https://www.rsnhope.org/20th-annual-essay-contest-winners-2022/.
Additional information about kidney disease and organ donation, can be found at www.RSNhope.org.
RSN would like to thank Akebia, Ardelyx, AstraZeneca, Fresenius Kidney Care, and U.S. Renal Care Inc, for their support of this valuable patient engagement program.
Renal Support Network (RSN) is a nonprofit patient organization that was founded in 1993 by Lori Hartwell, a kidney disease survivor since 1968.
RSN strives to help those who are newly diagnosed with CKD or on dialysis, as well as kidney transplant recipients. RSN's goal is to empower people who have kidney disease to become knowledgeable about their illness, proactive in their care, hopeful about their future and make friendships that last a lifetime.
Hartwell suffered kidney failure at the age of two, survived 50+ surgeries and 13 years of dialysis, and is now living with her fourth kidney transplant. She knows from firsthand experience the difficulty of navigating the myriad of emotions and the importance of being engaged in your care.  www.RSNhope.org