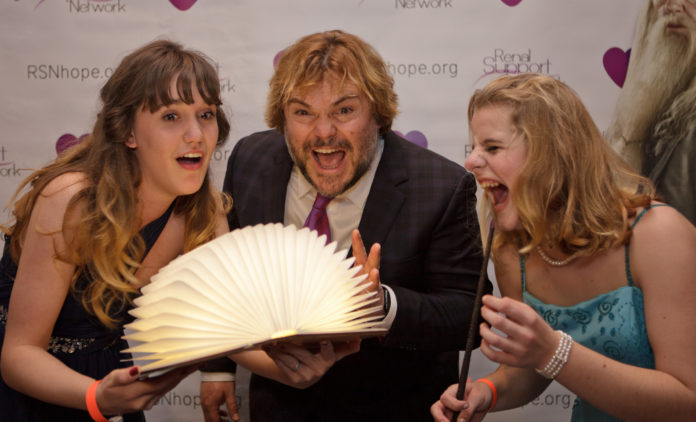 WHEN:    SUNDAY, JANUARY 15, 2017 – 6:00pm – 11:00pm
WHERE: Hilton Hotel
100 W. Glenoaks Blvd.
Glendale, CA 91202
WHAT:    Prom season comes early for teens and young adults who have been diagnosed with kidney disease, who are on dialysis or who have a kidney transplant. More than 300 kidney disease survivors and their guests will enjoy a delightful evening at the 18th Annual Renal Teen Prom, sponsored by Renal Support Network (RSN).  Themed "Spellbound," the event promises to be a marvelous night to remember, featuring long-time RSN friend and supporter, Jack Black, fresh from the set of Jumanji 2. Other celebrities, including Phillip Palmer, anchor of ABC Eyewitness News who is a living kidney donor will be there as well.
The Renal Teen Prom is inspired by Lori Hartwell, RSN's President and Founder, who missed her own prom due to being on dialysis for all of her teenage years, and who didn't want other teens to miss this coming of age event and have the opportunity to meet each other. The prom brings these young people together to share their experiences, strengths, and hopes. It lets them know they are not alone and that 'one friend can make a difference'.  This event is at no charge to attendees and their guests.
WHY:       Diabetes and High Blood pressure are the two leading causes of kidney failure in adults.  Some causes of kidney failure in children are from birth defects, blockages, urinary tract infections, high blood pressure, reflux disorder and diseases of the kidneys.  When your kidneys fail, dialysis or a kidney transplant is needed to survive. Over 120,000 people are waiting for a life-saving organ.  Many of the teens attending are waiting for a kidney transplant.
WHO:       Renal Support Network is a nonprofit, patient organization that provides non-medical services to those affected by chronic kidney disease at no charge. View videos or see photos of past years Proms.
More information about RSN's mission and services, see About RSN.

RSN thanks Astellas, Amgen, DaVita. Fresenius Medical Care, Genentech, One Legacy and US Renal Care for their support.