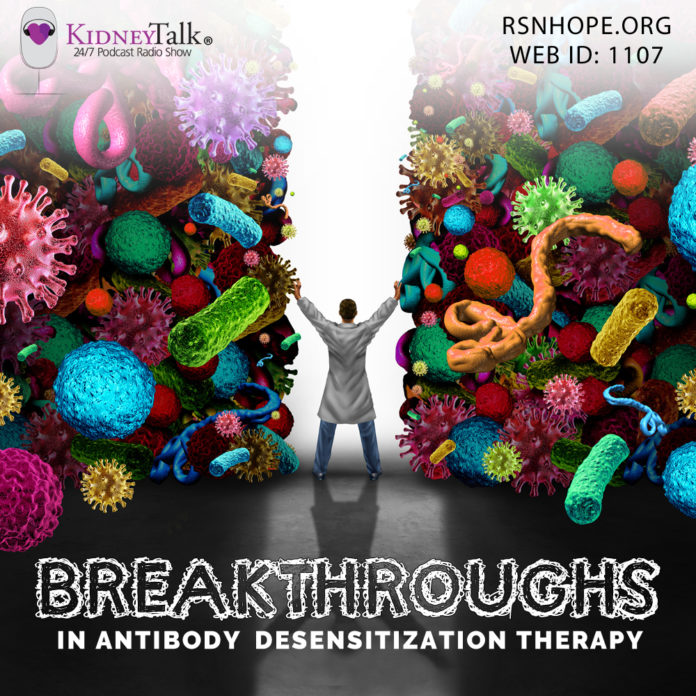 KidneyTalk™ Podcast interview with Dr. Stanley C. Jordan, MD, Cedars Sinai Director
of the Division of Nephrology Medical Director of Kidney Transplant Program, and Medical Director of Human Leukocyte Antigen and Transplant Immunology Laboratory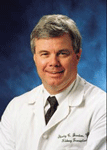 GLENDALE, Calif., August 22, 2017 –  Lori Hartwell interviews medical researcher and organ transplant pioneer Dr. Stanley C. Jordan about the development and advances in desensitization therapy to improve the outcomes of organ transplant patients around the world.
In this in-depth interview Dr. Jordan talks about his remarkable journey of his 25 years of research in developing therapies to control organ transplant rejection. Learn what antibodies are, how they can block one's access to the kidney transplant list and contribute to organ transplant rejection and failure.
Dr. Jordan tells us what can be done to manage antibodies, the importance of medication adherence, work in progress to develop an artificial kidney and other forthcoming advances in transplantation. This podcast is full of hope.
"As someone who has 100 percent antibodies, I am forever grateful to Dr. Jordan for making my 4th kidney transplant possible. Six years out and all my labs are normal. He has been burning the midnight oil for many decades to develop breakthrough medicine and patients are grateful for his innovation and tireless efforts", says Renal Support Network founder, president and host of KidneyTalk™.
Listen in at RSNhope.org to hear about his research to reduce organ rejection, breakthroughs in antibodies desensitization therapy and other advances in transplantation. Or visit RSNhope.org and enter Web ID 1107.
The Renal Support Network (RSN) is a nonprofit patient-run organization that provides nonmedical services to those affected by chronic kidney disease. RSN strives to help patients (dialysis, kidney transplant, and newly diagnosed patients) develop their personal coping skills, special talents, and employability by educating and empowering them to take control of the course and management of the disease. www.RSNhope.org