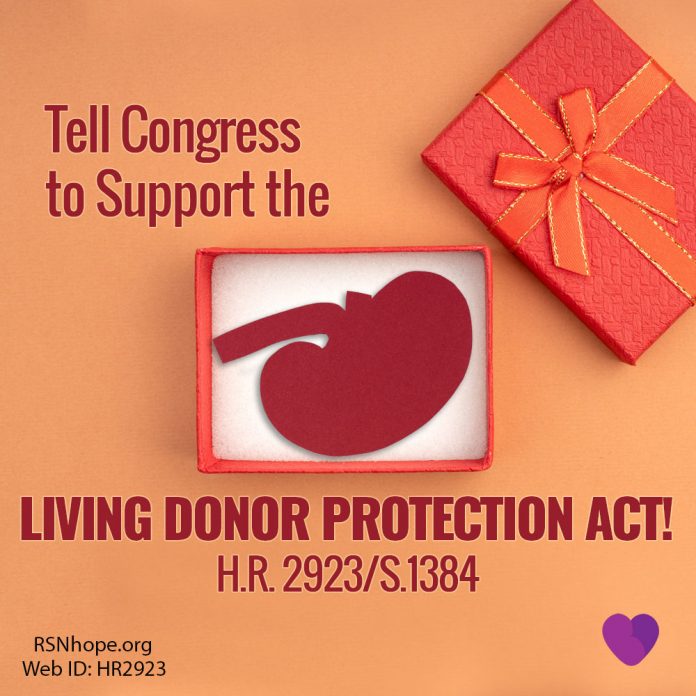 The Living Donor Protection Act of 2023 H.R. 2923/S.1384 would promote and protect living organ donation. If passed, this bill would prohibit discrimination of living organ donors by employers, life insurance providers, disability and long-term care insurance carriers.
Thank you to our elected officials Congressman Jerrold Nadler (D-NY), Congressman Troy Balderson (R-OH), Congresswoman Lisa Blunt Rochester (D-DE), Congressman Jim Costa (D-CA), Congressman John Curtis (R-UT), Congresswoman Diana DeGette (D-CO), Congresswoman Mariannette Miller-Meeks (R-IA), Congressman Gregory F. Murphy, M.D. (R-NC), and joined by Senator Kirsten Gillibrand (D-NY) and Senator Tom Cotton (R-AR), for introducing the Living Donor Protection Act to protect the rights of living organ donors.
Organ donation saves lives. Living donors are essential to reducing the wait time for many individuals in need of a life-saving kidney transplant. Under this bipartisan legislation, living organ donors will not be discriminated against.
The Living Donor Protection Act would protect living organ donors and promote organ donation in three ways:
Prohibit life, disability, and long-term care insurance and life insurance companies from denying or limiting coverage and from charging higher premiums for living organ donors.
Clarify that living organ donors may use Family and Medical Leave time to recover from the surgeries and procedures involved in their donation.
Direct Health and Human Services to update their materials on live organ donation to reflect these new protections and encourage more individuals to consider donating an organ.
Web ID HR2923