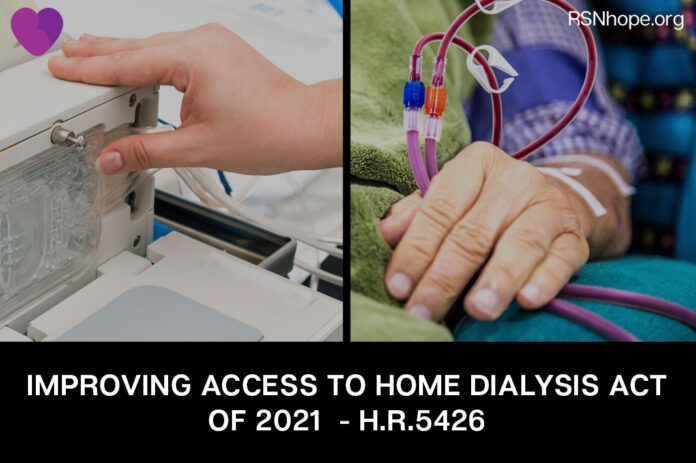 Representatives Bobby L. Rush (D-Ill.) and Jason Smith (R-Mo.) introduced bipartisan legislation to expand access to home dialysis for kidney patients. Home dialysis often leads to better health outcomes and fewer hospitalizations for people who need dialysis; it is also far more flexible than in-center dialysis.
This bill will allow Medicare to pay professional staff to work with kidney patients directly in their homes to assist them in learning how to properly do home dialysis and become independent on this dialysis modality. Home dialysis, which includes peritoneal and home hemodialysis, is under-utilized in the United States, especially among historically disadvantaged groups. Only 12% of dialyzers in the U.S. use home dialysis, lagging behind Hong Kong (82%), the Jalisco region of Mexico (51%), and New Zealand (30%) among others.
Specifically, the new bill:
Provides for reimbursement through Medicare for in-home assistance by staff of the dialysis facility to patients on home hemodialysis and peritoneal dialysis for the first 90 days of their regimen;
Provides for in-home respite staff assistance under certain circumstances outside the initial 90 days;
Provides for the possibility of continuous staff assistance without a time limit for patients with certain disabilities;
Expands the types of healthcare professionals who can provide home dialysis training;
Provides for additional educational opportunities for patients to learn about the entirety of their dialysis options, including opportunities that can be provided in group settings or via telehealth;
Provides for training on home dialysis to occur, when possible, in the location the patient intends to use to dialyze.
"Home dialysis is a better treatment option than in-center dialysis for many kidney patients — it is far more flexible and can lead to better health outcomes and quality of life," said Rep. Rush. "However, I am concerned by data showing that Black Americans are significantly less likely to be treated with home dialysis than their white counterparts. While I am grateful that my constituents are able to rely on dialysis centers in their time of need, I have long worried about the proliferation of dialysis centers in poorer and minority neighborhoods. We must do more to ensure that all kidney patients are able to access the full range of treatment options. The Improving Access to Home Dialysis Act will expand access to home dialysis and ensure that kidney patients are educated about the full range of treatment options available to them early on in their treatment process. Importantly, it will also track racial disparities in the utilization of home dialysis and patient quality of life. As a longtime champion for kidney health in Congress, I am proud to introduce this bipartisan legislation today and grateful for the support of the kidney community and my colleague Rep. Smith."
Take Action Today!
Click here to track the progress of this bill
Web ID 8018