RSN's Kidney Collage Challange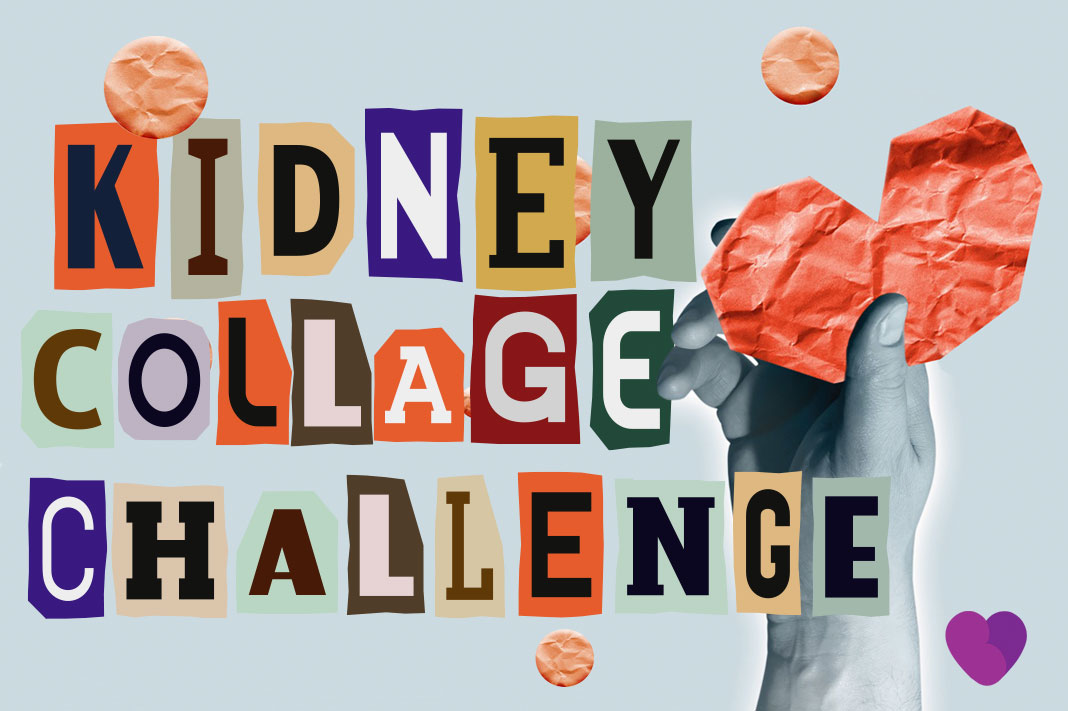 Make a Kidney Collage and Share with our #RSNKidneyCollage Challenge!
March is National Kidney Month and April is National Donate Life Month. NOW is the time to get creative and make an original piece of artwork to raise awareness and spread the word about kidney disease!
Create your own Kidney Collage that illustrates your story. Use photos, magazines, mixed media, yarn, fabric, digital files, really anything! Upload an image of your final creation as a visual highlight to your own social media posts. Post your story and messages of hope on your social media channels, and tag #RSNKidneyCollage and @RSNhope.
The goal for March is to raise awareness about kidney disease, and for April to raise awareness about the importance of organ donation.
The goal of your Kidney Collage is to help educate others learn about kidney disease and the importance of kidney health. Show the importance of the gift of life and learn the facts about organ donation.
Our community will be thrilled to see your artwork. We'll be watching all the feeds, liking, sharing, and retweeting!
We can't wait to see your creations! Remember to share one of the pages below and tag us in your post. We have all kinds of information for you to share on helping people understand how to preserve their kidney function and the importance of organ donation: Kidney Month page and Organ Donation page and tag #RSNKidneyCollage and @RSNhope.
How To make a Kidney Collage
Tips To Tell Your Story in your Kidney Collage
What is a Collage A collage is a mixed media art form that uses anything from newspaper or magazine clippings, scrapbooking materials, napkins, acrylic or oil paint and more. Pretty much anything goes.
What is Storytelling Through Art? All artists use their medium of choice to tell a story. Some weave a tale through the lyrics and music of a song. An abstract artist expresses a certain feeling with their style and color palette. Other artist and photographers may opt for a literal vision of a story. Your collage can tell a story by blending different elements together. For example:
Think of the subject of the story you want to tell (a person, a life event, etc)
Try to find something that would make the point of your story clear for the viewer by placing it at the center of the artwork like a photograph, or newspaper story or a small keepsake that you wouldn't mind committing to the artwork.
Then find other elements to compliment the center. You could make your own if you can't find exactly what you are looking for with a simple drawing on plain or colored paper. You can use any material you want to bring your story to life! Check the "What is a collage" section for some inspiration. Anything that you can glue down that is in keeping with your story would be fine.
Collage Story Ideas
You can make more than one collage and/or get your friends together for a fun crafting party. Here are some visual story prompt ideas to help you get your creative juices flowing for Kidney Month or Donate Life Month:
How did you learn that you had chronic kidney disease?
What was your cause of kidney disease?
Is kidney disease a hereditary illness in your family?
Share how you manage dialysis in your schedule.
What warning signs did you experience with kidney failure?
Dialysis and kidney transplant are lifesaving, share a story of hope.
Talk about what you've learned that helps you live well with kidney disease.
Share a story of caring for a person with kidney disease.
How do you preserve your kidney function?
Share the emotions that accompanies kidney disease.
Share a visual of a treatment experience.
Tell us about your family, a supporter, or healthcare hero.
My family/friend received the gift of life (and tell how it made you feel)
Share an innovation that you've experienced with kidney disease.
Kidney transplant is lifesaving, share a story of hope.
What were you doing when you got the phone call for a transplant?
How do you celebrate your transplant anniversary?
Tell us about your living donor.
What foods did you eat first after getting a kidney transplant?
Travel forward in time and share your invention for treating kidney disease.
Tell a story using Neff and Nuff!
Here are some kidney collage and social media post examples: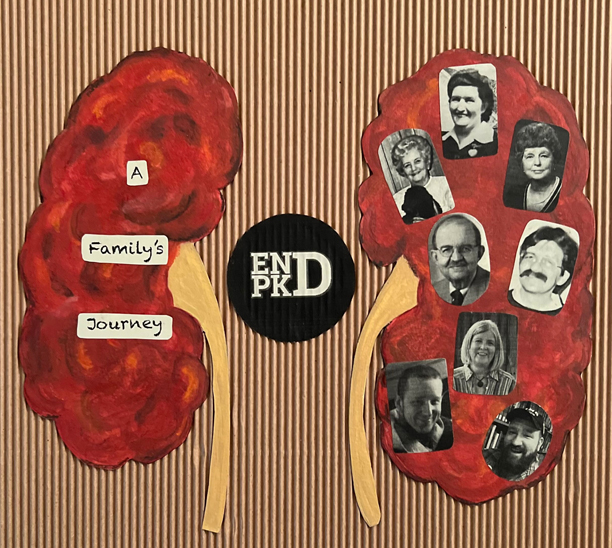 Our family journey with PKD began in the mid-1940's when my Mom's doctors discovered an enlarged cyst-covered kidney and made the decision to remove it. She was in her early twenties and she went on to have four children not knowing that PKD was a genetic condition. I was diagnosed with PKD during pregnancy and knew someday dialysis would be in my future. At the age of 44 I was placed on the transplant waiting list however, the following year I began hemodialysis and I received a deceased donor kidney in December 1999. PKD has affected far too many of my family members, we are hoping and praying for a cure to end PKD.

#RSNKidneyCollage @RSNhope #KidneyMonth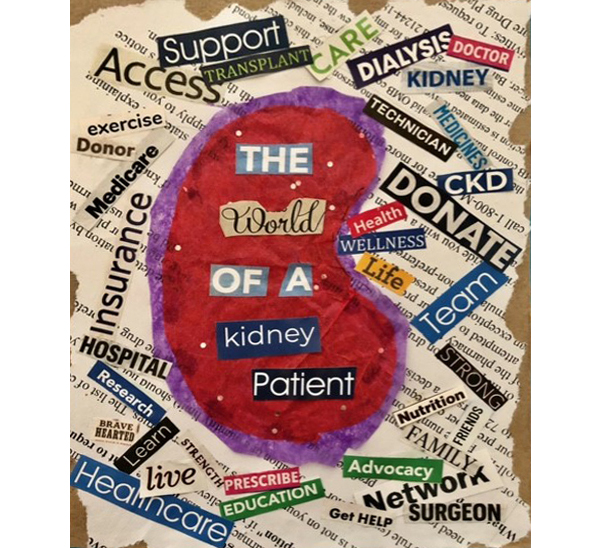 I was on peritoneal dialysis for seven years, then received a kidney transplant 10 years ago. My collage represents the new experiences and challenges in daily life that I and others have faced as kidney patients. #RSNKidneyCollage @RSNhope https://www.rsnhope.org/national-kidney-month/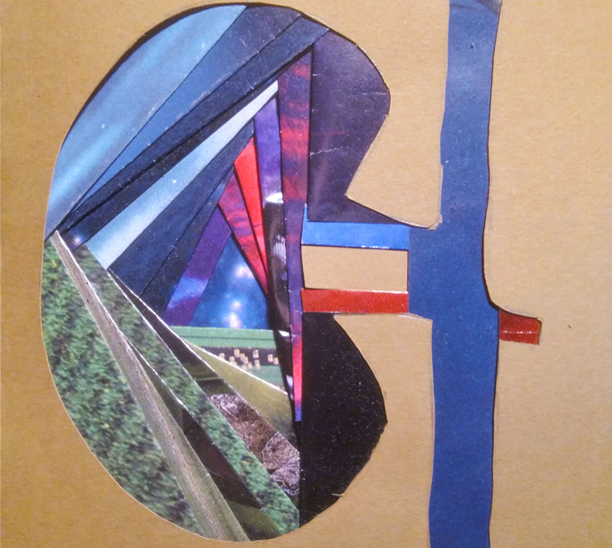 I was diagnosed with kidney disease at a very young age, much to my parents' surprise. Since then, I do everything I can to keep my kidneys happy and keep focused on living well with kidney disease. 13 years have passed since my diagnosis. Thanks to my efforts at keeping my kidneys afloat and my mind on living, I've graduated college, received a special education teaching credential, and still haven't needed a transplant. My kidney collage symbolizes a proactive approach and awareness of your kidney health. #RSNKidneyCollage @RSNhope #KidneyMonth
How To make a Collage Tutorials: