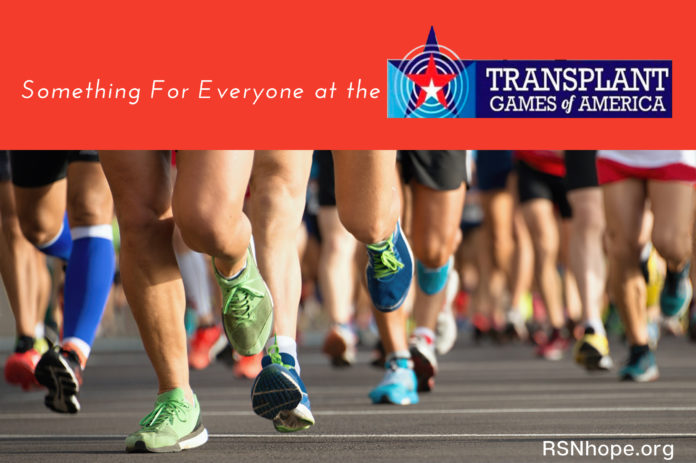 If you're at a competitive sporting event and the first thing all the athletes do in the morning is take their drugs, you're probably not at something sanctioned by the NCAA, NFL, or NBA. In fact, the athletes at this special event—the U.S. Transplant Games—are encouraged not to miss any daily drug doses. The next unusual sight will be the participants' age differences. As you wander around the designated "Athlete Village," you will see badges marked "ATHLETE" being worn by a child of three years old or a grandmother pushing the ripe young age of 80. If, at this same venue, you see people holding up their T-shirts to show off and compare their scars, once again, you may get the feeling that you have happened upon something quite unique and special.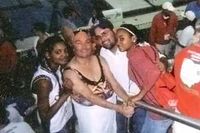 The "Convincing Moment"
The true convincing moment where you look around and realize what an awesome group of athletes you are among comes at the end of each athletic heat. Picture yourself in the stands of a state-of-the-art university natatorium (indoor swimming pool) and seven of the eight competitors have touched the electronic strip at the end of their lane. You then notice a lone swimmer struggling with all her might to make those last strokes.
Looking around, you notice you are encircled by a crowd that is three times as loud and excited as when the top-notch swimmer stopped the clock for the gold. The crowd's enthusiasm grows more and more electrified with every effort that draws her nearer to her goal. When she finally tags "home plate," she waves triumphantly to an exuberant roaring mob. You, too, can't help but get caught up in the euphoria. Cheering loudly for the last place finisher, you ask yourself: "Where can I possibly be?" The U.S. Transplant Games, of course!
"Observe and Enjoy"
Four years ago, I was fortunate to take part in the Transplant Games adventure. My own "Gift of Life" came on December 11, 1984, after I was diagnosed with chronic renal disease before the age of 10. Eligibility for the games consists of one common factor: Participants must have received a solid organ or bone marrow transplant no less than six months prior to the start of the games.
The games have been occurring every other year since 1990. They have been held in different major cities from Orlando, FL, to Salt Lake City, UT. I participated in my first games in Minneapolis, MN, with many of the competitive venues located on the campus of the University of Minnesota. I decided to sign up only for the bowling event and use the rest of the time to observe and enjoy.
"A Magical Experience"
Upon arriving, following registration and a team dinner, the athletes met at the colossal Hubert H. Humphrey Metrodome for the Opening Ceremonies. Once we entered the gates and walked out onto the astro turf, I couldn't contain my awe. I had to call my friends and family and boast of the fact that I was between second and third base in the arena where the likes of Kirby Puckett and Paul Molitor entertained and amazed their adoring fans.
As hundreds of post-transplant individuals waited with their teams for team pictures and directions to assemble, I looked high above at the gigantic posters of the heroes who played for the Minnesota Twins. My adventure into a magical experience had just begun.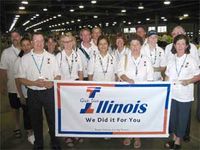 Opening Ceremonies
Opening Ceremonies are almost too overwhelming to describe. Each team, alphabetically by state, walked in, led by their team flag. I was honored to carry the Illinois flag that year and proudly waved it high as we marched in to an audience of over 4,000 people. We took our place in the stands and applauded the remaining teams as they paraded by, respectfully displaying their banners and flags.
Many of the teams showed their spirit and comaraderie with an array of distinguishing costumes and headgear. Team Maine flaunted vivid red-hot lobster claw hats. Not far behind was Team Oklahoma wearing the festive traditions of their Native American ancestors.
(This and the following photo were provided courtesy of Rich Osprey.)
Once the final team was in and seated, we all stood to cheer the last and most important group of people–the donor families. As they encircled the donor quilt, each one carrying part of the edge onto the track, we gave them our tearful and heartfelt highest regard. Every patch on the quilt represented a loved one who had touched the life of someone else, probably a stranger, with the gift of a life-saving organ. It was one of the most emotional moments of the games.
A 50-Year Hallmark
As we gradually took our seats, the emotional roller coaster took off again. We were introduced to Joseph Murray, MD, the first surgeon to perform a successful living donor kidney transplant. Fifty years prior, in 1954, he had transplanted the kidney from one man to the body of his twin brother. It gave the recipient brother seven more good years of life.
That night, 50 years later, the same donor brother was there in the Metrodome to help us celebrate a half-century of transplantation. We again were on our feet to pay our respect to two very distinguished pioneers who paved the way for so many success stories.
"Peace Sign" Scar
Next, we were dared to show our scars by TV/film star Larry Hagman, better known to some as Major Nelson of "I Love Jeannie" or J.R. Ewing of "Dallas," who lifted his shirt, displaying his "peace sign" scar of a liver transplant recipient. However, for me, the tears were uncontrollable when we heard from a mom who donated the organs of her teenaged son, Alan, who was tragically killed in an accident. On that stage, that night, in front of all of us who had our own miraculous story to tell, we saw her embrace the recipient of one of Alan's kidneys.
I know this first-time reunion sparked our thoughts toward our own donors, known or unknown, and the gratitude we felt for making this moment in our lives possible. What an incredible evening!
"Let the Games Begin!"
Then, a chosen athlete came bolting in with the Olympic Torch raised high. The flame was lit, the declaration was made to "Let the Games Begin!" and the Opening Ceremonies concluded. We all returned to our lodgings for a quick snack, more drugs, and a good night's sleep in order to prepare for the upcoming competitions.
The games that year concluded all too quickly. The three-on-three basketball event ended in a huge upset where three-time defending champions Team Illinois was defeated in a grueling and heated final game with Team Virginias. Northern California captured the Team Trophy and a young swimmer from Philadelphia went home with the individual male athlete Award of the Year Award. There were so many awards given at the Closing Ceremonies, but the Mickey Mantle Courage Award impressed me the most. It recognizes who beat all the odds and persevered many obstacles just to attend the games. That year, it was given to a 10-year-old athlete from Wisconsin. He had fought many battles in his young life, but still had the spirit and fortitude to participate in the games.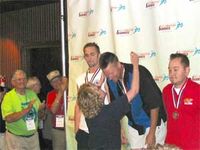 More Games to Come
I went home the next day. I was tired, I missed my family, and I knew there would be many unfinished details to attend to at my place of business. But I knew it would not be my last Transplant Games. In fact, I knew this would be the first of many.
I finished ninth in my age group in the bowling event, and while just participating was fulfilling in itself, I knew I had aspirations of one day winning a medal! I began putting my strategy together on the ride home. Then it dawned on me! I need to find another event where there was less competition.
A "Most Unique Extravaganza"
I did, indeed, find that event. This year (2006), I took my children and my mom to Louisville, KY, to again experience this most unique extravaganza. There (after a few months training at a local health club), I swam for the top medals, and this time I brought home a silver medal in the 50-meter butterfly!
There were only two of us in my age bracket so, technically, I came in last, but I achieved my goal and received my silver medal along with all of the other top swimmers at the prestigious medal ceremonies. My medal is nobly on display at my business, where I hope it sparks many conversations about organ donation awareness.
"Celebrating Life"
All this medal talk is well and good, but the Games truly are not about winning. They're about celebrating life. It's our way of saying "Transplantation works!"
We are also there representing the countless people who are living with a disease that inevitably will shut down the function of one of their major organs. We want to encourage them to hang in there and not give up hope. Moreover, the games are also geared toward the families who care for a loved one with a debilitating illness, as well as family members who compassionately donated the organs of a loved one to give life to someone else.
"Share Your Story"
The concept is to share your story. Talk to one another. Grieve together. Laugh together about issues that only someone in this circumstance could understand.
As you walk to the different events proudly wearing your athlete, spectator, living donor, or donor family badge, all you have to do is look into the eyes of another person who is also displaying the same identification–no words have to be spoken. Both parties are aware of what it took just to be there!
"Dancin' in the Street"
In Louisville, Team North Carolina earned the high honors for the Team Trophy. More awards of recognition were bestowed, and Team Illinois recaptured the gold in the three-on-three basketball rivalry.
We celebrated after Closing Ceremonies in the middle of downtown with our new friendships, good food, and a live band. We were literally "dancin' in the street," engulfed in the cool breeze drifting up from the Ohio River on a wonderful balmy night in June.
Conclusion
I found out about the Transplant Games quite a few years ago and always knew that, someday, I would attend. I am so glad that day finally arrived! I am truly hoping never to miss the event again.
The next time we gather will be July 11-16, 2008, in Pittsburgh, PA. If I am able, I will be there. I want to encourage as many people as I can to also attend. Come as an athlete. Be there as a spectator. Arrive as a member of a donor family or as one of the many living donors who also attend. Bring your children! Bring your parents! Bring your spouse and all your friends!
There is something for everyone. I hope to see you there!
About the Author
Debby Kate Stahl Ramsey is a single mother of four who owns and operates her family feed business in Zion, IL. After her kidney transplant in 1984, she considers every day a gift and wants others living with kidney disease to have hope. She is also the author of "A License to Follow One's Dream," featured in the book, Chicken Soup for the Working Woman's Soul. To see many more pictures of the Transplant Games, log onto: www.transplantgames.org.
Web ID 438