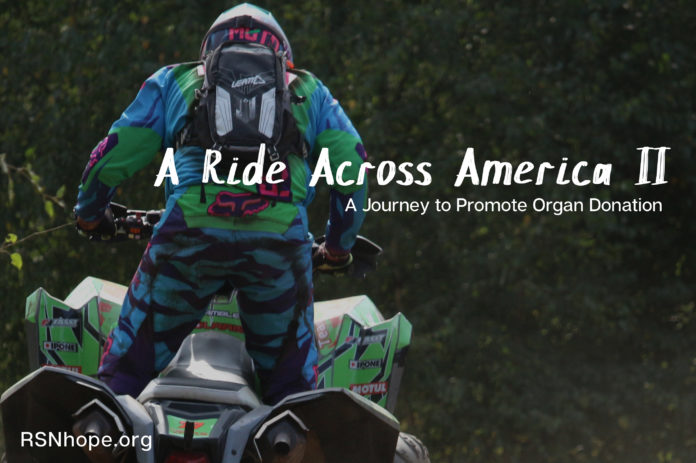 "How's Bob?" I asked Elliott, my brother.
"Doing Good!" he replied.
His outlook was always like that. "Bob" was Elliott's name for everything that didn't have a name of its own–the overstuffed scarecrow out in the way-too-small-for-it garden, his jeep, even his new kidney.  I was fortunate and healthy enough to provide Elliott with one of my kidneys in 1998 after he was diagnosed with kidney failure in 1996.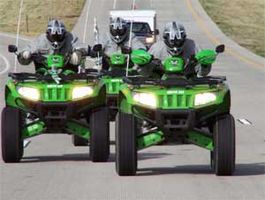 New Adventures
Being the oldest of four children, Elliott was always the one to try new adventures and ways of doing things. These included fishing trips, riding motorcycles or all-terrain vehicles (ATVs) out in the desert, and target shooting. And he didn't just have the normal guns you would expect to target shoot with either. He owned black-powder handguns and rifles… because there was history to be taught to his kids about those types of things.
For over 15 years we traveled to the desert. Our biggest enjoyment was riding ATVs. These four-wheelers provided a means for our kids to have fun and learn to ride. Then at night, out in the desert, we'd sit around the campfire and talk about the day's rides and wonder what it would be like to do a really big ride somewhere.
"Mountain Man Marathon"
In 1995, Elliott came across an ATV magazine article that described a ride in which participants spent almost a week in the outback of Central Utah. The article stated that you would pack up your camping gear, food, and fuel and then ride on the over 2,000 miles of ATV trails in the mountains and valleys around Richfield, UT. The ride was called the "Mountain Man Marathon."
We were in heaven! And so it began. We did our first marathon in the fall of 1996 and haven't stopped since. This was good! But we still wanted to do a "Big Ride."
"Good to Go"
I marveled at Elliott's determination and resolve not to let his illness take a front seat to his family or anything else he wanted or needed to do. He first located a dialysis center in Price, UT, that he could visit while on his camping trip. (One year, before hitting the trails, he stopped in St. George to have dialysis just to make sure he was "good to go.") Elliott knew where all of the dialysis centers were. And, he found out there was one being built right there in Richfield!
However well Elliott handled kidney failure, he just couldn't keep up the battle with his other medical problems. My brother passed away in the fall of 2001, never having complained about his illness.
The Rest "is History"
Elliott and I never went on that "Big Ride" together, even after talking about it as we did. A year after losing Elliott, my older brother, Greg, and I were on our way to our annual Mountain Man escape when the subject of the big ride came up again. The rest, as they say, "is history!"
In April 2006 (National Donate Life Month), we assembled a team of transplant recipients, living donors, and family members of donors and recipients and completed our second "Big Ride." After loading up our gear, we traveled from San Francisco to New York City on (take a guess…) ATVs!
We had completed our first big ride–"A Ride Across America"–in April 2004, going from Santa Monica, CA, to New York City. Our focus? To help raise awareness about the importance of organ and tissue donation. And, with the help of the local organ procurement organizations (OPOs) we encountered along the way, we did just that.
Even though Elliott was not with us physically, we think he still enjoyed the people we met and the fact that we rode across the U.S. on ATVs!
Arctic Cat had provided us with four 650 v2 ATVs and modified them to make them street worthy with the required safety features. We even had a custom street chopper donated to us by Chino Custom Choppers in Chino, CA.
Firefighters and the St. Louis Cardinals
On our 2006 "Big Ride," we left San Francisco on an overcast and cool morning, heading for a lunch stop at the California State Firemen's Memorial in Capitol Park, Sacramento.
One team member, Brian Hinsley, is a liver transplant recipient and a paramedic/firefighter for the Los Angeles County Fire Department. He is featured in the PBS documentary "No Greater Love," produced by the Department of Health and Human Services. The program chronicles Brian and his family's struggle with his illness, culminating in his receiving a transplant and his return to full active duty. I marveled at how energized he was to help spread the word about organ and tissue donation, even with our grueling schedule. I know his underlying need was to ensure that he respected and honored the second chance at life presented to him by his donor.
We met so many wonderful people along the way. During a stopover in St. Louis, MO, we were introduced to the crowd at a St. Louis Cardinals (current World Series champions) pre-game ceremony while the announcer talked about donation. It turns out that Cardinals shortstop David Eckstein has family members who have undergone kidney transplants, as has Cardinal co-owner Andrew "Drew" Baur.
"Away She Went!"
Kidney recipient Maryanne O'Quinn was one of the great people on our big ride and acted as our "education director." She is vice principal and program specialist at Sherlyn Elementary School in Rowland Heights, CA.
Maryanne had received a kidney from her brother, Bill Martinez. After the transplant, however, she contracted diabetes and now wears an insulin pump to control it. But do you think that would keep her down? When given the opportunity to ride an ATV across the country, she jumped at the chance! And she always had a smile on her face! Having never before ridden an ATV, Maryanne did wonder about riding the machine at 65 miles an hour down the highway. So we brought her along slowly, and when she was ready, we set her down on the ATV and away she went!
Maryanne was given an opportunity to speak to a group of transplant candidates at the Medical University of Ohio in Toledo. Here she provided 40 candidates and their families answers to questions about what to expect on the road to receiving a transplant. Most importantly, she was able to provide encouragement and comfort by telling them that there are a lot of people working on their behalf to make the process as smooth as possible. We stayed a long time after the meeting answering a lot of their questions.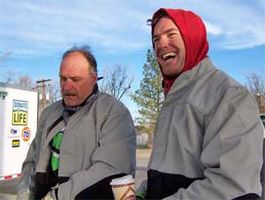 Kindred Spirits
Another team member was Olympian Chris Klug. Eighteen months after receiving a liver transplant, Chris won the bronze medal in the 2002 Olympic Games in Salt Lake City, UT! He was only able to spend a couple of days with us, but he was still able to meet a lot of people between Denver and Kansas City, MO. It was special to watch as Chris and another member of our team, Brian Hinsley, interact with people, especially when they spoke with people together. They were two kindred spirits! Their enthusiasm was infectious and it came from a deep sense of commitment.
"Big Grins and a Thank You!"
In Denver, we were taken to Children's Hospital and visited with kids who were waiting for transplants; we were then taken to the cancer floor. Thanks to Lexus, we were able to give toys to all the kids (stuffed animals for the girls, model cars for the boys) and were moved by their response… big grins and a "Thank you!" It is heartbreaking to see the children going through their ordeals; they are so innocent. But it was wonderful to see their faces light up as we came in with the gifts.
We all walked away silently, pondering and praying for them to get better. All-in-all, it was marvelous to see how well the children were doing and we were encouraged by their attitudes, especially those of the family members. When we told them about the ATVs, they all wanted to ride them with us… and we wanted to take them!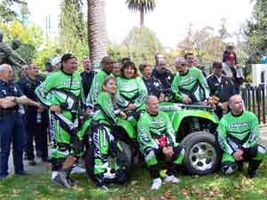 Conclusion
We arrived in New York after two weeks on the road… tired but satisfied. Thinking back on the people we met, we are so enriched by having associated with the transplant candidates and recipients and their families. They changed our lives, and we have a deep sense of gratitude to them. I am amazed at how determined they were not to let their situation stop them from achieving their dreams!
The same is true about those who make up the entire "A Ride Across America" team:
Troy Adams, liver recipient family member
Erin Erdahl, heart recipient
Brian Hinsley, liver recipient
Chris Klug, liver recipient
Brian Koontz, kidney recipient family member
Greg Monroe, kidney recipient family member
Jon Monroe, kidney recipient family member
Kevin Monroe, living kidney donor
Marianne O'Quinn, kidney recipient
Dan Tedesco, kidney recipient family friend
Laurie Wolowic, donor sister
Tom Zech, kidney recipient family member
These dedicated people have already accomplished a lot in bringing the importance of organ and tissue donation to the forefront across the U.S. But they would be the first to admit that there is still a lot more to accomplish before the still-wide gap narrows between the supply for organs and the ever-increasing demand.
About the Author
Kevin Monroe is employed by ConocoPhillips as a Senior Health and Safety Field Specialist. He volunteers as an Ambassador for OneLegacy, the OPO in Los Angeles, CA. He is also Chief Executive Officer of A Ride Across America (www.arideacrossamerica.org), a non-profit organization helping to raise awareness about organ and tissue donation. Kevin donated a kidney to his brother, Elliott, and rode on the 2007 Tournament of Roses parade Donate Life float in Pasadena, CA, on January 1, 2007.
(Photos courtesy of Laurie Wolowic.)
Web ID 173