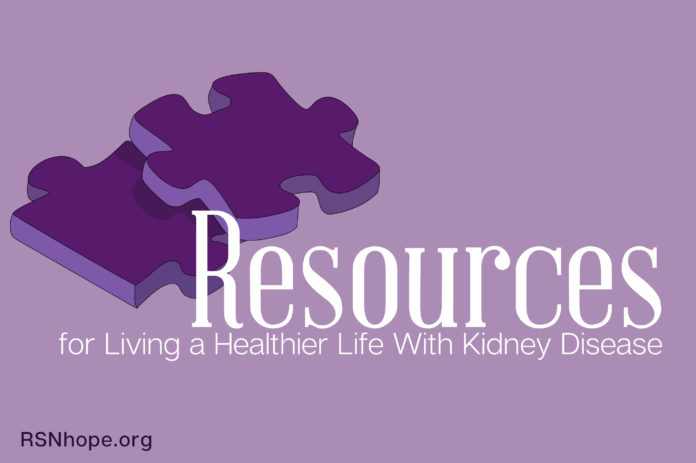 Do you want to live a healthier life, but don't know where to begin? Would you like to improve your diet, increase your activity level, or just instill healthier habits? Here are a few Internet resources to help you get started. Consult with your physician and/or dietitian before starting any weight loss or exercise routine, however.
MyPyramid Tracker
www.mypyramidtracker.gov
This free resource provided by the US Department of Agriculture assesses your food intake and physical activity. The online dietary assessment allows you to track your diet for a year and includes an analysis of calories, fat, protein, potassium, phosphorus, and fiber. This information is not specifically for people with kidney disease, however, so check with your dietitian if you have any questions about using this website for your renal diet.
Nutrient Data Laboratory
www.ars.usda.gov/ba/bhnrc/ndl
Also provided by the US Department of Agriculture, this website allows you to evaluate a specific nutrient. You can choose a nutrient such as phosphorus and then get a list of foods that contain it. Or you can type in the name of a specific food (even fast food) and retrieve its nutrient content. You can also download some of the programs onto your computer or personal digital assistant.
KidneyTimes.com
www.kidneytimes.com
Provided by the Renal Support Network, this website provides inspirational and educational articles on how to live a healthy and productive life with kidney disease. Nutrition topics include holiday dining tips, ethnic dining, exercise tips, fast food facts, and smart snacking choices. Recipes for many ethnic cuisines can be found in the "Recipe Box." If you have a favorite renal-friendly recipe of your own, you can submit it online!
Fresenius UltraCare Dialysis
www.ultracare-dialysis.com
On the homepage of this website, you will find links to the "Recipe Center" and a nutrition calculator. You can search for recipes using a keyword or food group. You will also find informative articles with tips on dining out, how to control phosphorus, and other topics.
DaVita Diet Helper
www.davita.com
This free online tool can help you plan, prepare, and track your kidney diet. You can enter your dietary prescription and then plan your meals accordingly. You can enter your own foods or choose from over 300 kidney-friendly recipes.
Life Options
www.lifeoptions.org & www.kidneyschool.org
Life Options' online class, Kidney School, has 16 modules on kidney disease covering topics such as how kidneys work to planning a kidney-friendly meal. It also includes sample menus for people on hemodialysis or peritoneal dialysis as well as people with diabetes.
The Nutrition and Food Web Archive
www.nafwa.org
This excellent website provides a wide variety of information on general and clinical nutrition, as well as food and cooking. Free online calculators determine body mass index, adjusted body weight, and metric and volume conversions. Free online videos cover various topics.
National Institute of Diabetes and Digestive and Kidney Diseases (NIDDK) www.kidney.niddk.nih.gov
NIDDK is one of the nation's top resources on kidney disease and provides information on everything from how the kidneys work to ongoing clinical trials on kidney disease. Articles and free booklets on diet choices for people with kidney disease are available.
SparkPeople
www.sparkpeople.com
SparkPeople is a free online service that provides tools to create meal plans, count calories, and track your weight and fitness regimen; a recipe calculator is included. You can join online groups or communities of other people with similar interests or goals. Earn "sparkpoints" to measure your success and/or compete with other SparkPeople by making healthy choices in your life.
These are just a few resources to help you live a healthier life. Evaluate the many ways to improve your life, then choose what works for you. Make healthy choices for a healthy life—you're worth it!
Also, some great Cookbooks to download or order:
For a list of more Cookbooks go to www.kidney.org/professionals/CRN/cookbooks.cfm
About the Author
Mandy Trolinger, MS, RD, works both as a project coordinator for the Renal Support Network and as a renal dietitian. She was previously on hemodialysis and is a two-time kidney transplant recipient. In her spare time, she volunteers, exercises, and spends time with her husband and pets. In the fall of 2008, she will start physician assistant school in Colorado.
Web ID 402