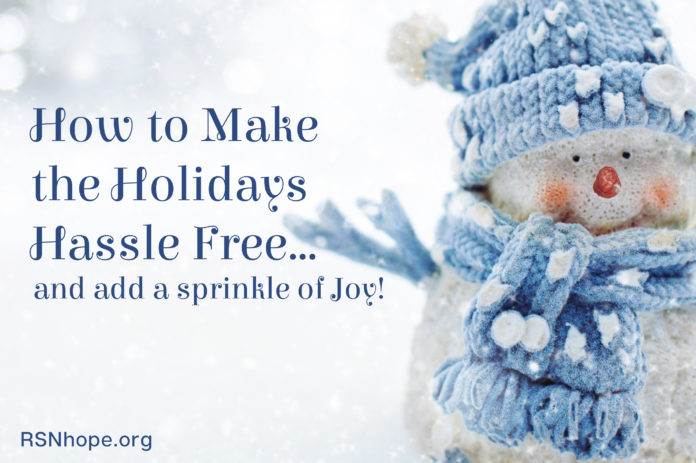 The holidays can be full of joy and lasting memories. But they can also add stress in our lives, especially when we are balancing the many issues kidney disease brings to us. Here are a few suggestions on how to enjoy the holidays with fewer hassles:
All I Want for Christmas
The holidays can present a challenge to staying on a renal diet. Try to eat before going to parties. This allows you to make good choices since you won't be too hungry.
Shop early or when the stores are not so crowded.
Stay in budget – the holidays can be expensive, adding unnecessary stress.
A small gift that presents a loving message is the type most often treasured. So, shop "heart", not "smart."
Deck the Halls
Choose decorations that are easy to display and take down.
If you have a real tree, be sure to lay plastic under it so it will be easier to take outside without all of the needles falling on the floor.
A holiday sweater or sweatshirt is a fun way to display holiday cheer.
Ask your dialysis unit or transplant clinic if you can decorate the waiting room. Ask a few fellow friends to help.
The Twelve Days of Christmas
 During the holidays, many people travel, including our renal care team. Check your medications to make sure you have enough to avoid last-minute prescriptions. Make doctor's appointments early and remember to get your flu vaccine.
If you plan on traveling, make arrangements as soon as possible. Talk to your social worker to help plan a hassle-free trip. Remember to always carry extra medication and your dialysis treatment prescription with you.
Be sure to let your transplant coordinator know where to reach you while traveling. You would not want to miss a chance for a long awaited transplant.
Walking in a Winter Wonderland
An excellent way to reduce stress is to take a walk. In every city, there is a neighborhood that is decorated. Invite a few friends, drive to the destination and then take a walk enjoying all of the festivities. In addition, it is a great opportunity to share time with loved ones.
If it is cold out, walk around your local mall. The holiday music and decorations in the mall are joyful.
Organize your friends to go Caroling. Stop by your dialysis unit or a retirement home.
Silent Night
 Be sure to get plenty of rest. The holidays can be exhausting. If you are traveling remember to allow time to get over jet lag. Take advantage of the time on dialysis to get caught up on your sleep!
Be mindful that alcohol can disrupt sleep. A cup of chamomile tea before bed can aid in a restful night.
Joy to the World
 Depression during the holidays is not uncommon. A great way to overcome this problem is by volunteering at a homeless mission, wrapping presents for children or helping plan a holiday party for your dialysis unit or transplant clinic. Helping others always makes you feel good.
Plan an open house for your friends from the dialysis unit. Ask everyone to bring a renal dish and share the spirit of the holidays.
Planning ahead and anticipating your needs is the key to having a hassle-free holiday season. The holidays are a time to reflect on the many things we have to be grateful for. Give loved ones the "gift" of telling them how special they are to you. Then you will create a holiday season that will be treasured by all.
Happy Holidays!
Web ID 311