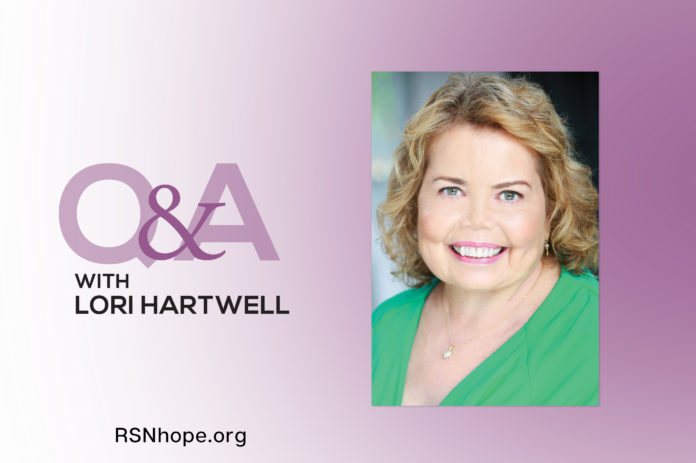 I thought it would be useful for me to share my perspective after living with kidney disease for decades and hosting KidneyTalk™ for over ten years. In this Q&A I share some of the valuable lessons I've learned during my journey.
How did you meet your husband?
Prior to meeting and marrying my husband, Dean, I secretly bought into the old line, "I wouldn't want to join any club that would have me as a member." You see, I felt comfortable with the game players, despite the self-doubt they dredged up. With them, one thing was guaranteed: I wouldn't have to get too close. I could tell, even on that first date, there was no such guarantee with Dean. I was making up reasons not to like him because I didn't want to be rejected. I was afraid I was too imperfect to love, and once he saw how difficult a relationship and my multiple health issues with me would be, he'd take off. I had to learn to communicate about my illness and to accept that I was more than my illness!  I've learned that everyone has "something." And if you allow kidney disease to run your entire life, people may have difficulty relating to you. I have been married to Dean for 20 years and he gives me an anniversary card every month since we have been married!  You can find love.
What causes itchy skin?
When I was on dialysis, symptoms like itching were commonly due to high parathyroid or phosphorus levels. Be aware of your lab values and talk with your doctor on how to best keep them in normal range.  Medications and dialysis can also cause dry skin.
I've found quality moisturizers can help soothe and repair dry, itchy, and irritated skin. It's always best to apply moisturizer when your skin is still a little damp after your shower or bath.  Dr. Yuval Bibi, is a dermatologist and explains what can cause itchy skin and ways you can best treat, care for and protect your birthday suit. Listen to a podcast with Dr. Bibi about itchy skin.
Have you experienced dry mouth?
It is no fun to have a dry mouth.  Kidney disease can cause dry mouth, bad breath, and sometimes even leave a metallic taste. I've learned this can be a side effect of medications, fluid restrictions, and/or breathing through the mouth instead of the nose. I found that limiting my salt intake helped me not to feel so thirsty. Chewing gum, and using a product called Biotene, also helped me with dry mouth. Chronic dry mouth can lead to dental problems so try to find a solution that works for you.
What did you eat when on dialysis?
I was thrilled to interview Sarah Carlson, RD for KidneyTalk™.  She describes what she would cook for me if she was my personal renal chef for the weekend. You can listen to all the enticing foods she would prepare for me. The way she describes food and the different seasoning she uses will leave you hungry.  (Listen to Lori's interview with Sarah Carlson, RD: Personal Renal Chef)
Are you worried about having pets and infection?
I love my pets!  I have 4 dogs, a cat and a parrot.  I know I would be devastated if I was told that I had to get rid of my furry/feathered friends because of my disease.  Over the years, I've learned to take precautions against pet-borne infections.  I interviewed Phillip Zakowski, MD who is a specialist in infectious diseases and he shared several strategies on how to how to handle animals and stay healthy. (Listen to Lori's interview with Phillip Zakowski, MD: Don't Bug Me.)
Did you tell your employer that you have kidney disease? I have worked since I was 18 years old, and having a job/career has added so much meaning to my life. I always sold my work capabilities before relaying any information about my illness. I came to all my jobs through networking and having someone vouch for my expertise. It's also important to know your rights and how to communicate your illness to an employer. Dr. Nissenson provides some insight for this question.(Listen to Lori's interview with Dr. Alan Nissenson, MD: Ask the Nephrologist – Should I tell my Employer that I have Kidney Disease.)
You should not use this information in this article to diagnose or treat a health problem.  Contact a qualified healthcare provider. 
 Web ID 4000