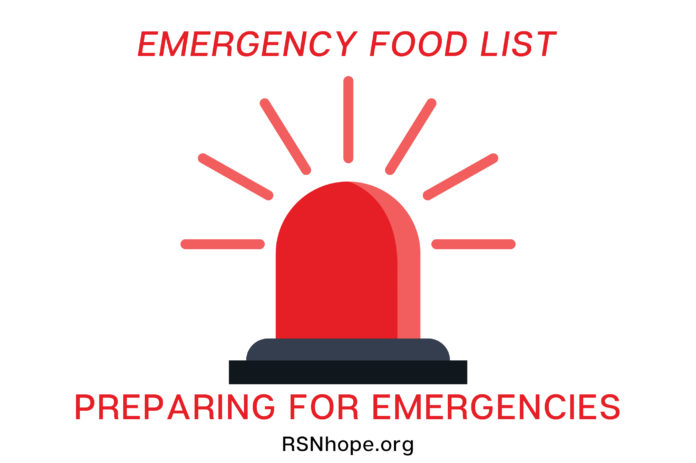 (See Emergency Diet Plan document – on our site)
This list provides a six-day supply of canned foods and water.
Use fresh foods as long as they are available.
__ 3 packages of dry milk or 4-8 ounce (oz.) cans evaporated milk
__ 1 or 2 gallons of distilled or bottle water
__ 2 packages powdered fruit-flavored drink mix or one container fruit-flavored drink (pre-mixed)
__ 1-2 cans or bottles of soft drink
__ 6-pack of 4 oz. cans or boxes of fruit juice (cranberry, apple, or grape)
__ 6 boxes of single-serving cereal (no Raisin Bran)
__ small box white sugar (or box of sugar packets)
__ 12 – 4 oz. cans or "fruit bowls" of fruit (pears, peaches, oranges, mixed fruit, applesauce, or pineapple, but no raisins)
__ 6 – 8 oz. cans of low sodium vegetables (carrots, green beans, peas, corn, or wax beans)
__ 6 – 3 oz. or 4 oz. cans of low sodium meat (tuna, crab, chicken, salmon, or turkey)
__ 1 jar peanut butter
__ 1 small jar jelly or honey
__ 3 small jars mayonnaise (or 8-12 single-serve foil wrapped packs)
__ 1 loaf regular bread* (not salt-free, with no preservatives)
__ 1 box vanilla wafers or graham crackers
__ 5 packages of candy (sourballs, hard candy, jelly beans, or mints)
__ 1 package marshmallows
__ 1 jumbo pack of chewing gum
*Bread can be kept frozen for 3 months.
Information obtained from The Centers for Medicare & Medicaid Services (CMS) guide "Preparing for Emergencies: A Guide for People on Dialysis." Go to this link for the full guide: https://www.rsnhope.com/resources/emergency_preparedness_information.php
02/28/2007
Web ID 386