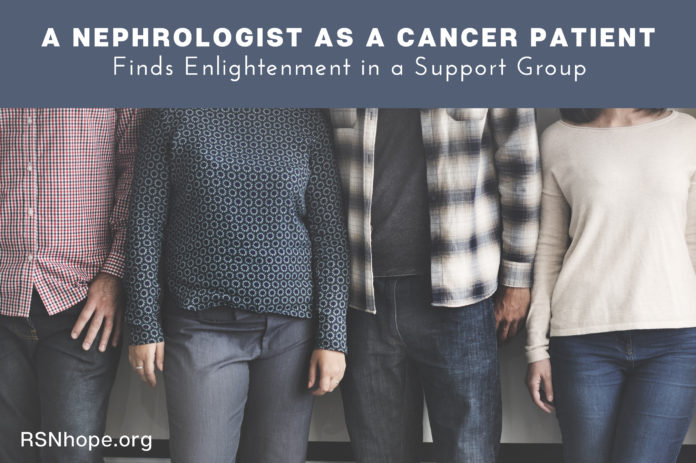 The appearance of a mass, like finding an abnormal creatinine, changes ones perspective about life. Whether someone is a doctor or sees a doctor, the reaction is the same–that of disbelief, denial, and fear. Stepping away from the emotional trauma is daunting, but necessary if the patient is to move on. It is frightening to become a patient, and it should come as no surprise that someone's level of expertise does not indemnify him or her from initially feeling helpless–like an outsider to life, a tourist in one's own home.
"My Source of Inspiration"
Lessons learned about health and illness came not from an extremely busy nephrology practice, but, for me, from becoming a sarcoma (cancer) patient. It started in my thigh but metastasized to my lungs. After intensive chemotherapy and two major chest surgeries, I had a new respect for health, and realized that the experience of battling malignancy paralleled that of being a kidney patient. In fact, my dialysis and transplant patients were my source of inspiration, and still are.Those who can avoid becoming a victim, who can adapt and continue to control their lives despite a myriad of setbacks, inspire everyone around them, including doctors. Much can be said or written about a healthcare professional who himself undergoes a serious illness and then survives. Many of these events have been chronicled elsewhere.
"A Bridge to Enlightenment"
The focus of this article is support groups. A valuable resource in a patient's survival toolkit is the support group, and it can be a bridge to enlightenment for someone who is sustaining a chronic disease or medical problem. Physicians who are dealing with enlightened patients have an easier task. The doctor may spend 20-60 minutes with a patient, and in that experience, is expected to learn everything needed to make an assessment, diagnose the problem, and develop an action plan. Implementing that plan must become a team response between healthcare providers and the patient–and success depends upon understanding and preparation.Becoming a member of the team requires commitment, preparation, knowledge, and awareness. In meeting this commitment, as a sarcoma patient, I read everything I could about my disease and its treatment. Factoids and statistics do not always translate to the individual. If one reads that a disease has an 80% mortality rate, how can I be in the 20% survival group? As a person heavily grounded in science, I realized that surviving metastatic sarcoma would have to transcend science. So, I also sought out the comfort and advice of other patients who were facing similar circumstances. Therefore, I went to ACOR.org3, the Association of Cancer Online Resources, and joined the mailing list that covered sarcoma.
"The Wise Veterans of Disease"
As a new member of that support group, I listened to the wise veterans of disease. These survivors had been through what I was now enduring. Not only did I look to them as mentors, but as sources of inspiration. If they could succeed, so could I. I quickly discovered what we had in common, but more importantly, what they were doing that I also needed to do. What were they eating? What vitamins did they take? How much activity were they getting? What were they doing to cope with this process? Anything else?In the dialysis unit, we see patients everyday that are functioning well, and, unfortunately, there are those who do poorly. All too often, it is not the biological process that leads to treatment failure, but other factors such as a negative attitude–a lack of resilience, tenacity, and optimism. The successful sarcoma patients were my mentors. Without ACOR, I would have been lost.Seeking Specific Knowledge
The second value of the support group was seeking knowledge about specifics of therapy–not the National Library of Medicine kind of knowledge, but practical, no-nonsense information about how long an incision would take to heal, what side to sleep on, how to avoid nausea, how to button your shirt when your fingernails split and what to do with mouth sores. It is invaluable to get insights about how one will react to a complex course of chemotherapy, a tough surgery, or dialysis or a transplant from others who have also gone through it.
There are nuances of therapies that can only be shared between people undergoing the same treatment. Other patients who have become veterans at dialysis can become a sherpa [a native mountain-climbing guide in the Himalayas], a guiding resource for the patient starting out. Nothing equates to this. The doctor, no matter how knowledgeable or compassionate, cannot offer the down-to-earth realism required to deal with minute aspects of therapy. A unique individual was the late Peter Lundin, MD, who, as both a nephrologist and end-stage renal disease (ESRD) patient, provided priceless wisdom to fellow patients in a way that I have not seen since. Though Peter expired in 2001, the legacy of his essays lives on in the American Association of Kidney Patients' (AAKP) aakpRENALIFE articles, Lundin's Corner,4 or in the AAKP online library.5
"A Final Value"
A final value of the support group is that, once patients become veterans or survivors, they are in a position to share their stories, their wisdom, and their experiences with newcomers to the process. They serve as the inspirations, those who the newcomer to illness models and emulates. When one is climbing a mountain for the first time or fighting an uphill struggle with health, the person at the top who yells back "I made it! Here I am!" is essential to the process. Furthermore, it is most gratifying to share good news and progress with others. I hold the highest level of respect for those who have recovered from a malignancy, are living well with dialysis, or have undergone a successful transplant, and return with kindness to support their fellow patients who are now facing the same problems, concerns, and fears.
Whether a support group involves meetings a person attends with other patients or is online, and regardless of the disease, it can be a major factor in success when one must endure a serious illness.
References
Fadem, SZ. A Doctor Gets Sick. The American Association of Kidney Patients. aakpRENALIFE, September 2007. www.aakp.org/newsletters/Renalife-Magazine/Kidney-Patients/DoctorSick/,
Fadem, SZ. One year later. Peritoneal Dialysis International [1999(6):509-511].
Association of Cancer Online Resources (ACOR). www.acor.org.
Lundin, AP, and Fadem, SZ. Lundin's Corner. www.nephron.org/nephsites/lundin/lundin_toc.
American Association of Kidney Patients. www.aakp.org.
About the Author
Stephen Z. Fadem, MD, FACP, FASN, is an active nephrologist in Houston, TX, Clinical Professor of Medicine, Baylor College of Medicine, and the Medical Director of The Houston Kidney Center/DaVita Integrated Service Network. He is the co-editor of aakpRENALIFE, Kidney Beginnings, and At Home with AAKP, a member of the AAKP Medical Advisory Board, and Vice President of its board of directors. He is on the editorial board of Advances in Chronic KidneyDisease. Also, Dr. Fadem is on the board of the Amschwand Sarcoma-Cancer Foundation and chairs its scientific advisory council. He is the Founder of The Nephron Information Center (www.nephron.com), and an avid photographer. Dr. Fadem is a past recipient of the AAKP's Peter Lundin Award.
Web ID 180