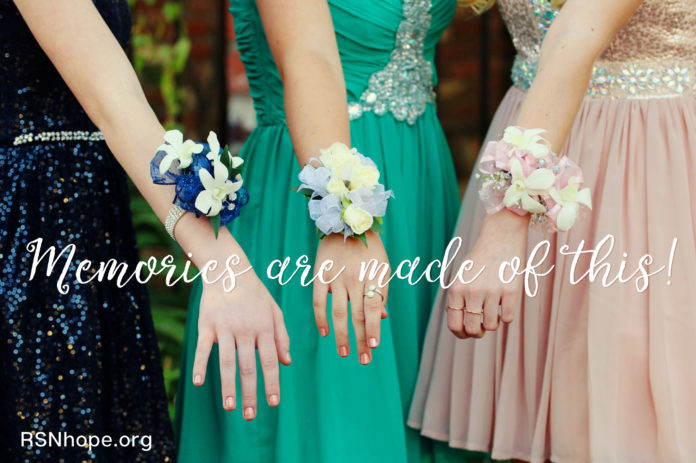 The Chance of a Lifetime
In January of 2012, my friend Sharissa and I left Buffalo and traveled to Los Angeles. I had the opportunity of a lifetime to attend RSN's Renal Teen Prom for young people who have kidney disease and are aged 14 to 24. At this prom, those who have just been diagnosed, those who are on dialysis, and those who have received a transplant can feel like they belong for once. The prom gives kids like me the chance to get dressed up just as they would for their high school prom, to forget for a little while about the many difficulties they face or the problems of adhering to a dialysis schedule, to be normal for one night, and to celebrate life.
It can be hard for those of us with kidney disease to make friends; sometimes we have a hard time socializing because of our dialysis schedule or because we're a little bit shy. At the Renal Teen Prom, we can interact with other patients. I was able to show people that even though I'm on dialysis and no longer a teen, I love people and parties.
I had an awesome experience! For the first time in my life, I could have a good time with people like me. I felt as if I didn't have a care in the world, that I'm not alone in my battle against kidney disease. My dancing skills made people notice me, and many of the girls on the dance floor ended up dancing and talking with me. I was even followed by a videographer! It made me feel special to get noticed for something other than kidney disease.
I loved the Renal Teen Prom and will never, ever forget it.
Another plus was that we were able to get away from the cold and snow in Buffalo. We did some sightseeing and visited Hollywood Boulevard, Old Town Pasadena, and the Americana at Brand in Glendale. We also took a nature hike and, naturally, I had dialysis.
I have to admit that I didn't want to leave Los Angeles (it's so beautiful), but I know that I'll be back someday. I always think that goodbye isn't forever and that you find a way to go back to the places you like.

People I Met Along the Way
Lori Hartwell and I met initially at the American Kidney Fund's calendar contest, which I've won twice. We then touched base again in 2007, when she and Stephen Furst interviewed me for their popular radio show "Kidney Talk." A few years later, I asked her for help so I could attend the prom.
Another person I met in Los Angeles was Lesley Holden, who used to be Lori's nephrology nurse when she was on dialysis. Lesley is spunky as well as enthusiastic and more than willing to show Sharissa and me a good time. Lesley took us on a tour of Hollywood Boulevard and treated us to lunch at the Hard Rock Cafe Restaurant.
Sharissa was wearing a Buffalo Sabres hat that day, and a guy came up to us and asked whether we were from Buffalo. As it turned out, he grew up there, still watches Sabres games, and still misses Buffalo!
Next, we went to Pasadena, where we stayed with the Franks family. We met Karol and Ed and their kids, Jenna, Becca, James, and Johnny. They welcomed us into their home with open arms. We enjoyed getting to know them and comparing the experience of living with kidney disease. We felt as if we made lifetime friends during the four days we were with them.
At the prom, I met so many other kids and young adults living with kidney disease, as well as three celebrities: Jack Black, Brad Ellis, and Ann Lopez, who all decided to skip the Golden Globe Awards that night just to be at this special event! I was especially honored to meet Jack Black, who's one of my favorite actors.
Memories of the Trip
I'll always treasure my memories of this trip, and I'll never forget the people I met. One wonderful memory involves the hug and the kiss on the cheek I got from Jack Black, as he was leaving the prom.
I know that as more people become aware of my story, it could raise awareness of the immediate need for organ transplants, especially kidney transplants. Raising awareness could also help people understand the strength that someone who has been on dialysis as long as I have must develop; I feel that despite my illness, I can do anything I want to do.
Don't let anyone tell you that you can't do something just because you have kidney disease. Do what you love, and be proud of who you are. Dialysis shouldn't stop you from living a normal life or traveling as I've just done.
However, remember that life doesn't come with guarantees and that you never know when your time is up. It's important to make as many memories as you possibly can and to treasure them always.
A Little About Me
People who know me often consider me an inspiration, a trooper, a warrior. People have even told me that I'm their hero. But to my parents, Robert and Colette Frysz, and my sister, Angelina, I'm a medical miracle.
When I was 11 months old, I suddenly became very ill. My pediatrician believed it to be the flu and told my parents to make sure I got plenty of fluids. However, I didn't get any better and eventually stopped eating and drinking. I was taken to the emergency room at Children's Hospital in Buffalo and admitted for dehydration.
After several rounds of blood tests, a hematologist diagnosed atypical hemolytic uremic syndrome (AHUS), a very rare disease that can affect the nervous system or any major organ. Typically, however, AHUS kills or impairs the kidneys. My blood pressure rose dangerously high, and the doctors told my parents that I would likely have a stroke if my kidneys weren't removed. My parents gave permission for the surgery, and immediately afterward I began dialysis treatments at the tender age of 1. Ten years later, it was determined that my AHUS was caused by a genetic mutation called factor H deficiency.
There are approximately 600 cases of atypical HUS in the United States. When I was diagnosed, my parents were told that my life expectancy was very short—a matter of a few months or a few years. I'm almost 24 now so I've beaten the odds.
I had to grow up fast. I've had more surgeries than I can count; having my kidneys removed was just the beginning. I've had a kidney transplant and then had the failed kidney removed. I've had many catheter and dialysis access placements and routine angioplasties to ensure that these accesses are functioning properly.
Despite having dialysis 3 days a week for almost 25 years, I've managed to go to school like a normal kid, go to my senior prom, graduate from high school, get my driver's license, and even go to college. While attending college, I participated in many clubs, served as an admissions ambassador, and was a peer mentor with TRIO, a federally funded program that helps students with disabilities and students who are the first in their family to go to college succeed and enjoy campus life. On the days when I don't have dialysis, I take dance classes.
Today, I'm a licensed veterinary technician with a bachelor's degree in veterinary technology from Medaille College and currently work as a licensed Veterinary Technician. My dream has always been to work with animals and I'm following that dream. I don't let anything stand in the way. After my transplant failed, I was told that it would be too dangerous for me to try again, but once more, I've beaten the odds. I'm a candidate again, working with Johns Hopkins Hospital to find the best possible plan. I have high hopes that another transplant will be successful.
I've learned to live with my condition, and my doctors have learned that I don't give up. I've proved their predictions wrong again and again, and I live every day as if it's my last.
Listen in to Jessica's KidneyTalk interviews with Lori Hartwell: