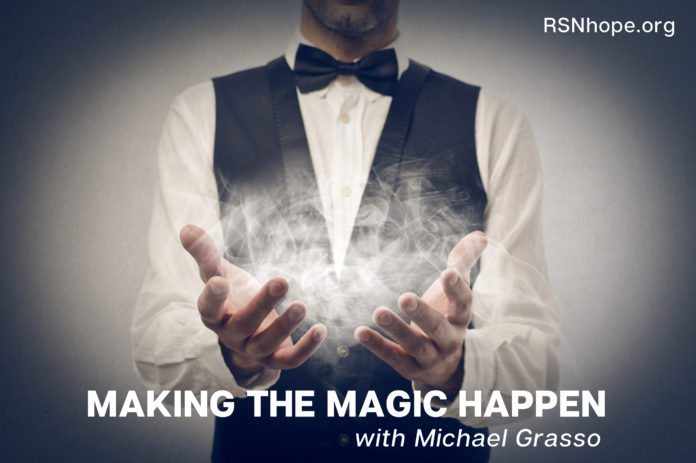 Michael Grasso's life has been filled with magic. Not only has he been a professional magician for nearly two decades, but he has experienced the "magic" of transplantation three times over. On Sunday, January 16th he shared his talents and the lessons he has learned as a kidney survivor with 400 young kidney patients and their guests who gathered for RSN's 12th annual Renal Teen Prom held in Sherman Oaks, California.
Fans of America's Got Talent will remember Michael as a finalist in last season's competition. During the show he shared that he had received three kidney transplants, all from living donors. As Michael's story was shared with a national audience, new opportunities arose. Professionally, the show took Michael's career to a new level. Within the renal community, we realized there was an inspirational story to be told about following their dreams.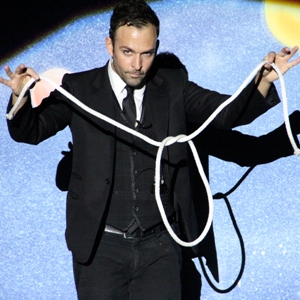 Michael Grasso performs at the Renal Teen Prom. A resident of Philadelphia, Michael Grasso moved to Los Angeles in 1993 at the age of 18 in order to realize his dreams of becoming a professional magician. A year after the move he found himself not feeling well, prompting a visit to the emergency room where he was diagnosed with IgA Nephropathy. Soon after, he received his first kidney transplant back in Philadelphia. Michael didn't let the new obstacles he faced with his health stand in the way of his professional goals. In fact, he returned to LA and was able to continue working as a magician through the ups and downs of dialysis and losing two transplants, due to a return of his disease. Three years ago he received the gift of life again from his cousin.
With his health stable and his career on the rise, there seems to be no stopping Michael Grasso. And this was precisely the message he came to share with the excited teens on their magical night. "I'm here to tell you that I've lived with kidney disease for 19 years and I haven't let it stand in the way of pursuing my dreams." He went on to state that he is not defined by his kidney disease, but by his magic, his talent. And he encouraged the young, energized crowd gathered at the foot of the stage to do the same, to not let their disease stop them from realizing their passion.
 Michael performed illusions that wowed the crowd and if only for that reason, everyone in attendance was in awe. But by sharing his story with fellow patients, he gave teenagers, many of whom were about the same age as he was when he was diagnosed, inspiration and hope that they too can make a magical life for themselves by pursuing their dreams.

About the Author
Malia Langen was a Renal Support Network board member and volunteer. As a teenager, she spent over 5 years on both peritoneal dialysis and hemodialysis and has been enjoying a successful kidney transplant for the past 15 1/2 years.  A native Californian, she resides in Los Angeles and works in the television industry.05/01/2011