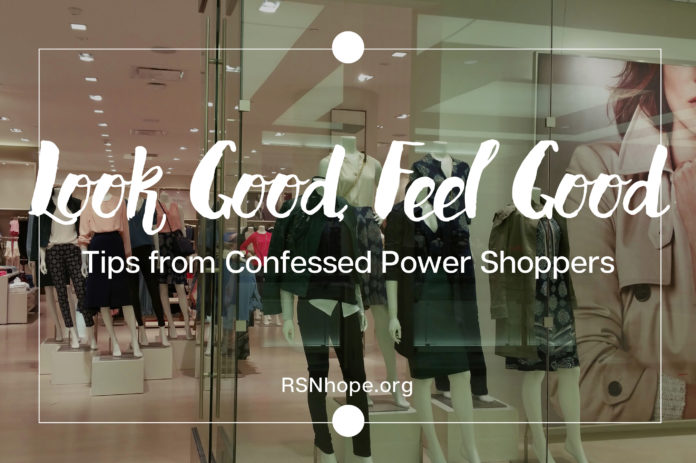 "Funny that a pair of really nice shoes make us feel good in our heads—at the extreme opposite end of our bodies." Lavende Waters
Every woman has had the experience of searching for the must-have perfect outfit, glancing in the dressing room mirror and thinking: "Oh my, I look terrific in this!"  Wearing such an outfit, slipping into knock out shoes, and fussing with makeup can make you feel wonderful—ready to tackle the world, or so it seems.
In recent years, scientific journals and commercial magazines alike have included articles addressing the mind body connection. Part of that concept is the look good, feel good idea!
For those on dialysis, looking good can sometimes be a challenge. Essentially, though, it boils down to following a few general guidelines, which can then be individualized. Most of what worked before dialysis will still work:
Dress for your body type to minimize problem areas. A great piece of jewelry draws attention away from the lower body.  Longer tops and jackets hide a thick middle.
Avoid extremes and keep up with trends—to a point. The adorable short, ruffled skirt that looks terrific on a teenager is not as attractive on a middle aged lady. "If you are old enough to have worn it when it was popular the first time, then it probably isn't appropriate to wear now" is a good rule to follow.
Don't be a slave to fads.  Buy basics and add one new inexpensive item to update an outfit—a purse, a jacket, a pair of shoes.
Wear colors that make you feel upbeat, but keep in mind that one color dressing is flattering for most figures.
Consider cost.  Good black pants can be worn with a tee shirt, a classic blouse or a glitzy top. Know when your favorite local stores have deep discount sales.  Many good outlet centers carry top of the line clothing for less.
Always wear what you like and what makes you feel comfortable. Terrific looking stilettos won't contribute to feeling good if the result is pinched toes, sore leg muscles—or worse.
Pay close attention to your skin. Without great skincare, nice makeup means nothing.
Start with an eye cream and a moisturizer for your skin type or, even better, try a tinted moisturizer. It will not only moisturize but will also cover minor imperfections. Add two more easy steps with mascara and bronzer. If you'd like more coverage, stop by the cosmetic counter. Personnel there can determine your perfect match and give you samples to test on your own. Many people are wary of visiting the cosmetic department, so start by telling them your time frame. That way they can respect your time.  If you happen to have extra time, sit down and let them pamper you! Many stores offer mini spa events for free, so ask about events at your local store.
Dialysis creates a few unusual fashion hurdles to overcome some of which are unique to the treatment modality.
Peritoneal dialyzers must cope with abdominal catheter placement so avoid clothing with tight waists bands and look for styles that come above or below the catheter. Try dresses that are looser fitting or empire style. Blousy tops are not only fashionable but also camouflage a thicker mid section. A colorful scarf tied at the waist can be eye catching and add flair to an outfit. Always think positive, emphasizing your good body parts like legs or shoulders.
Patients with a catheter, graft, or fistula for hemodialysis access need to be aware of a different set of issues. Although catheters may be hard to disguise and wearing tops with higher necklines may be best, for a bit of flair, try ones with sheer sleeves, lace insets, or a low cut back. Having a graft or fistula in the arm means no tight clothing that could restrict blood flow. Disguising needle sites or pseudo aneurysms is easily accomplished with long loose sleeves. In summer, wearing a bare top or dress is still possible by pairing it with a sheer, long sleeve cover-up that still provides coolness.
There are commonalities regardless of type of treatment. Both hemodialysis and peritoneal dialysis patients can suffer from variations in weight. Discover the comfort and freedom of travel knits. Not only do they work for fluctuations in weight and on "bloated feeling" days, but they have the added bonus of being easy care. Also experiment with elastic waist pants. The new versions of an old stand-by are definitely "not your mother's" baggy, ill fitting pants, but rather sleek, comfortable and stylish. Draw string and yoga pants work well too.
A lot written has been written lately addressing the psychosocial aspects of chronic renal failure, including depression, relationships and self esteem. Although looking good often takes extra effort, the results are far more important than simple outward appearances.  Looking good can translate into feeling attractive, happy and energized.

About the author
Jennifer Harris Eilers, Denise's daughter-in-law, is a Divisional Manager for a specialty department store group and has been in the fashion industry for more than a decade. She resides in Davenport, IA.
May 31, 2012
Web ID 787