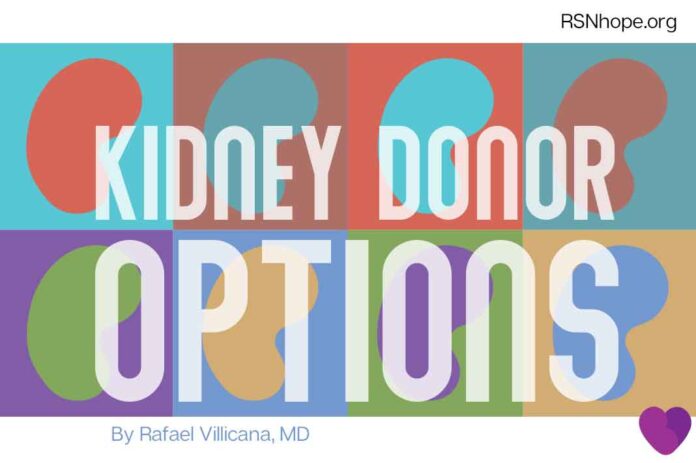 Once you and your doctor decide that a kidney transplant is the best treatment choice for you, several options are available.  Kidneys used for transplant come from two general sources: living donors and deceased donors. To help you make an informed decision about the most appropriate option for you, the transplant team will evaluate your needs and medical history. They will also evaluate the potential living kidney donor or place your name on the deceased donor list.
Things to Consider
It is important to consider the health risks of long-term dialysis while you are waiting for a kidney transplant. Some people spend years waiting for a kidney to become available. Studies have shown that a kidney transplant is the best option for long term survival.
Ideally, a kidney from a living donor has the best outcome. If a living donor is not available, a kidney from a deceased donor may be an option. There can be a greater risk involved in receiving a deceased donor kidney than in receiving a living donor kidney. However, for many patients, a transplant improves their health even when they receive a less-than-ideal kidney. Except in rare cases, a transplant is superior to remaining
on dialysis since dialysis can never fully replace all the functions of a working kidney. 
Living Donor Transplants
If you know someone who wishes to donate a kidney to you, donor compatibility could be an issue, especially if you have a different blood type. Even if you have the same blood type, the kidney could still be incompatible due to many other factors. Paired kidney exchange can be arranged to overcome this barrier.
In general, it's best to accept a kidney from the most compatible living donor. If the donor has a better immune match it can lead to longer term kidney transplant success. If an exchange is not possible, treatment options exist that can decrease the risk of rejection of a donated kidney. For instance, desensitization is a treatment that removes antibodies from the blood, decreasing the risk of immediate rejection of the donor kidney.
Deceased Donor Transplants
Kidneys from deceased donors are not all the same. There are a few types of deceased donors: standard criteria donors, donors who rate high on the kidney donor profile index (KDPI), and donors whose behaviors increase their own risk of infectious disease (Public Health Service or PHS donors), though kidneys from PHS donors are considered low risk for the recipient.
Another newer source of deceased donors is the hepatitis C donor. The treatment for hepatitis C in the last few years has revolutionized the field of organ transplantation and has allowed for more deceased donor organs to be utilized. The main benefit is a shorter wait time to transplant although there is a risk that you may have side effects to the treatment, you may not be as responsive to therapy, or your insurance may not cover
some expenses.
The selection process requires good judgement by the transplant team along with consent and input from you, the intended recipient. The deceased donor's kidneys are tested carefully, and the donor's medical records are also reviewed.
There are benefits and drawbacks to each deceased donor option. If you choose to limit your choice to standard criteria donors, you will usually receive a better quality kidney but may wait considerably longer (sometimes 3-4 years longer than other options in many regions). If you would like to receive a kidney sooner to avoid prolonged dialysis, you may choose to accept a high KDPI or PHS donor kidney. Less time on dialysis is almost always associated with better outcomes, even when the donor kidney is in one of these categories.
Take time to consider your options before the organ is offered to you. This allows you to think over risks and benefits and make the choice that is best for you ahead of time. Your clinic visit is a good time to discuss all the different options with the transplant team. You don't want to be caught trying to make a difficult decision about your options when a kidney suddenly becomes available in the middle of the night. Communication early in the transplant process is vital.
How Do I Make a Decision?
What are your feelings? Do you prefer to wait it out in hopes that a "better" kidney comes along, or do you go with what is available to you at the time you need it? Remember, a transplant is almost always superior to remaining on dialysis.
You can always decide to refuse a kidney that is offered to you regardless of what you said to the transplant team or what forms you signed. There is no penalty for saying no to an organ if you are not feeling confident about it. Even when you receive the call that a kidney is available for you, you can still feel free to ask questions so that you can make the best decision, such as:    
• What was the cause of death?
• What is the age of the donor?
• Is there any health history that may impact the kidney?
Currently, nine out of ten deceased donor kidneys will function for more than one year. About 50 percent of transplanted kidneys will still be working in 10 years. 
Be prepared. The choice is yours.

More articles and podcasts featuring Rafeal Vilicana, MD:
What is a Preemptive Kidney Transplant?
Cleared for a Kidney Transplant
Marijuana Use & Organ Transplants
Pets & Kidney Transplant Safety
Kidney Transplant Care and Well Being During Covid-19
Video: Advancements in Kidney Transplantation with Rafael Villicanna, MD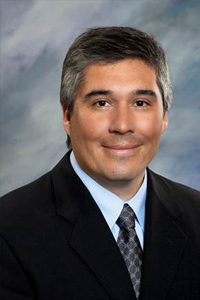 Rafeal Villicana, MD is a transplant nephrologist and the medical director of the kidney transplant program at Loma Linda University (LLU) Transplantation Institute. His interests include kidney and pancreas transplantation, living kidney donation, and ABO /HLA incompatible kidney transplantation.
Web ID 4040