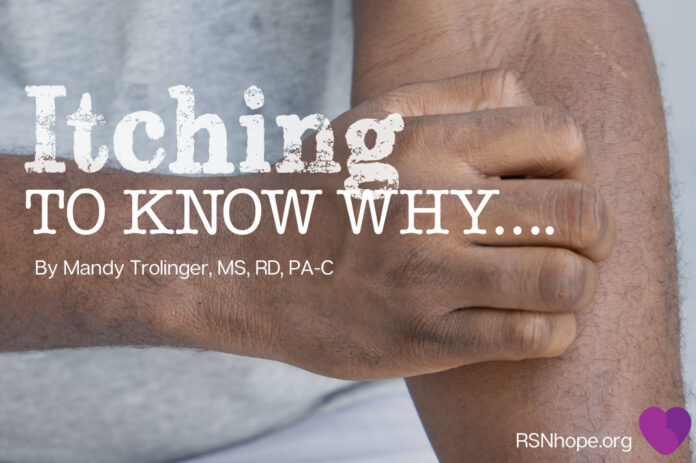 As someone who has been on dialysis, I know that there are a variety of symptoms all of us experience. As a former dialysis patient and physician assistant (PA) who treats people with kidney failure, I have met several people who do well with dialysis, but I have met some that deal with a very annoying symptom … ITCHING!
Itching can be minor, or it can be so extreme that it interferes with sleeping or being able to focus on daily activities, resulting in a decreased quality of life. People with kidney disease, researchers, and providers have tried to fully understand why some people experience itching and how it occurs. Overall, it appears to be caused by an immune system dysfunction, a high level of toxins, poorly controlled labs, or an imbalance of receptors that regulate pain in the body.
Several studies have found that itching occurs more often in people who are either not receiving adequate dialysis; have uncontrolled phosphorus, calcium, and/or parathyroid levels; have dry skin; or have high magnesium or aluminum levels.
Itching can occur at any time. Some people experience it more during dialysis, and some when they are not on dialysis. Some have found that heat triggers the itching as well. Itching tends to occur less in children that have kidney disease as compared to adults. One dialysis type does not appear to cause itching more than any other, unless one is under-dialyzed. A change in dialysis modalities can improve this.
Several hypotheses exist as to why itching occurs in the kidney population. Is it an overall inflammatory condition rather than a "skin disorder," or is it due to imbalances in different receptors in the body that control itching?
When discussing itching with your provider it is important to rule out other
causes not related to dialysis that might easily be treated. If no other cause can be found, the following are some treatment methods to try that may alleviate or resolve itching:
1) Keep your labs controlled. Some things that can cause itching if not
controlled include dialysis adequacy (Kt/V), and phosphorus, calcium, and parathyroid levels.
2) Topical treatments. Emollients can be helpful if you have very dry skin. There are three main groups of emollients: lotions, creams, and ointments. Ointments tend to be "messy" and do not absorb quickly into the skin. If this is bothersome, you can try a cream during the day and apply an emollient (e.g., Aquaphor or Eucerin—look for the ones in a jar) before you go to bed. It is best to apply them after bathing to keep the moisture in your skin. It can take up to six weeks to notice a decrease in symptoms.
3) Oral medications. Over the counter medications like Diphenhydramine and Hydroxyzine can help, but they can be sedating. Loratadine is another option that is less sedating. Prescription medications that might help include Gabapentin or Pregabalin, but these can be sedating and must be dosed according to amount of renal function. Please check with your medical provider before taking any oral medications. Antidepressants have also been researched, but studies are limited.
4) Other therapies. In severe cases, UVB therapy might be an option, but this is associated with an increased risk of cancer and should not be used in people with weakened immune systems. Research is continuing to explore if Montelukast or Omega 3 fatty acids help. Recently, the injectable medication Dikelocephalid was approved for itching in adult hemodialysis patients. It works by targeting certain receptors in the body. However, this medication can have side effects such as dizziness, nausea, tiredness, and mental status changes as well.
Itching can be devastating for some people with kidney disease. Make sure you keep your labs within target range and work with your healthcare provider to find the best treatment so you can not only relieve symptoms, but also improve your quality of life.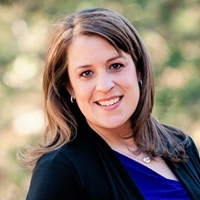 Mandy Trolinger, MS, RD, PA-C, works for Rocky Mountain Kidney Care (an Altitude Kidney Health alliance) where she sees patients with chronic kidney disease and also provides medical nutrition therapy counseling. Mandy has volunteered with various organizations over the years including the National Kidney Foundation (NKF) and Renal Support Network (RSN). She has authored several articles and is a national speaker and has presented at several meetings. Her goal is to provide compassionate care while focusing on patient-empowered decision making through education and counseling.
Web ID 4049