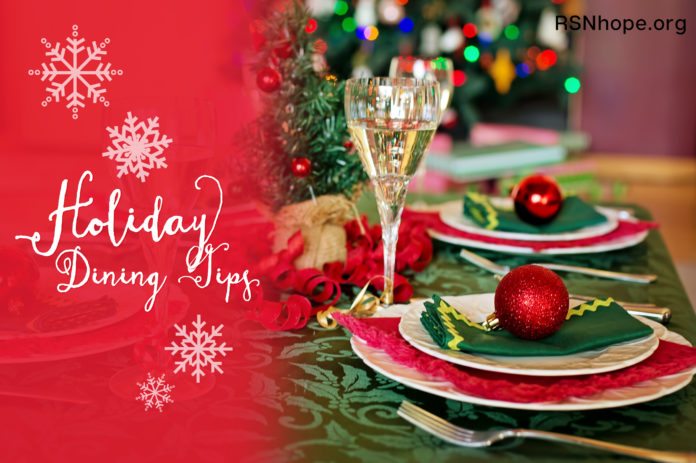 Holiday Meals in Someone Else's Home
The best piece of advice when invited to someone's home for the holidays is to do your homework and plan ahead with regard to what you can eat.
If you are invited to the home of a family member or friend, you can talk to the cook about the menu ahead of time. You may not be the only person with special eating concerns. The cook really wants the entire meal to turn out perfectly for all the guests, so is usually more than willing to work with you to come up with an enjoyable and appropriate menu.
By speaking to the cook ahead of time, you may be able to bring your favorite dish with you or suggest some menu items that you know would fit into your diet and that others would enjoy as well.
Holiday Meals at a Restaurant
Once again, planning ahead can work in your favor. Find out what restaurants are in the area you will be traveling to. Often, you can call the restaurant ahead of time to learn more about their holiday dinner menu choices. You then have the option to ask the restaurant what possibilities there are for substitutions due to your dietary needs.
You could even ask if it would be okay to bring a special dish or drink to the restaurant to complement the meal because of a family member's dietary constraints.
An option for dessert may be to head back to your host's home instead of having dessert out. Once again, suggest desserts that would work well with your renal diet and that won't leave you feeling like you've missed something.
For me, whether I am traveling for the holidays or entertaining at home, I still practice moderation. No one wants to be rushed to a medical facility due to over-indulging at a holiday meal, especially when away from home.
If you know your renal diet well, you can more easily choose foods that are safe to eat, or practice moderation if you choose restricted foods. Make life simple. Plan ahead so that you have a successful and enjoyable holiday season.

Potassium in a Typical Holiday Menu (just one plateful!)
Roast Turkey – 3.5 oz. 290
Bread Stuffing – ½ cup 90
Mashed Potatoes – ½ cup 300
Gravy – 2 oz. 90
Sweet Potato Casserole – ½ cup 300
Winter Squash – ½ cup 350
Cranberry Sauce – ½ cup 40
Cranberry Orange Relish – ½ cup 50
Green Beans, Carrots, or Creamed Onions – ½ cup 150
Cabbage – ½ cup 75
Pumpkin Bread – 1 slice 60
Pumpkin Pie – 1 slice 250
Whipped Cream – spoonful 15
Apple Cider – 4 oz. 150
Gingerbread cookies – 6 300
TOTAL (mg): 2510
OTHER COMMON ITEMS
Apple Pie – 1 slice 120
Mincemeat Pie – 1 slice 330
Pecan Pie – 1 slice 150
Ice Cream – ½ cup 150
Fruitcake – 1 small piece 250
Avoid anything with molasses. One tablespoon molasses = 300 mg potassium.
Potassium amounts are an approximation. Total potassium per food item derived from Bowes & Church's Food Values of Portions Commonly Used, 17th edition, Jean A.T. Pennington (Ed.).
©1998 by Lippincott-Raven Publishers.

Important Reminder About Potassium
If your potassium level becomes too high, your heart could stop beating. This would be due to an electrolyte imbalance, not a mechanical failure, which means that it could not be shocked into starting again. In other words, it has stopped forever. Therefore, staying away from an overload of potassium is critical!

Author's Biography
Jennifer Castillo has lived with kidney disease since 1979. She is involved in various kidney patient organizations, and is also a member of the Editorial Advisory Board for Nephrology News & Issues. She always aims to be as proactive and self-motivated in her care as possible, and has worked and attended school during her many years on dialysis.
Web ID 291