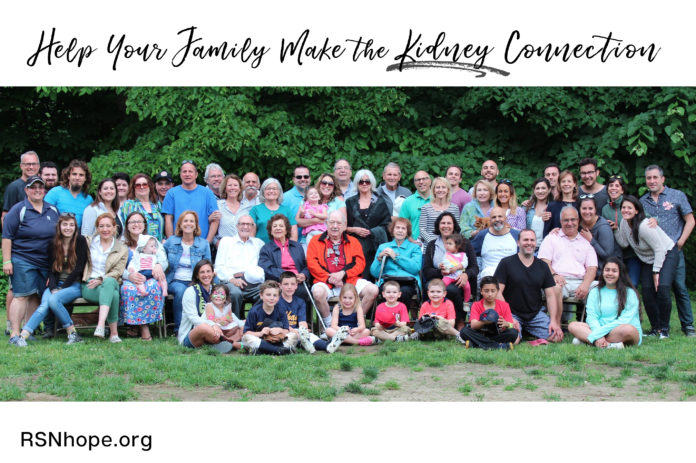 Twenty six million Americans have signs of kidney damage based on urine or blood tests. People of all ages and races are at risk for kidney disease, but African Americans are much more likely than other groups to develop kidney failure, which is severe kidney damage requiring treatment with dialysis or kidney transplant. In fact, African Americans are four times more likely than Caucasians to be diagnosed with kidney failure.
A major reason for this increased risk is that African Americans have high rates of diabetes and high blood pressure—the two leading causes of kidney failure. Fortunately, people with these conditions can take steps to keep their kidneys healthy, delaying or even preventing kidney failure.
As you may know, diabetes and high blood pressure run in families. If someone in your family has one of these conditions, it is critical for you to talk with your family members about their risk for developing kidney disease. To encourage conversations about kidney health among family members, the National Kidney Disease Program (NKDEP) developed the Family Reunion Initiative. A free, easy-to-use Family Reunion Health Guide is available that contains everything you need to discuss important health information related to the connection between diabetes, high blood pressure, and kidney disease at your reunion or other family gatherings.
"We know that family gatherings are an important part of our community," said Dr. Griffin Rodgers, director of the National Institute of Diabetes and Digestive and Kidney Diseases. "While you're sharing these special times with your family, we encourage you to also have important conversations about health. Many of the kidney disease risk factors run in families, so your family reunion and family events are the perfect time to share your story about kidney disease and encourage your loved ones to maintain their kidney health."
Here are some helpful ideas from the Family Reunion Health Guide to help start the conversation.
Write a Note to a Family Member
Sometimes a simple note letting your loved ones know their health is important to you is all you need. The Family Reunion Health Guide provides you with a sample note to help you develop your own personal letter. Once you've written your note, you can make copies of it and attach it to the Questions & Answers about the Kidneys and Kidney Disease fact sheet located in the Family Reunion Health Guide to share with your family.
Talk One-on-One with a Loved One
You can include health information at your family event by talking one-on-one with family members with diabetes or high blood pressure and explaining how these conditions can lead to kidney disease. Start a conversation with these family members, and help them make the connection between their diabetes or high blood pressure and their risk for kidney disease. Share your story and encourage them to get tested for kidney disease.
Have a 15-minute Make the Kidney Connection Health Discussion
Find a way to add a 15-minute health discussion to the family reunion day of activities. The Family Reunion Health Guide provides you with talking points on the most important information your family members should know about kidney disease.
If you would like more information on the Family Reunion Initiative or would like to order a free copy of the Family Reunion Health Guide, visit www.nkdep.nih.gov/familyreunion. If you would like more information about NKDEP, an initiative of National Institutes of Health, please visit our website www.nkdep.nih.gov. As a person living with kidney disease, you are uniquely qualified to communicate the importance of doing everything possible to keep the kidneys healthy. We place trust in friends and family members as sources of health care information. Use that trust and your experience to help break the connection between diabetes, high blood pressure, and kidney disease in your family!

Andrew S. Narva, MD, a nephrologist, is the director of the NKDEP. Prior to coming to NKDEP, Dr. Narva established and led the Indian Health Service (IHS) Kidney Disease Program. IHS serves communities with the highest rates of treated kidney failure in the world.
10/01/2008
Web ID 289