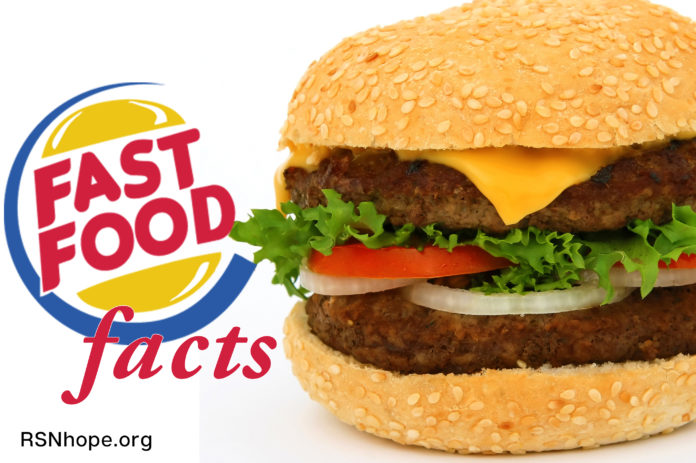 Quick-service restaurants provide us with a quick, easy, inexpensive bite when we're pressed for time. Americans love fast food and there are so many items to choose from! A lot of chains are now offering lower-fat options and if chosen wisely, fast foods can be healthy AND fit into your renal diet.
If you are a regular through the drive-up window or frequently dine in at fast food restaurants, keep these tips in mind:
Some ordering tips:
    Burgers and sandwiches are high in sodium because they are pre-salted. This may be difficult for the quick-service restaurant to omit the salt. Be sure to ask before you order.
    Remember that fries and baked potatoes are rich in potassium. But if you can't imagine a burger without the fries, order a small serving and ask for unsalted, if possible.
     Keep in mind that catsup, mustard and pickles are all high in sodium. Keep condiments, special sauces and dressings to a minimum. Request these toppings to be served "on the side" so you can control the amount.
    Beverage sizes typically are large or "super-size" and can contribute to fluid overload if the entire beverage is consumed. Order a small beverage and be sure to count it as part of your fluid allowance.
    Balance fast food items with other food choices. As you order, consider the other foods you have eaten or will eat during the day.
    Choose broiled, steamed or grilled items over deep fat fried foods. To trim the fat from fried items, order the regular variety instead of the "extra crispy" and remove the skin before eating. Removing the skin also lowers the sodium content since most batters and coatings usually include seasonings rich in sodium.

Sensible Salad Bar Choices
The huge variety of vegetables and fruits can provide you with vitamins A and C, folic acid and fiber. Be careful though, a trip to the salad bar can provide you with more fat and calories than a burger and fries! There are many salad bar items that can easily fit into your renal diet. Below is a list of items to assist you in choosing sensibly from any salad bar.
Salad Bar

| | |
| --- | --- |
| Choose | Limit |
| Alfalfa sprouts | Avocado |
| Beets | Bacon Bits |
| Cauliflower | Chickpeas |
| Celery sticks | Chow Mein noodles |
| Chinese noodles | Fried bread croutons |
| Cole slaw | Kidney Beans |
| Cucumbers | Nuts |
| Eggs, chopped | Olives |
| Gelatin salads | Pickles |
| Green beans | Potato Salad |
| Green peas | Raisins |
| Green peppers | Relishes |
| Lettuce, escarole, endive | Sunflower Seeds |
| Parmesan cheese | Shredded cheddar cheese |
| Radishes | Thick Salad Dressings |
| Tuna in spring water | Three-Bean Salads |
| Zucchini | Tomatoes |
| Italian, low calorie dressing | |
| Vinaigrette | |
| Low fat dressing | |
Do you know what you are eating?
Get a breakdown of fat, calories and other nutrition information (potassium, phosphorus or sodium) from the store manager. You can also check out the restaurant's web site for a complete nutritional analysis of all their menu items. Please note that obtaining information on potassium and phosphorus can be difficult. Since these values are not required by the US Department of Agriculture on food labels. The following table provides you with the nutritional analysis of some fast food menu items to help you make educated choices.
Note the serving size and work with your renal dietitian to safely add these menu items into your eating plan. 
Generally speaking, choose meals under 500 calories with less than 30% of the calories from fat. Many items are loaded with sodium so limit your sodium intake for the rest of the day. Watch your fluid intake because these foods will make you more thirsty than usual. Some items may require that you increase your dose of phosphate binders.
My recommendations:
    McDonald's: plain hamburger on a bun
    Burger King: plain hamburger on a bun or BK Broiler, plain
    Taco Bell: taco, limit the tomatoes
    Wendy's: single hamburger or grilled chicken sandwich, plain
Menu Item/serving size

Calories

Potassium 

(mg)

Phos.


(mg)


Sodium


(mg)


Protein

(g)


Fat

(g)


Arby's Roast beef deluxe, light, 1 sandwich

296

NA

NA

826

18

10

Roast chicken salad, 1 salad

149

NA

NA

418

20

2

Boston Market, Chicken Rotisserie, white meat, no skin, no wing, ¼ chicken

160

270

240

350

31

4

Boston Market, Turkey sandwich, no sauce, no cheese, 1 sandwich

400

520

300

1070

32

3.5

Boston Market, old fashioned chicken soup,

80

370

55

470

9

3

¾ cup

Boston Market, cinnamon apples, ¾ cup

250

150

15

45

0

5

Boston Market, coleslaw, ¾ cup

280

330

40

520

2

16

Boston market, double fudge brownies, 1 brownie

450

170

125

190

6

27

Burger King, 1 hamburger, 1 sandwich

272

235

124

505

15

11

Burger King, 1 Whopper sandwich

614

547

237

865

27

36

Burger King Broiler Chicken Sandwich, 1 sandwich

540

NA

NA

480

30

29

Kentucky Fried Chicken, Rotisserie Gold Chicken, breast, no skin, no wing,

199

NA

NA

667

37

6

1 quarter

Long John Silver's, flavorbaked fish, 1 piece, 3.1 ounces

120

NA

NA

430

20

3.5

McDonald's french fries, small

220

NA

NA

110

3

12

McDonald's hamburger, plain, 1 hamburger

260

NA

NA

500

12

9.5

McDonald's McGrilled Sandwich, 1 sandwich

260

440

333

500

24

4

McDonald's Chef Salad, no dressing, 1 salad

210

610

334

730

19

11

McDonald's lowfat shake, 1 chocolate shake

320

NA

NA

240

11.6

1.7

Taco Bell, light taco,

140

NA

NA

280

11

5

1 taco

Taco Bell, light soft taco,

180

NA

NA

550

13

5

1 taco

Wendy's hamburger, plain 1 hamburger

340

275

NA

475

24

15

Wendy's Grilled Chicken Sandwich, 1 sandwich

290

NA

NA

720

24

7

Wendy's Deluxe Garden Salad, no dressing, 1 salad

110

NA

NA

320

7

6
References:
1. Journal of Renal Nutrition Vol 6, No 4 October 1996, Product Update section
2. The American Dietetic Association's Complete Food and Nutrition Guide by Roberta
Larson Duyff, MS, RD, CFCS,
3. Exchanges for all Occasions by Marion J. Franz, MS, RD, CDE
4. Bowes and Church Food Values of Portions Commonly Used Sixteenth Edition revised by
Jean A. T. Pennington, PhD, RD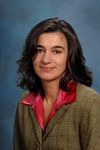 About the Author
Maria Karalis, RD, CSR, LD, is a Nutrition Consultant and Writer and has worked in the nephrology field for over 17 years. She enjoys writing for healthcare professionals and people with CKD with one goal in mind: helping CKD patients live their life to the fullest.
Uploaded: 1-4-2008
Web ID 266