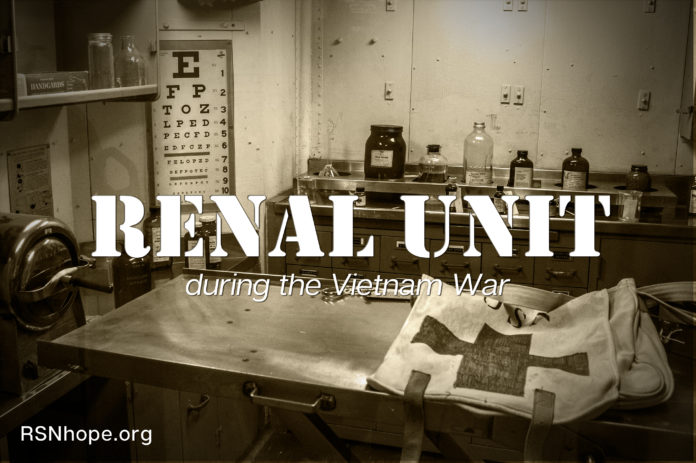 During the past 40 years, vast improvements in dialysis techniques and practice have been made, greatly enhancing the management of acute and chronic renal failure. Further understanding of the pathogenetic mechanisms of acute renal failure has been achieved, and work still progresses in this field. However, to the present time, it remains clear that, when dealing with combat casualties, the aim of paramount importance must be the prevention of acute renal failure (ARF) rather than treatment of established, or chronic, renal failure.
For the purposes of this discussion, post-traumatic ARF is arbitrarily defined as being that form of ARF which follows a specific traumatic event, or occurs in association with the temporal complications of that traumatic event (for example, antibiotic nephrotoxicity, intercurrent blood transfusion reactions, or water and electrolyte depletion), with the injury itself being the predominant clinical determinant of renal failure.
The Iraq Experience
It is now more than 35 years since the last significant experience was encountered with post-traumatic ARF in a combat zone.1 It may be surprising for you to know that there is no dialysis capability at the various combat support hospitals in Iraq. This is because of the rapid evacuation of injured patients out of Iraq.
The combat support hospitals in Iraq receive up to 40 patients with traumatic injuries per day, but none remain in these facilities for more than one or two days.2 Those patients who develop acute renal failure and are in urgent need of dialysis are evacuated quickly to regional hospitals with renal facilities outside the war zone.
Acute Renal Failure During the Vietnam War
During the Vietnam War, the critically ill combat casualties were resuscitated almost immediately and then rapidly transported by helicopter to sophisticated treatment facilities that encompassed the 44th Medical Brigade Hospitals located throughout South Vietnam. While the incidences of ARF progressively declined, an inordinately high mortality rate persisted in those who developed post-traumatic ARF through the duration of the war.
A mortality rate of approximately 70% was observed in patients sustaining post-traumatic combat injuries during the six years (1966-1972) that the in-country US Army renal unit (called the 629th Medical Detachment) was operational during the Vietnam War.3
My Involvement in Vietnam War Dialysis
In 1965, following the Gulf of Tonkin Incident (1964) involving United States naval destroyers and Vietnam People's Army torpedo boats, President Lyndon Johnson ordered large numbers of combat troops to Vietnam to increase the war efforts there that had been going on since 1959. In 1966, I, along with 60 other Mayo Clinic physicians, was drafted into the US Army Medical Corps receiving the commission of Captain. Doctors drafted were designated "obligated volunteers." After indoctrination into the army at Fort Sam Houston, TX, I received orders to head-up the medical staff of the newly organized 629th Medical Detachment (Renal Unit) that was located in the 3rd Field Hospital near Saigon. I had just completed my residency in internal medicine and nephrology at the Mayo Graduate School of Medicine, Rochester, MN, so I was fully trained for the task.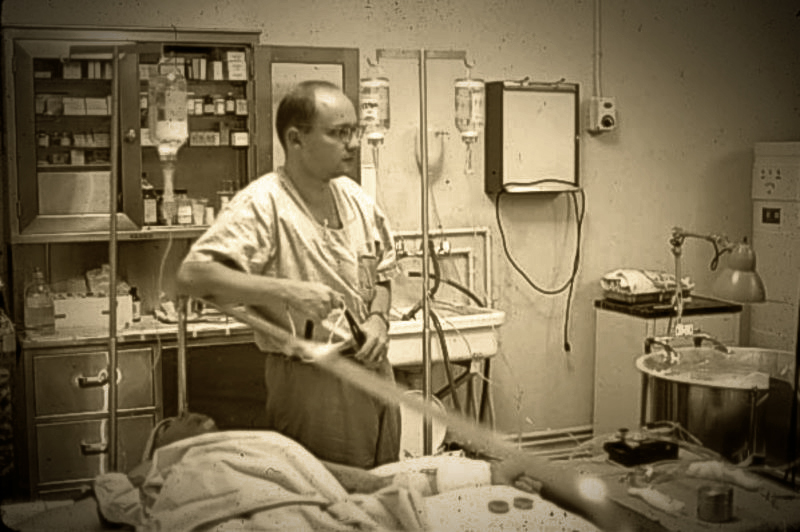 I arrived at the 3rd Field Hospital in August 1966 to begin a one-year tour of duty. Six weeks later, I was joined by Captain Andrew Whelton, MD, and we shared medical responsibilities for one-year as the first nephrologists to run the renal unit that stayed in operation until 1972, treating over 400 patients with various types of ARF.3
Dialysis Field Operations
The 629th Medical Detachment was a six-bed (later expanded to an 11-bed) intensive care area separated by a partition from an adjacent medical ward. Nurses and medical corpsmen trained in hemodialysis (HD) and peritoneal dialysis (PD) worked a 12-hour shift, seven days a week. In addition to the two nephrologists, consultant urologists and surgeons provided additional care to nearly every patient.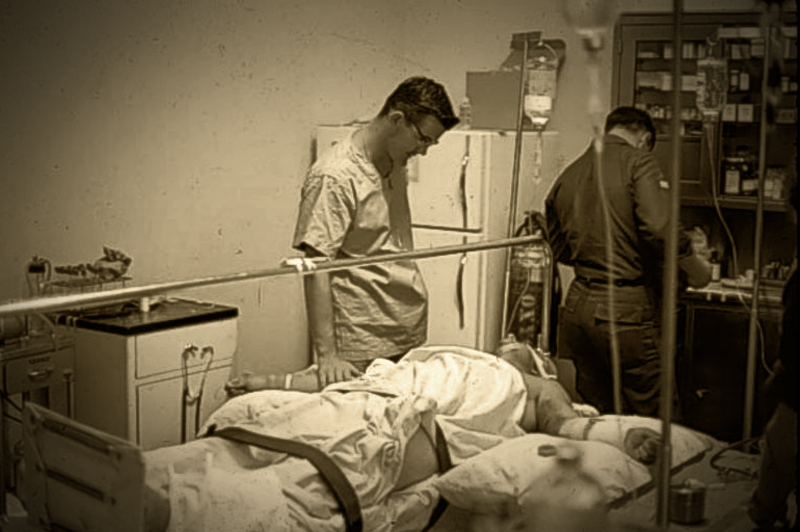 All HD treatments were performed in the same intensive care area using a Travenol Standard twin-coil artificial kidney and a 100-liter tank dialysate delivery system. Dr Whelton and I, along with the nurses and medical corpsmen, set up each HD session. Because of the large volume of the twin-coil dialyzers, each run had to be primed with two units of type-specific whole blood to fill the coils and tubing. Fortunately, the 3rd Field Hospital served as the central blood bank for all US Army hospitals in-country, allowing us immediate access to our blood supply needs.
Electrical power failures during HD procedures were, fortunately, relatively infrequent. The use of twin-coil artificial kidneys with roller-pump mechanisms enabled the cranking of the pump mechanism by hand during the temporary power failures. When finger-pump mechanisms (Sigma-motor) were used, dialysis treatments had to be discontinued during power failures. Dialysate was changed every two hours. Patients usually underwent dialysis every other day for 6-8 hours using regional heparanization. Extremely catabolic patients received dialysis more frequently. Quinton-Scribner Teflon-Silastic arteriovenous (AV) shunts were placed in all patients who received HD.
Spare Parts, PD, and Lab Support
Spare parts for artificial kidneys were not readily available in the combat zone; therefore, a supply of additional parts was maintained. Servicing and upkeep of the renal unit equipment were carried out by the medical maintenance personnel of the 3rd Field Hospital.
PD, utilizing standard techniques, was employed in the less injured patients. All PD procedures and monitoring were done by Dr. Whelton or myself. Radiopaque catheters (Bardex) were utilized to monitor central venous pressure, and respiratory assistance was provided with volume-controlled ventilators (Emerson) humidified at room temperature.
Laboratory support is an integral part of any renal unit, and lab personnel must be constantly ready to provide prompt and reliable service day and night. Excellent support was provided to the renal unit by the 406th Mobile Laboratory, 3rd Field Hospital. All routine hematological and chemical tests, including blood gas determinations, were rapidly available. The more esoteric chemical or serologic study specimens were shipped by air freight to US Army Research Laboratories in Japan or the US.
A Downhill Course
Multiple fragment wounds were more perilous than gunshot wounds. The prognostic significance of gastrointestinal trauma and peritonitis was striking, with an over 80% death rate in patients with either of these traumatic events. In spite of adequate dialysis, the usual relentless downhill clinical course of these patients was marked by gram-negative septicemia, repeated episodes of endotoxic shock, hepatic impairment, and the development of hemorrhage and necrosis of the bowel.
Hemodialysis was effective in prolonging life for only a few additional days, probably by preventing the uremic syndrome. Peritoneal lavage with specific antibiotic solutions also failed to produce any appreciable beneficial effect on the clinical course. Death occurred not from renal failure per se, but from overwhelming complications.
Favorable Outcomes
Despite the grim prognosis for severely injured soldiers, there were also favorable outcomes. The following two cases involving soldiers who survived their severe injuries and were successfully managed with dialysis support are presented to illustrate the inherent complexity in the management of post-traumatic ARF we experienced in Vietnam.
J.R., a 29-year-old paratrooper, received multiple fragment wounds to the left chest and arm during combat operations in 1967. After multiple surgeries to repair these wounds and additional severe injuries that resulted in a left nephrectomy, repair of an abdominal aorta laceration and colonic perforations, he later developed severe infection (septicemia) and ARF. He was treated in our unit for 60 days, during which time he received intensive wound care, 12 hemodialysis treatments, and 51 units of type-specific blood used for priming the artificial kidney and blood replacement. We stayed in contact with this brave young man after his transfer back to the states, and, seven months after he was wounded, his renal function was excellent in his remaining kidney, and all wounds had healed. At his own request, he was placed back on jump status with a paratrooper unit. To our knowledge, this patient represents the first combat casualty to survive direct missile damage to the aorta with subsequent ARF.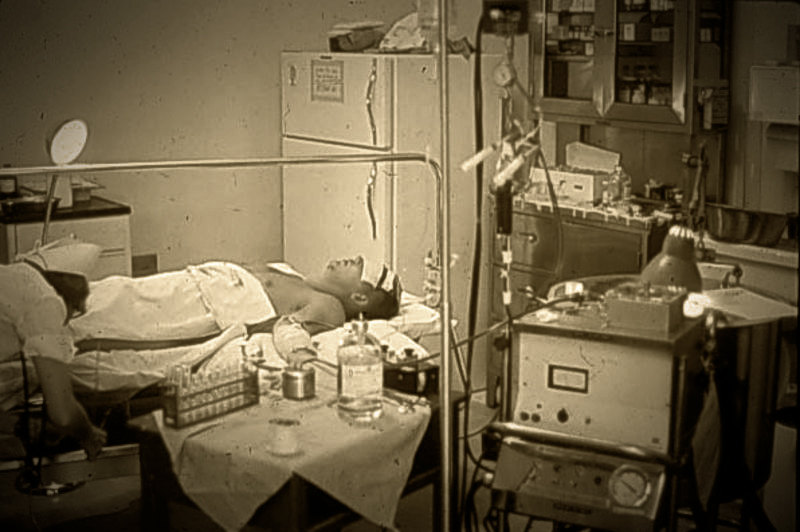 H.D., a Vietnamese soldier, received multiple fragment wounds to the abdomen while fighting alongside a US infantry platoon in 1967. After surgery to repair his wounds, he developed post-operative infection and ARF. He was treated in our unit for 50 days, during which he was treated with appropriate antibiotics and wound care, and he underwent 11 HD sessions before recovering kidney function.
These successes in patient management were a tribute to the dedication and delivery of excellent all-around care given these patients by the doctors, nurses and medical corpsmen, and to all other patients, some of whom were not so fortunate, who came through our unit during Dr. Whelton's and my tenure.
Conclusion
Again, from the perspective of previous wars, early resuscitation and blood banking is different today using fresh whole blood, balanced resuscitation with ratios of erythrocytes to plasma approaching 1:1, minimizing crystalloid replacement. These were lessons that were likely learned and relearned from World War II onward.2
Overall improvements in critical care and technology that are paralleled today in civilian hospitals and dialysis facilities throughout the United States have impacted on decreasing the rate of acute renal failure and improving outcomes currently being experienced in the care of patients with critical combat injuries in Iraq as well as patients with acute renal failure in our country.
Glossary
    Antibiotic nephrotoxicity – Antibiotics with a propensity for kidney damage, especially to the renal tubules and surrounding tissue.
    Catabolic – A high turnover rate of metabolism seen in patients with severe injuries and acute renal failure.
    Central venous pressure – Pressure in the venous system that reflects the state of pressure in the blood vessel system and heart function.
    Electrolyte – Essential elements in the blood vessel system, including sodium, potassium, and chloride.
    Endotoxin shock – Toxins released from bacteria (i.e., E. coli) that cause collapse of the blood vessel system.
    Erythrocytes – Red blood cells.
    Hepatic impairment – Liver failure.
     Intercurrent blood transfusion – Blood transfusion being administered to treat blood loss or shock.
    Necrosis — Tissue death.
    Nephrectomy – Surgical removal of a diseased or damaged kidney.
    Pathogenetic mechanisms – How body systems react/respond to diseases, infections, and trauma.
    Peritoneal lavage – Bathing the peritoneal cavity (that part of the abdomen that surrounds abdominal organs) with sterile solutions often containing antibiotics.
    Peritonitis – Inflammation of the lining tissues that make up the peritoneum.
    Radiopaque – Contrast material (sometimes called "dye") that is used in x-ray studies (i.e., a stomach x-ray, or CT scan).
    Regional heparanization – Using heparin to anticoagulate the arteriovenous shunt system used for hemodialysis, avoiding putting heparin into the general circulation.
    Septicemia – The condition of generalized blood infection caused usually by bacteria (i.e., E. coli ).
    Uremic syndrome – A constellation of symptoms caused by kidney failure, including nausea, vomiting, loss of appetite, anemia, weakness, and nerve damage.
References
1. Whelton, A, and Donadio, JV, Jr. Post-traumatic acute renal failure in Vietnam: A comparison with the Korean war experience. Johns Hopkins Medical Journal (1969;124:95-105).
2. Beekley, AC, Director, Deployed Combat Casualty Care Research Team, Baghdad, Iraq. Personal communication, August 2007.
3. Macken, DL, Knepshield, JH, Donadio, JV, Jr, and Whelton, A. Renal Care: Section I. The 629th Medical Detachment (Renal) and Posttraumatic Acute Renal Insufficiency. In: Internal Medicine in Vietnam, Volume II: General Medicine and Infectious Diseases, Medical Department, United States Army. Editors: Ognibene, AJ, and Barrett, O'N, Office of the Surgeon General and Center of Military History, United States Army, Washington, DC, 1982, pp 465-482.
About the Author
James V. Donadio, MD, is Emeritus Professor of Medicine, Mayo Clinic College of Medicine, Mayo Clinic & Foundation, Rochester, MN, where he served for 32 years, nine of which he was Division Chair. He was also in the US Army Medical Corps as Co-Director of the US Army Renal Center, 3rd Field Hospital, South Vietnam, and was a member of the Department of Medicine, Walter Reed Army Hospital, Washington, DC. Currently, Dr. Donadio is a consultant for the Mayo Nephrology Collaborative Group, for which he was Founder and Director. In addition, he has contributed 225 scientific papers to scholarly publications, including original investigations, invited reviews, abstracts, editorials, and book chapters.
09/01/2007
Web ID 364