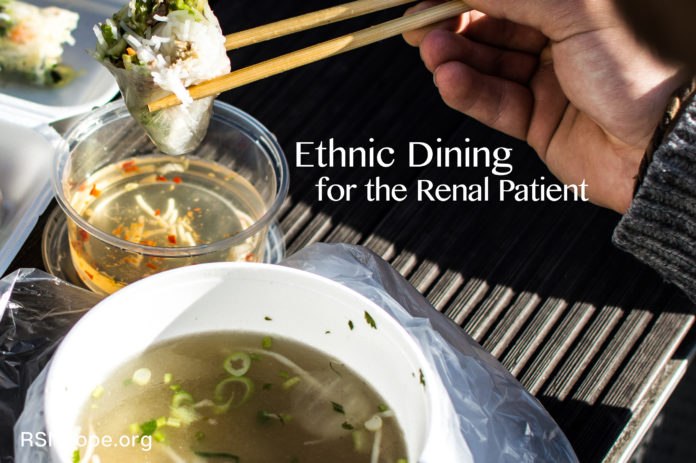 You can try different ethnic foods on your renal diet! This guide will help you in making menu selections when eating away from home. Follow these general suggestions on dining out:
Know Your Diet and Plan Ahead
Know your diet well. Work closely with your renal dietitian.
Plan ahead. Eat breakfast and lunch at home so you can limit sodium and fluid intake early in the day.
Make Special Requests
Call ahead to learn more about the menu offerings. When making your menu selections, choose carefully, and, when in doubt, ask questions.
Ask for special menu preparations. Most restaurants are used to special requests.
Large Servings and the Golden Rule
Restaurants serve large portions, and you don't have to eat everything on your plate! Share a large entree or request an "appetizer" portion for dinner.
As with foods of every culture, keep in mind the golden rule: balance, variety, and moderation. If you follow this, all foods can fit.
Chinese
Many dishes are roasted, simmered, steamed (dim sum), or stir-fried, so they are likely low in fat. Here are a few tips:
Most menu items are very high in sodium (they contain MSG or soy sauce). Request that monosodium glutamate (MSG) or soy sauce not be added during food preparation.
Choose vegetables wisely. Chinese vegetables that are okay on the renal diet include:
– Green onions;
– Straw mushrooms;
– Baby corn;
– Bamboo shoots;
– Lily pods;
– Napa;
– Wax or string beans;
– Snow peas;
– Water chestnuts;
– Bean sprouts; and
– Bok choy.
Have plain stir-fry vegetables without heavy sauces (black bean, hoisin, and oyster sauce). To reduce the amount of fat, ask that stir-fried vegetables be prepared in a small amount of oil.
You might ask for light or reduced sodium soy sauce on the side so you can add it yourself. Dishes prepared with hot mustard, sweet-and-sour, plum, or duck sauces have less sodium.
Try the dim sum–steamed or fried dumplings filled with meat, seafood, and/or vegetables, sweet paste, or preserves.
Order steamed rice or noodles instead of fried–they are usually lower in sodium.
Don't forget your fortune cookie for dessert. One cookie only has 15 calories and is fat-free
Menu items that suggest less fat include: nimono (simmered), yaki (broiled), and yakimono (grilled).
Do not eat sashimi (raw fish) or sushi (vinegared rice prepared with seaweed, raw fish, and/or vegetables).
Just like the Chinese cuisine, many items such as soup, noodle dishes, and stir-fried dishes are flavored with soy sauces (shoyu). As an alternative, ask for dishes prepared without soy sauce, such as shabu shabu, foods that are not marinated, or steamed seafood. Have the low sodium sauce on the side for dipping.
For tons of flavor without sodium, try a small amount of shredded wasabi or hot horseradish.
Ask for lemon slices on the side for a salad topping instead of the miso dressing. Miso is derived from fermented soybean paste and is high in sodium.
Order steamed rice or noodles instead of fried–they are usually lower in sodium. Try plain soba or udon noodles.
Try the green tea ice cream for your dairy serving of the day.
Thai
Like Chinese and Japanese cuisines, Thai meals use rice as the staple, with vegetables and small amounts of tofu, meat, and seafood. The flavoring of Thai food is dependent on hot pepper sauce or crushed dried chiles, Thai spices, curry, and hot sauces.
Look for stir-fried, steamed, sauteed, boiled, grilled, and barbequed items.
Be careful with items prepared with coconut milk such as coconut ice cream or puddings.
Try the stir-fried noodles or sprouts or the sauteed ginger beef or chicken. Ask that these items be prepared without sauce so you can add a low sodium sauce at the table.
Try the tofu. It is high in protein and low in fat.
Order steamed rice or noodles instead of fried. They are usually lower in sodium.
Italian
Italian food is typically rich in carbohydrates featuring pasta, risotto (rice dish), and polenta (cornmeal dish). Italian dishes feature smaller meat portions. Cheese is used to flavor many entrees. Your best choices are plain pastas, chicken, or fish topped with vegetable sauces (such as primavera), white wine sauce, or lemon butter sauce (picata).
Enjoy the crusty Italian bread. For less fat, go easy on the butter or olive oil for dipping.
Garlic or Parmesan breads are higher in sodium.
Limit the "antipasto." A typical antipasto dish will include cheese, olives, smoked meats, and marinated vegetables and fish, which are high in sodium.
Try a fresh garden salad or insalata with herbed vinegar and olive oil dressing on the side. This is nutritious, containing a variety of raw vegetables and mixed greens.
Try a primavera dish that is prepared with fresh vegetables and herbs served with a creamy sauce. Limit marinara dishes that typically contain tomato-based sauces.
Veal piccata is an excellent choice (veal sautéed in butter, lemon, and wine sauce).
Try ravioli filled with vegetables or meat instead of cheese. Request a white sauce instead of a tomato-based sauce.
Order the ratatouille without the tomatoes,just the eggplant and zucchini.
For dessert, order the spumoni or Italian ice and remember to count it as a fluid.
Try the polenta, gnocchi, or risotto instead of pasta. Ask about how these are made before ordering. Some tips on how they might be prepared:
– Polenta, like a cornmeal mush, is usually served with sauce, vegetables, and meat.- Gnocchi is made from potatoes or flour and dumplings. Sometimes eggs, cheese, or chopped vegetables are mixed into the dough. At times, after they are cooked in boiling water, they may be baked or fried, then served with a sauce.- Risotto, made from Arborio rice, is cooked in high-sodium broth or butter with meat, seafood, cheese, and vegetables.
Greek (my personal favorite)
Watch out for the famous flaming cheese or saganaki. Saganaki is thick kasseri cheese that is fried and flamed with brandy. It is very high in sodium.
Try the tabouli, which is bulgur mixed with chopped tomatoes, parsley mint, olive oil, and lemon juice.
Limit the gyros or minced lamb. It can be high in sodium. It is served on pita bread with grilled onions, bell peppers, and tzatziki sauce (a yogurt sauce with garlic and cucumbers).
Enjoy the souvlaki or shishkabob, which is skewered and broiled lamb with vegetables. The meat is marinated in lemon juice, olive oil, and herbs.
Try the dolmathe–grape leaves stuffed with ground meat and rice.
Order a Greek salad without the high-sodium anchovies or kalamata olives. A small amount of feta cheese is okay (it is one of the lower phosphorus cheeses).
You can't go wrong with the traditional Greek-style lamb chops. Served on a bed of rice, this is an excellent choice.
Go easy on the baklava dessert–it is made with nuts.
Mexican
Potatoes, beans, corn, and tomatoes are found in many of the Mexican-style dishes. The use of spices such as garlic, cumin, chili powder (a blend of ground red chiles, oregano, cumin and garlic), and chile peppers is common.
Know your salsas. Salsa verde is a green sauce made with tomatoes. Salsas made with chili peppers are OK. Note that the guacamole is made with avocado, a high potassium fruit.
Order items on the a la carte menu. Try tacos, tostadas, and fajitas.
Soft or baked tortillas are better choices than fried tortillas or deep-fried taco shells.
Limit gazpacho (cold tomato soup), jicama, and salsa, or black bean soup.
Try the arroz con pollo (chicken with rice, remove the skin) or chicken, beef, or shrimp fajitas. Ask that the fajitas be made without the tomatoes.
Order burritos with beef or chicken with sauce on the side. Note that the chimichanga is like a burrito, but is deep-fried.
For dessert, try the flan (Mexican custard) or Pan dulce (sweet bread). Limit the fruits (guava, papaya or mango) due to their high potassium content.
Menu items can vary from the simple exclusion of beef to the elimination of all meat, poultry, fish, and eggs. Indian food contains split lentils, chickpeas, beans, and vegetables. Common vegetables include eggplant, cabbage, potatoes, peas, onions, peppers, and tomatoes.
Indian
Spices such as curry are commonly used (there are many different blends). "Curry" also refers to a dish that's made with one of these blends. Other spices used are mint, garlic and ginger, or chiles and pepper for a hot taste. Fat is frequently used in meal preparation, mostly with ghee (clarified butter) or with sesame, peanut, or coconut oils. Following are some tips for ordering at an Indian restaurant:
Order a "curry" dish. A curry dish may have meat, poultry, fish, potatoes, vegetables, dahl, or combinations of these. Ask that a small amount of dahl be used during preparation. Dahl is a pulse (edible seed) resembling the split pea. Dahl also refers to a light, spicy puree made of many kinds of dried beans, peas, or lentils. For example, chana dahl is made from chickpeas, and mung dahl is made from mung beans.
Order the "tandoori" chicken, which is roasted in clay ovens with charcoal. The chicken will have a red color on top from the spices and cooking method.
Try the kheema do pyaza–curried ground lamb or beef with onions–or the machli aur tamatar–curried halibut.
Limit the use of coconut that is found in coconut milk, coconut cream, and shredded coconut. Coconut is high in potassium.
Watch out for the yogurt. It is often used in sauces and gravies.
Desserts are not usually part of Indian cuisine. Most meals end with chai, a beverage made with black tea, milk, and cardamom. Darjeeling tea is a type of drink native to India.
Bibliography
The American Dietetic Association's Complete Food & Nutrition Guide, by Roberta Larson Duyff, MS, RD, CFCS, 1998.
Exchanges for All Occasions, by Marion J. Franz, MS, RD, CDE. InternationalDiabetesCenter (IDC), Institute for Research and Education Health System, Minneapolis, MN, 1997.

About the Author
Maria Karalis, MBA, RD, LDN, is a Nutrition Consultant and Writer and has worked in the nephrology field for over 17 years. She enjoys writing for healthcare professionals and people with chronic kidney disease (CKD) with one goal in mind: helping CKD patients live their life to the fullest. This article was originally published on the iKidney.com website, supported by Watson Pharma, Inc.
Web ID 264