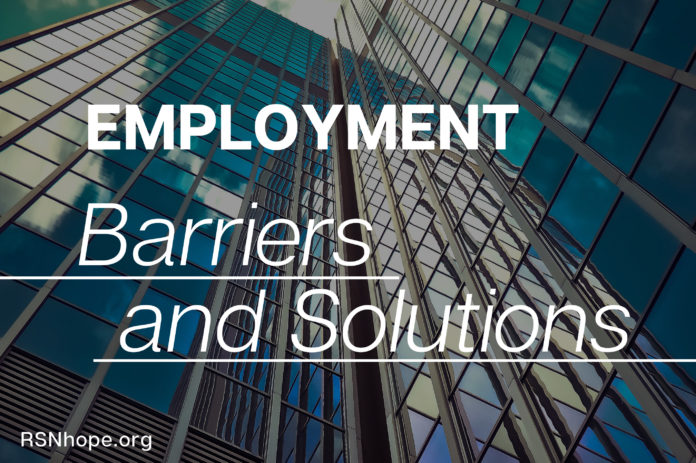 In an unfortunate commentary on the state of renal rehabilitation today, a report from the Government Accountability Office recently stated that "participation in the Social Security Administration's …return to work program, known as Ticket to Work, while improved, remains low. According to Sam Johnson (R-TX), the Chairman of the House Ways and Means Committee's Subcommittee on Social Security, 'The program is supposed to be providing services to help people get back to work, but increasingly Social Security is simply paying service providers to keep people on the disability rolls.' "[1] Across all dialysis facilities, slightly less than 19% of prevalent patients aged 18 through 54 were gainfully employed in 2004.[2]
Work not only confers a sense of accomplishment and creates a sense of identity but it also fosters greater independence, creates increased opportunities for socialization, and ameliorates depression.
Those are the facts, but they do not measure the catastrophic psychosocial impact of unemployment on individual patients and their families. The ability to work is intimately tied to a person's sense of self-worth, and the original intent of the Medicare End-Stage Renal Disease (ESRD) Program was to keep patients employed and productive. However, renal rehabilitation has generally been a dismal failure. All too often, patients have been channeled into perceived disability and learned helplessness.
ESRD disrupts every single facet of life dramatically and often suddenly –personal relationships, community involvement, family life, leisure, diet, socialization and employment. Numerous interrelated barriers at both the provider and the patient levels prevent people from maintaining employment or using vocational rehabilitation:
Late referrals to nephrologists, with the resulting increase in symptoms
Anemia-related fatigue
Undiagnosed and untreated depression
Comorbidities
Dialysis scheduling, especially the lack of after 5 PM or nocturnal treatment
Total time needed for in-center dialysis
Short, debilitating dialysis treatments together with a long recovery time
Preventable dialysis complications, such as hypotension and infection
Insufficient or biased education about treatment options, including home therapy
Lack of convenient access to all modalities
Knowledge gap on the part of professionals about rehabilitation and employment
High percentage of minority, disadvantaged, and underemployed patients.
Employer misinformation
Misperceptions on the part of patients, families, and providers
It could be argued that the media bear some responsibility for fostering in these misperceptions. With few exceptions, the media portray dialysis patients as sickly, debilitated, and unproductive an perpetuate the myth that all patients soon die without a transplant. Is it any wonder, then, that new patients come to dialysis burdened with so many fears that employment takes a back seat.?
Despite these obstacles, there are steps that health care providers can take to help patients stay employed:
Make employment a priority
Address symptoms as early as possible before maintaining employment becomes
problematic
Correct patient misconceptions about dialysis
Include employment discussions in pre-dialysis education
Encourage the treatment options that best align with a person's work schedule
Educate the patient's employer about dialysis
Expect patient self-management whenever possible
Provide work-friendly dialysis scheduling
Revisit employment status regularly and track it over time
Foster a "can do" mindset for both staff and patients
Make appropriate referrals to vocational rehabilitation
Provide mentoring by working patients
Incentivize providers to keep patients employee
Patients should be encouraged and expected to become equal partners in their care. Shared decision-making should be mandatory:
Keep open lines of communication with employers
Be informed of the right to "reasonable accommodation" under the Americans with
Disabilities Act
Get the best dialysis possible to feel as good as possible
Help providers adopt dialyzer-friendly schedules
Provide matter-of-fact education to bosses and coworkers about dialysis
Explore career options through local colleges and community agencies
Given the common knowledge that Social Security Disability Insurance is almost universally available to them, dialysis patients may wonder why they should bother to work. Besides increased income and possible employer insurance, there are tremendous psychosocial benefits. Work not only confers a sense of accomplishment and creates a sense of identity but it also fosters greater independence, creates increased opportunities for socialization, and ameliorates depression.
In 1980, as my late husband and I began training for home hemodialysis, I distinctly remember one of our first conversations with the social worker. She said, "I understand you're a busy CPA. Great! We don't want dialysis to interfere with your job. So, what can we do to help? We'll do our best to work your training around your jobs. Do you want me to contact your employer too?"
That type of mindset should be universal. However, patients habitually begin treatment suboptimally and fall into a downward spiral that ends in disability and unemployment. Work is one of the basic building blocks of a quality life. And quality of life is everyone's goal!
[1] U.S. House of Representatives, Committee on Ways and Means. GAO Finds Social Security's Management of Return to Work Program Ineffective. Press release, June 13, 2011.
[2] Kutner N, Bowles T, Zhang R, Huang Y, Pastan S. Dialysis Facility Characteristics and Variation of Employment Rates: A National Study. Clinical Journal of the American Society of Nephrology. 2008;3(1):111-116.
About the Author
Denise Eilers, BSN, RN lives in Davenport, Iowa, teaches nursing at United Township Area Career Center in East Moline, IL. Her husband Jerry was on home hemo-dialysis from 1980 until his death in 2004. She is also a member of the Network 5 End of Life Coalition and volunteers for Genesis Hospice.
Web ID 261